The first page considered the preparation work, including setting-out, masking-off and cutting of the tactile units, while the second page looked at the mixing of the adhesive and the actual placement of the tiles.
Finishing Off
Once all of the tactiles have been laid, there are just a couple of simple 'finishing' tasks to be completed before the footpath can be re-opened to the general public.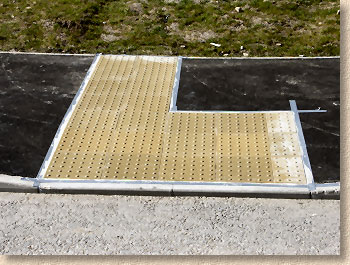 ---
---
Sanding:
Firstly, a sprinkling of dry sand is applied over the entire surface. The laying operatives have found that the kiln-dried jointing sand used for block paving is ideal for this part of the work. The sand covers any exposed adhesive at joints and edges and helps create a non-glossy surface.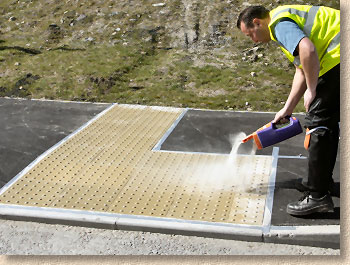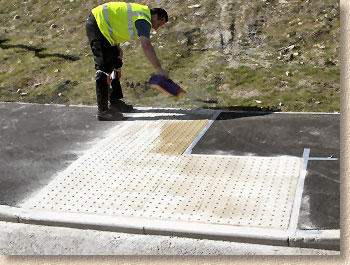 Cleaning:
The newly installed tactiles should be left undisturbed for 1-3 hours to allow the adhesive to cure, depending on ambient temperature; longer in winter, less in summer. The degree of curing can be tested by gently and carefully lifting a short section of the masking tape: if the adhesive has cured sufficiently, there will be no 'drag' of plastic adhesive when the tape is pulled from the substrate. The tape should lift away cleanly without pulling any strands of adhesive with it - think of a pizza: if the cheesy strings appear, the adhesive needs longer to cure.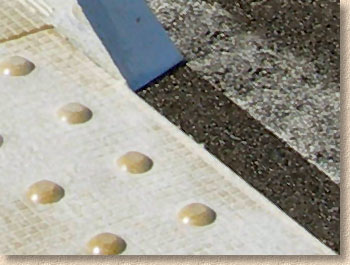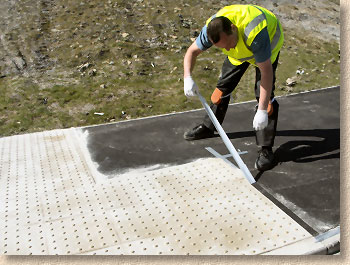 Assuming the test masking tape has come away from the substrate free of stringy adhesive, the remainder of the masking can be stripped clear of the substrate and disposed appropriately. Don't be tempted to rip at the tape, just pull it away from the installation slowly and carefully, checking that no adhesive is strung out in the process.
Finally, the sand that had been sprinkled on the newly-installed tactile surface can now be swept away. It's a good idea to sweep some of this sand onto the newly exposed edges, where the masking tape had been, to allow it to cover any exposed adhesive.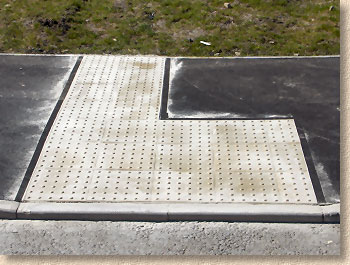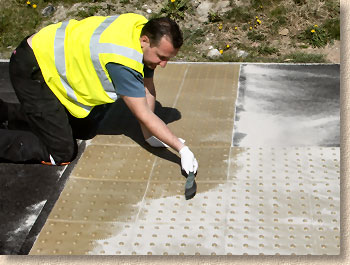 Use a soft-bristled brush to remove the sand. A hand brush is ideal for gently sweeping the surface of the tactiles, but a larger broom can be used to clear sand from the surrounding area.
The surface-mounted tactiles should be held firmly in place by the adhesive at this point, and it should be possible to re-open the footpath to pedestrian traffic.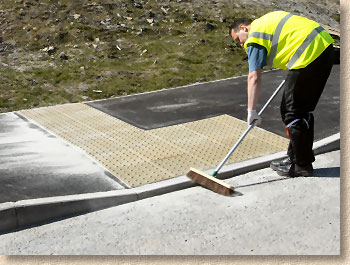 ---
Further info:
TRL - Tactile markings for the guidance of visually handicapped pedestrians.
Institute of Highways & Transportation - Guidelines for reducing mobility handicaps towards a barrier-free environment
Disability Unit - Circular 1/91 on the use of dropped kerbs and tactile surfaces.
Building Regs 1991 - Document M - Access and facilities for disabled people.
DETR - Guidance on the use of Tactile Paving Surfaces
---
---