Natural Stone Show 2008
It's almost two weeks since The Natural Stone Show flung open the doors of the London Docklands Excel centre and welcomed in the petrophiliacs of Britain, Ireland and further afield, but major computer and connectivity problems at Borlochs Hall have prevented a review being uploaded until now. This may actually turn out to be a benefit, rather than a loss, as it has afforded more time for considered reflection rather than spur-of-the-moment summation.

The Natural Stone Show is a biannual event, which reflects the scale of the trade in these islands, the international nature of the 21st century stone business, and the proximity of the much grander events at Nuremberg and Verona. It's a strange beast, encompassing, as it does, all aspects of the stone trade from paving to memorials to countertops, from enormous CNC machinery to vacuum lifting aids to pitching chisels and goat's head hammers. For me, the problem with this show, and its imitators, has been the unavoidable fact that stone for paving constitutes a minority interest and the consequent ratio of sound to noise, ie: the relatively number of interesting products in amongst the large number of exhibitors, is quite low. Combine that with the London staging which involves a long trek, even for those living in that London, and you have all the key ingredients for a long and unrewarding day.
All of these stone shows are incredibly incestuous. It's stone people talking to stone people about stone, with relatively few of the end customers compared to other trade events; so you have saw manufacturers talking to quarry operators, while dealers jabber with memorial masons and exporters exaggerate to stockholders. Occasionally, an architect, designer or contractor will wander by, looking for the nugget of ore in amongst the overburden, but the bulk of the business will be done between middlemen.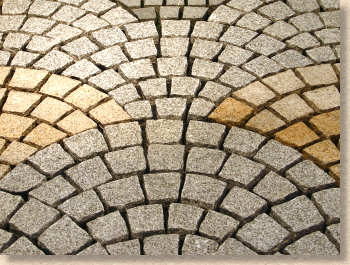 So why come to a show like this? What's in it for a hardscaper, civils contractor or landscape architect? Is it a matter of spotting new products, new sources, new tools, or identifying trends, combinations and possibilities? In truth, it's a bit of all of these, plus the opportunity to renew acquaintances and relationships. You'd be hard pushed to make it last a day; in fact, one major buyer for a nationwide distributor serving both Britain and Ireland told me he'd seen all there was to see in less than a couple of hours, and he only hung around because his flight out from London City airport wasn't due until late afternoon. But still, the unspoken sub-text was that he considered the show important enough to fly in and spend the best part of a full day away from his office, not something a man in his position would do on a whim.
In amongst the hectares of bloody travertine (grrr!) and thousands of highly polished granite countertops, there were a handful of the aforesaid nuggets. I was delighted to meet Sushil, unwitting star of Chris Van Halewyn's blog published on this website last summer. His modest, unassuming display belies the scale of his operation back in India and the vast number of highly influential clients he services throughout the world. Sushil was one of many Indian exporters, but most seemed to be hiding their light under a bushel; if they had hardscape products of interest, they weren't exactly making them easy to find. And, generally speaking, what was on view was nothing out of the ordinary. Plenty of granite as flags, kerbs, setts, or cubes; virtually none of the déclassé sandstone and limestone.
Granite, too, from China, from Portugal, from Crete, Sardinia (or was it Sicily?), and just about everywhere else but Britain and Ireland. Granite and, to a lesser extent, porphyry are definitely the ones to watch when it comes to hard landscaping.
Representing British stone, just three entrants in the shape of Royal Forest Pennant, Stancliffe and Johnsons Wellfield. Simon Hart from Royal Forest Pennant was pleased with the level of interest being shown, and the recent acquisition of 33% of Forest of Dean Stone will enable them to continue investment in the quarry and to expand the market for walling and masonry. Although there are imported sandstones that bear a superficial similarity to Pennant, they'll never supplant its place on heritage schemes. This is a native stone that deserves wider use.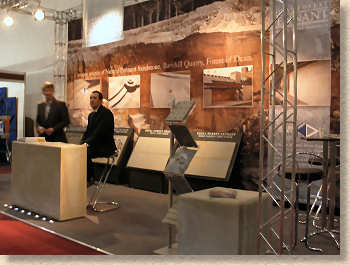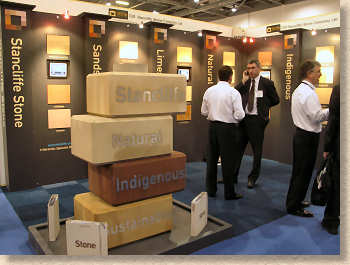 Stancliffe Stone Company , too, have new acquisitions, in the form of Great Tew Ironstone, High Nick and Darney Sandstones from up Hexham way, and a pair of creamy Cotswold limestones including Creeton Hard White. Processing of all architectural masonry from northern English stone (Darney, High Nick and Doddington) will be shifted across the border to Locharbriggs while walling manufacture will be relocated to a new purpose-built facility at Darney quarry with the consequent closure of the Barnard Castle processing site.
Johnsons Wellfield enjoyed a much bigger stand than that seen at the recent CityScape exhibition, affording them more space to stage an expansive display of their gorgeous yorkstone paving and masonry. It seemed to be paying dividends as they welcomed a steady flow of visitors keen to learn more about this most traditional of native English paving stone. The gently tumbled Crosland Hill setts are worth checking out: very attractive, and just the right degree of tumbling to give character to the arrisses without making them too pedestrian averse.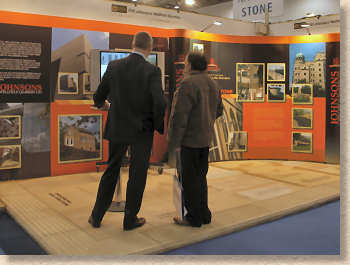 A couple of surprising exhibitors: Natural Paving were just about the only company that directly targets the patio/driveway/residential sector, and, as ever, the effervescent Paul Shephard was bursting with enthusiasm about some of the newer granites and sandstones he's latched on to. The sage-green "Willow" granite is truly beautiful, and by far the stand-out product of the whole tree-themed series of granites Paul is now offering. I would not have thought this event was a logical market for Natural Paving, but with no immediate competitors present, they were rushed off their feet with enquiring visitors.
Easipoint had what is by their standards a bare stand. Trevor Wilson had told me a few weeks back that he planned to exhibit here, and I couldn't understand the reasoning. Easipoint products are widely admired by contractors, engineers and designers, and, as already stated, there are precious few of these at this particular event. Peter Markland had planned to provide his normally crowd-pulling demonstration of gun-injection jointing mortars, but there just wasn't enough interest from the besuited wheelers and dealers who wouldn't be able to tell the difference between a jointing mortar and a bowl of porridge, so we chatted about the handling characteristics of belt-cleaners instead. Easipoint have a new machine due any day now and Peter has promised a demo to be videoed for the website.
Hardscape are one of the more successful hard-landscape factors, sourcing paving and street furniture from all over the world. I was initially attracted by a very, very dark porphyry, the colour of which I'd never seen before, but it seems the unnatural sombre tones may have more to do with the interior lighting than with the mineralogy. They've launched a range of exposed aggregate concrete pavers under the strange brand name "Kellen". The range is manufactured in Holland and features washed ( Breccia ), sand-blasted ( Sabio ), bush-hammered ( Martello ) and polished ( Liscio ) pavers, but it was the Breccia washed pavers that featured prominently on the stand. This type of paver is popular on the continent, and deserves a wider market, but previous attempts to launch it in Britain have struggled for a variety of reasons. As attractive as the Breccia may be, I have to say it is not as fine a product as the Rockstone brand, manufactured in Belgium by Ebema NV, which remains, in my opinion, the best washed aggregate paving range I've ever seen.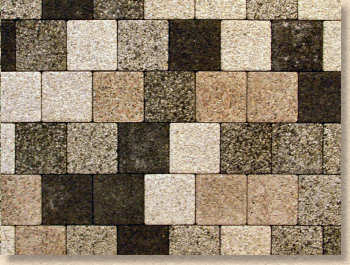 Much of the machinery on show was not directly relevant to the hard landscaping trade, with the exception of a couple of "handling technology" manufacturers: Al-Vac and Probst . Again, I wouldn't have thought this was a natural outlet for their products, but Probst UK's Paul Bolland, now fully recovered from a broken leg, told me they'd sold enough kit to cover their costs, so no harm done. The annoyingly simple " Speedy " flag-laying gadget is one of those bits of kit you wish you had invented. Its brilliance is its simplicity: a manually-forced vacuum, based around, of all things, a wheelbarrow tyre, generates enough suck to safely lift a 25kg slab, and with the two-man handles, even 50kg are possible. No engine; no pump; nowt to breakdown. It's just too damned clever for its own good!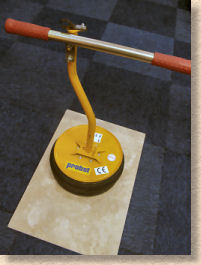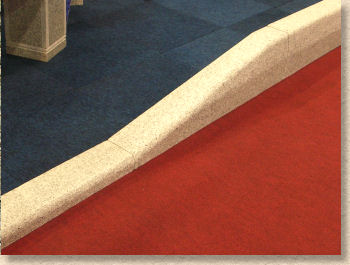 My visit lasted around 5 hours, which is longer than expected. On reflection, I would say the trip was just about worthwhile. Not much new to see, but it's the only place to get a reliable overview of the wider industry and gauge what might happen over the next year or two. Of course, I'd love to see more hard-landscaping on show (and much less bloody Travertine), and more contractors, engineers and designers in attendance, but this is a chicken and egg situation. For anyone heavily involved in the stone trade, it is a must-be-there event, but most hard-landscapers would be a little disappointed. If you've a spare day in Spring 2010 and you fancy a day away from the site or the office, it's worth a visit, but in terms of inspiration for our very insular section of the stone industry, it's not in the same league as CityScape. However, if we want to see more hard-landscaping at the show, we have to vote with our feet.