TopPave's new products for 2004
Tarmac TopPave claim that inspiration for the new products in their 2004 range has taken inspiration from UK counties, contractor clangers and even computer games!
Patio Flags
Milton:
This new range of cast patio flagstones is marketed as a premium product with a slightly deeper riven surface and 'fettled' edges. The inspiration for this range is said to come from "an unconscious mistake when a contractor laid a natural stone flag upside down and attracted an enormous amount of consumer interest". The moulds for this range were created from genuine stone flags for authenticity and the colours were developed using feedback from variopus parts of the country in order to create a range of hues sympathetic to regional variations. The Mellow Stone (Grey/Tan) reflects the London area, Amber Stone (Yellow/Dark Orange) echoes the colouring of the Cotswolds and Plum Stone (Grey/Burgundy/Tan) is intended to be reminiscent of Monmouth stone. The flags are all 40mm thick and come in a range of 7 sizes, from 300x300mm to 750x450mm.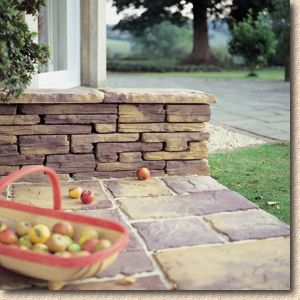 There is also a complementary walling range that has a slate-like moulding to both sides, which ensures both the front and back of the wall will have an attractive look, making it a good choice for projects such as divider walls. The four interlocking unit shapes were inspired by a certain well-known block-dropping computer game, and they enable the builder to create unique random effect walls.
Sheridan Stone:
TopPave's entry in the now over-subscribed imported Indian stone stakes has been expanded by the addition of a new brown colour they've decided to call "Forest", which is intended to complement the existing Mist (Grey), Fern (Grey-Green) and Coral (Golden Brown) offerings.
As the Sheridan range is only available in 3 sizes, it can't offer the same degree of flexibility and 'randomness' that's available with similar products from other suppliers, but TopPave have countered this somewhat by providing a 1690mm radius circle feature comprising a 4-part centre with 3 outer rings of 422mm width, along with a "Project Pack" comprising 12 square metres in a much more respectable 5 sizes.
Bronte Project Packs:
Picking-up on the popularity of the Sheridan Stone Project Pack featured in last year's catalogue, this product offers contractors and DIYers a 'patio in a box' featuring the popular Bronte open-moulded riven-effect flags. Each pack contains just over 7m² of Bronte flags in 5 sizes along with instructions and advice on possible random layouts.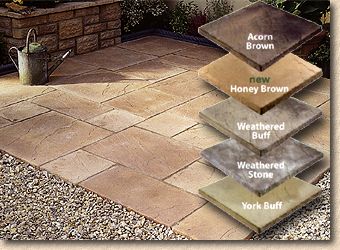 The Bronte comes in 5 colours: Weathered Stone, York Buff, Weathered Buff, Acorn Brown and a new colour, Honey Brown a mix of tan and brown that has been brought in to replace the Old Stone colour from last year.
Chaucer: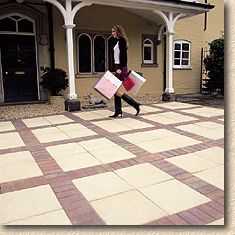 This shot- textured range of patio flags now has a 50mm offering, which is said to be suitable for driveway construction.
Sorry, TopPave, but these shot-textured flags are notorious for being easily marked by car tyres and are best suited to paths and patios where their rough-cast texture is better appreciated.
The flags are available in 600 x 600mm and 450 x 450mm format, in red, natural and buff.
Block Paving
Aura:
TopPave's new entry this year is said to imitate "the undulation and colours of granite" and the blocks contain a special ingredient that imparts a natural looking sparkle. Following initial manufacture, the pavers are tumbled to emphasise the natural textures.
The Aura blocks are 60mm thick and come in 2 standard sizes, 171 x 114mm, 114 x 114mm, and then there's the 111 x 114mm and 111 x 85mm sizes that, confusingly, are intended for the 730mm radius circle kit. Two colour options are available, Bronze Fleck and Silver Fleck.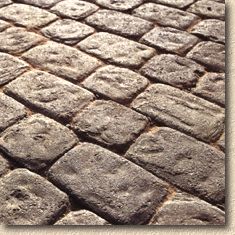 Classico:
The ever-popular Classico, which seems to have been around forever and remains just as popular, has a new colour option in "Autumn Sunset" which was such a success when originally developed for the Regatta range. Autumn Sunset is a mix of charcoal, red and buff.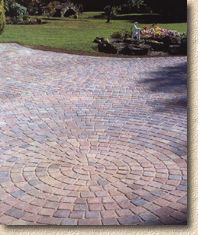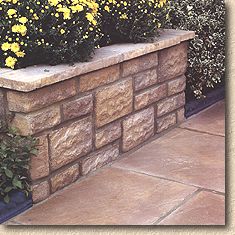 Walling
On the walling front, a new product, "Auden", has been introduced as a replacement for the old Dryden range. This new range comes in 3 sizes, Large (225 x 100 x 160mm), Medium (300 x 100 x 75mm), and Small ( 225 x 100 x 75mm), and the same 5 colour schemes as described above for the Bronte products. There's also a 150mm wide, 600mm long coping stone.
TopPave products are only sold through builders merchants. The new full colour 2004 catalogue, shown opposite, is freely available throughout the country.
For further information, contact TopPave Customer service Helpline on 0870 241 3450
All images courtesy of TopPave - thanks.
Learn more via the TopPave website