Forticrete enters British Paving market
Update: Forticrete suspended their paving ambitions as of September 28th 2006
Traditionally, Forticrete – a sister company of Ibstock - have focussed on CMUs (Concrete Masonry Units), cast stone, and retaining walls but now, with the blessing of parent company CRH plc and in conjunction with Belgium's Marlux-Klaps they've decided to bring a touch of European elegance to the British paving market. A specialist division has been set up with a head office at Thornley, near Durham, while much of the stock and the southern office will be based at Forticrete's existing facility at Leighton Buzzard.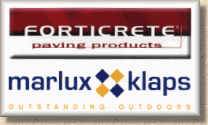 They've selected a fairly eclectic mix of stylish decorative flags and distinctive block paving from the massive range of paving manufactured by one of the continent's leading producers. Landscape products manager, Steve Handyside, has a wealth of experience in the paving manufacturing trade and after being brought in from another well-known manufacturer to lead the new landscape division, he has spent the last few months picking and choosing products he believes will offer something a little bit different, something that will appeal to those looking for style and originality.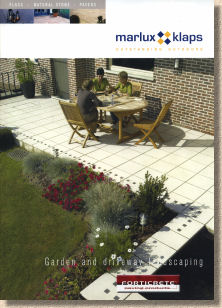 If you've ever had a chance to work your way through a European Paving catalogue, you'll appreciate the Herculean task involved in whittling it down to a representative sample of what's tastiest, what's most aesthetically appealing to the rabidly conservative British market and what offers maximum versatility.
The 60-page A4-sized full colour catalogue has been divided into 5 sections: Flags, Natural Stone, Pavers (CBPs), Edgings and finally, Laying Advice. Overall, there's a fairly European feel to the images, which is only to be expected given that there are very few British installations that could be photographed, but I suspect that a trained eye has sought out those images that are not as overtly North-European, so there's not too many of the boxy houses and no "foreign" cars on the driveways.
All of the flags are distinctively stylish, with a mix of textures and finishes that are now possible thanks to face-mix pressing and secondary processing. They all look 'clean' and sharp, and are ideally suited to the current trend for contiguous flooring-paving, where the same product is used as a floor in the conservatory and a paving for the patio, linking the two and creating a harmonious flow from house to garden.
Apart from the fact that all the flags are face-mix pressed (ie: no wet-cast), three important features not normally indicated with British paving are flagged-up (excuse the pun): All the flags are guaranteed frost proof; they are guaranteed "resistant" to efflorescence; and some of the select products have been treated with a special coating, M-Coat, that renders them inhospitable to algae, lichens, mosses and other vegetation.



This is summat new on the British market and deserves further attention. The M-Coat is not some god-awful glossy sealant: in fact, you'd have a job to tell there was a coating on the surface because the flags look and feel just as you'd expect any other high-quality pressed flag to feel. Further, not only does the M-Coat prevent all the usual patio greenery establishing itself on the paving, it also prevents mud, grass stains, barbecue fat and host of other undesirables from adhering to the surface. Has your sausage sizzled and splashed the paving? Simply clean the surface with soap and water and you'd never know it happened – no greasy fat stain, just perfectly clean flags. Now if that isn't a major selling point for patio paving, I don't know what is!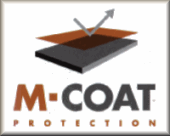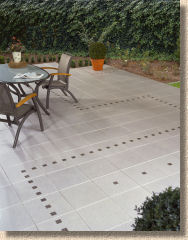 So: to the flags, a range of twelve different products, in a range of subtle colours. Rather than attempt to describe each, I'll pick out those that particularly appeal to my warped sense of taste. Fiorentina® is a 400x400mm shot-textured M-Coated flag available in a beige or grey colour, with special feature flags which incorporate insets of a contrasting stone. By combining the four options, they can be used to create subtly styled patios or floors that are simple and decidedly unfussy.
Antico is a flag with a sort of flame-textured finish and rounded corners (although there is a square cornered version also available). It comes in four colours and three sizes, so it can be laid in all sorts of patterns and layouts. It, too, features M-Coat protection.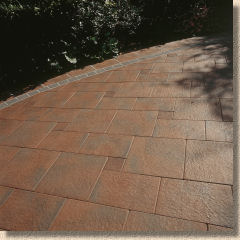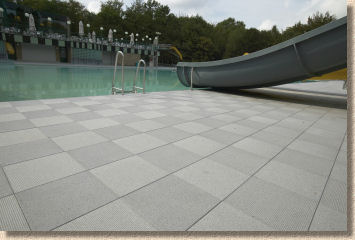 Cannelure is like nothing you've seen before. It features a fine ribbed texture, far more subtle than a bar-face type flag, and this gives it an added sense of anti-slip making it ideal for use around swimming pools. However, what's most intriguing for me is the way that the orientation of the flag affects the lighting and shadows – in the photo above, what looks like a chequerboard effect has been achieved using flags of exactly the same colour.
Granibleu® replicates the look and styling of the famed Belgian bluestone, and has the added benefit of being available in a 60mm thickness, making it suitable for use on private driveways. As the blurb in the catalogue says, it is virtually indistinguishable from genuine bluestone, a super-cool bluey-grey, slightly sparkly stone that is bound to appeal to modern and minimalist designers. It comes in three different finishes: bush-hammered, buffed (polished) and a bush-hammered with buffed border option. Gorgeous with a capital G!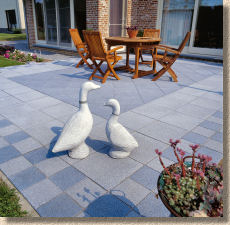 Finally, a word or three about the Decorative Strips . These are, quite simply, bloody fantastic! Thin strips of contrasting texture, colour and even motifs that can be mixed in with any of the other 400mm flags to create pencil borders, demarcation lines, to accentuate certain areas or just to add a bit of fancy decoration. Five different finishes and a million and one possible uses. These bring a long-overdue alternative to relying on block pavers to break up a large area of flag paving, and will really find their niche in the aforementioned conservatory-patio flow-through paving schemes. Delicious!
To be brutally honest, the natural stone section is sparse, featuring as it just the one product, a Travertine (yawn!). Yes. It's available in four styles and four sizes, but it is, at the end of the day, just another travertine and I've never been able to understand the appeal of a holey, pastel-coloured stone that gets swamped with dirt and vegetation in next to no time. I can understand the wish to offer a "natural" product and so provide a more rounded, comprehensive range of paving, but there are far better stone products available and why offer something that's already widely (too widely) available?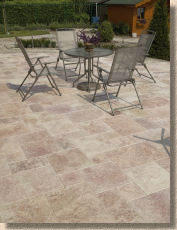 Part 3 - the block pavers. Given the product range available in Belgium, it would have been simple to offer another bog-standard 200x100 format block, but on the whole, Steve Handyside has managed to resist the temptation to stick with the predictable and instead, has created a palette of tried and trusted tumbled pavers in two formats and a tumbled, textured block that revels in the name of "Bergerac".
Bergerac comes in two 'flavours'; the standard form which offers three colour blends and three sizes, while the Mega-Bergerac is available in the same three colours but comes in much chunkier sizes – the largest unit is a whopping 240x360mm, so you only need 11 and a bit to cover a square metre. The texture is rugged without being hazardous, and offers a much more organic look to paths, patios and driveways (good name for a book, methinks!) than the more usual smooth-topped tumbled pavers.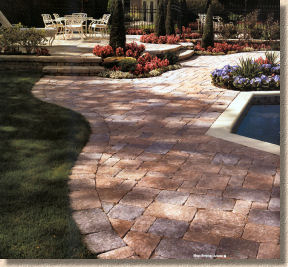 I'm not 100% sure about the creamy "Antique White" colour; it may be too light for some tastes and I'm concerned about tyre marks if it's used on a driveway, but as a contrast block, it should be fine. The Anthracite is a dark grey, somewhat darker than what we normally see labelled as "Charcoal", while the "Autumn" is a reddy-brown-multi with a good wide range of colours. Both the standard Bergerac and the Mega version are available in 60mm thickness making them eminently suitable for driveway use.
Cahors is a more familiar tumbled paver. Three sizes, four colour blends, and the usual smooth(ish) surface. All three sizes come in the one pack, which doesn't suit everyone, but it does help keep costs down.
The catalogue recommends summat called "Roman Pattern" but I reckon this will give more than a few contractors one helluva headache until they familiarise themselves with it. Unlike the usual tumbled blocks, Cahors doesn't have a consistent "width" enabling it to be laid in courses: it includes a size best thought of as a 'jumper' block, spanning two courses, and so creating a fully-interlocked layout. This should help reduce the incidence of channelisation we see on coursed layouts, but it may not be to everyone's taste.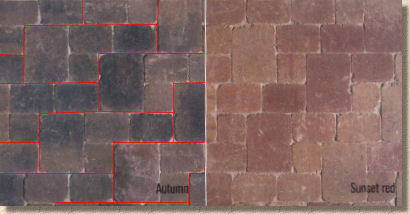 For those more comfortable with the usual, staid, coursed layouts, Steve has selected "Stonehedge®" – yes heDge! This is the familiar tumbled paver although only available in one size, a square 150x150mm. The paucity of sizes is countered to some degree by the wealth of colour options – six of them, ranging from a pale buff "Champagne" to the "Autumn" and an intriguing blue-tinged colour blend they call "Oceanis". Unlike some other European multi-colours, the Forticrete branded blocks have genuine multi-colour blending within each block and do not rely on having differently coloured blocks that have to be randomised prior to laying to achieve a multicolour effect.
Although there is an unbelievably huge selection of pavers on the continent, the three (or four, depending on how you count 'em) offerings in the Forticrete range may seem parsimonious but I tend to feel that it's better to have a carefully selected menu that should provide something for most tastes rather than overwhelm the buying public (and the contractors) with a smorgasbord of everything. The Mega-Bergerac will look stunning on the right property, but its size and chunkiness will probably limit its market, while the Cahors is an idea I firmly expect to see replicated by some of the UK-based manufacturers in the next year or two.
Edging is another short section, with just three products, two of which are actually walling blocks. Granubrick® is a split-faced stacking system with a tapered block format that enable internal and external arcs and curves to be built as well as straight lines. Bordeaux Walling relies on special connecting pins to link the courses, and offers a mix of six sizes and two colours that can be used to create retaining and/or free-standing walls with an endearing tumbled texture. The only true edging in this section is the Gardino block, a palisade edging available in two colours (Autumn and Black).
I've never understood why palisade edgings are not used in Britain and Ireland. They are such a simple, elegant and straightforward solution to the problem of raised beds and awkward levels. More than a step yet less than a wall, a palisade edging is an absolute doddle to install but so few contractors and designers know about them that they have never really taken off and become as familiar as they should be. I do hope that Steve and his merry band at Forticrete have the success with this product that it truly deserves. If I had to choose one product from the entire range that I would like to see prospering on the hard-landscaping market in Britain and Ireland, it would be the palisade edging, Gardino.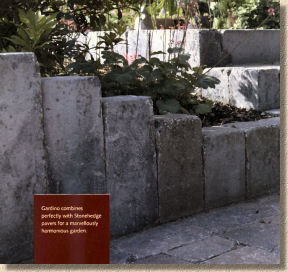 The final section of the catalogue gives very, very basic advice on laying techniques. I'm not sure there's enough detail to guide a DIYer, and contractors will have forgotten more than is contained here, but then, this is a products catalogue and it's not their mission to tell us how to construct a patio or driveway: there are plenty of other sources for that information, including the pavingexpert website and a damned good book that will be on sale any day now!
Overall, this is a good catalogue that has significant appeal to those building a patio, but there's enough in there to attract those considering a driveway project. The photos are straightforward, with very few of them cluttered by human models. In general, they show the products clearly and with a touch of panache. The text is sparse, and very European in places – in fact, some of it reads as though it's been put through Babelfish, although to be fair, Steve is aware of this and promises a thorough review before the next edition. However, it remains a catalogue that deserves to be seen by every contractor, if only to whet their appetite and open their eyes to a different way of styling. Designers, landscape architects, and anyone with a desire for something more stylish in their garden, would be making a big mistake if they miss out on this one.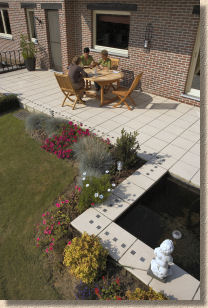 Products are delivered on shrink-wrapped Euro-pallets and the team endeavour to fulfil every order within 4 working days. It's worth noting that every flag is individually wrapped in its own protective placky bag to ensure they arrive on site in pristine condition. Steve is particularly keen to hear from landscapers, paving contractors and designers wanting to work with the new Forticrete products, and the company provides a comprehensive sales and technical back-up service.
There's a bit of a delay in getting the new Forticrete Paving website up and running, but there's a basic "holding page" that you're more than welcome to visit, and anyone wanting to order their own copy of the catalogue over t'internet can use the form provided here.