Green Award for Acheson-Glover
Northern Ireland's Acheson-Glover have won two major prizes the prestigious National Green Apple Environmental Awards - a Gold Award and the honour of being proclaimed Green Champion of Ireland.

The winners were presented with their trophies by former England cricket captain, Allan Lamb, at London's House of Commons on 8th November, where they were guests of Health Secretary Patricia Hewitt.
2005 was the eleventh year of the Green Apple Awards, which are now recognised as one of the world's top environmental award schemes. They are supported by the UK Environment Agency, the Chartered Institution of Waste Management, the Municipal Journal and various other official bodies. The Green Apple Awards is an international campaign lead by The Green Organisation , an independent, non-political, non-activist, non-profit, environment group dedicated to recognising, rewarding and promoting environmental best practice around the world.
Acheson & Glover won the Awards against strong competition from other companies in the Irish, British and European quarrying and construction products industry, in recognition of the innovative solutions to challenges faced at their Belcoo and Dungannon manufacturing plants in Northern Ireland.
Commenting on the success, the judges said: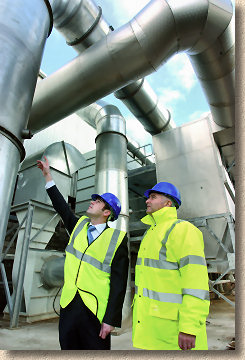 The Green Champion of Ireland Award focused on the A&G granulated lime plant. Installed at a cost of £5million and designed to recycle dolomite limestone slurry into a valuable agricultural product, this plant has removed 40,000 tonnes of lime slurry per year from landfill. It eliminated an estimated 200,000 road miles associated with that task and converted a re-cycled waste product into a commodity much in demand by farmers throughout Europe. The Acheson & Glover Plant has also led to a significant reduction in the need for lime extraction in Ireland.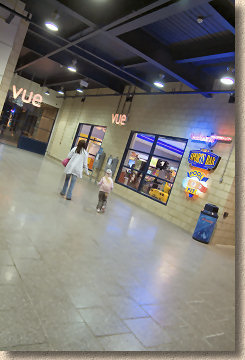 Meanwhile, over in sunny Blackburn, Acheson & Glover supplied their top-of-the-range, TerraPave Natural Aggregate flags to the new Vue Cinemas & Bowlplex Family Entertainments Centre. A total of 220 m² of TerraPave in Milano colour were installed in the foyer area of this upmarket leisure complex, which provides cinema, ten-pin bowling and retail facilities for the local area and with over half a million visitors expected each year, the paving needed to be durable, low maintenance and have exceptional aesthetic qualities.
Commenting on the choice of TerraPave Flags, Nick Ratcliffe, Associate Director for the designers, Ratcliffe Groves, said,
Ratcliffe Groves specified an installation method of wet-mortar bedding the flags onto the concrete substrate, with all joints mortar pointed. The paving was installed by Irwins Construction of Leeds.
TerraPave Flags are part of a wide range of high quality landscape products from the Acheson & Glover Group. They are made incorporating a 20mm thick surface layer of high quality granite aggregates. This gives them an attractive, natural stone surface finish but without the usual high cost associated with stone flags. No pigments are used in the manufacture so the pavings also claim outstanding colour retention qualities.