Pavestone's E-brochure
There's been all sorts of changes to our lives over the last 12 months. Who'd heard of Zoom this time last year? How many of us have been WFH - working from home - or have partners that seem to be locked away for large parts of the day. How many have endured the metal, physical and spiritual torture that is Home Schooling?
Talking to contractors up and down the country, most seem to have managed to avoid being locked-up at home for too long, and have kept themselves busy, but there has been a significant impact on how manufacturers, suppliers and distributors have responded to the mor-difficult trading conditions. Most of us have seen some changes, even if it's only the difficulty in getting into the Builders' Merchant yard to pick up a couple of bags of cement, but it's not been anything too challenging, thankfully.
For those that manufacture, import or distribute materials, maintaining a viable relationship with us, the core consumers, has been a challenge, and it's fascinating to see how quickly, how competently, and how effectively different suppliers have adapted to this so-called 'New Normal'. We've had online awards ceremonies, an ever-growing number of early evening Webinars to discuss specific topics, and the occasional rowdy Live Forum where contractors at various stages of inebriation are allowed to vent their deepest frustrations. One particularly memorable product-promoting webinar featured a delegate clad only in his boxers who spent the full 75 minutes cracking open bottles of Stella, or maybe it was Bud, and burping his general agreement with all he heard.
One of the more decorous attempts to maintain and enhance a relationship with contractors has come from Pavestone, nationwide supplier of quality hard-landscaping in porcelain, natural sone and concrete. They've produced bespoke e-brochures for key customers and distributors. These are, effectively, up-to-date online flip-book brochures badged with the logo and contact details of each user. The idea is that key distributors amongst their merchant stockists along with their ever-growing band of loyal installers can use the e-brochure to show customers particular products or ideas, as well as the ability to add the flip-book to their own website or social media posts.

Pavestone MD, Jon Layton, explain the thinking behind the scheme:
"Why have we done this? Well with the advent of the COVID-19 pandemic, 'online brochure' viewing has increased dramatically right across the retail and trade sectors? Heavily influenced by the general public not being able to travel for non-essential reasons and the dis-trust of physically handling brochures from retail outlets, has led to massive increases in people viewing them online instead of reading physical copies. Don't worry, though we are still supplying physical copies in addition however, we thought that our customers might like to capitalise on this exploding trend and have therefore put a brochure together for them to make it easy to action."
The 'tool' is easily incorporated into social media posts, requiring only the 'front cover' of the personalised e-brochure to be included in the posting or 'pinned' in Facebook, Instagram etc. When clicked, the reader is magically whisked away to the full online version, stored on Pavestone's server, to browse at their leisure.
It can be added to a website, again needing only that cover page, and, when the reader is finished, they are returned to the original site. Similarly, it can be included within a blog, vlog or more-or-less any other online presentation.
And there's even the facility, by clever use of one of those QR codes, to have it included in print advertising, van signs or any other hard-copy media so that clients can access by scanning the spotty code with the 'phone.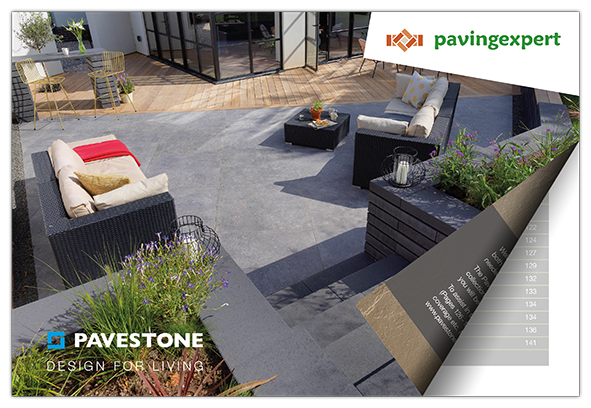 This is very much marketing for the 2020s, and while it may well have come around eventually, the changed circumstances forced upon us by this pesky virus has accelerated its relevance and its importance. It's a major advance and strongly hints at what lies ahead for the way paving and hard-landscaping will be sold to the residential sector in particular, with huge possibilities for the commercial sector.
Of course, Pavestone will continue to publish a traditional paper-and-ink hard copy brochure, which I look forward to seeing (and reviewing!) very shortly, but for now, this story is about how technology is changing the way in which contractors and merchants will be selling, not just for the duration of the virus, but for many years to come.
Meanwhile, if this e-brochure would be of interest to you, contact Pavestone to find out whether you're eligible.
---
---