7th Natural Stone Show
The 7th Natural Stone Show took place this week at ExCel in London. Having missed a couple of the previous "editions" (it's a bi-annual event) I was persuaded to re-acquaint myself with the event by one of the promoters who lured me south with a promise of paving and of lots hard-landscaping. Obviously, promoters will promise you the moon on a stick if they think it will get you "on board", and following the pre-show news feature published on this site a few weeks back, I made a point of checking the exhibitor list to make sure it was worth the trek. You couldn't really describe it as being flush with relevant exhibitors, but there were enough "names" to make me forsake a night in my own bed and treat myself to one of Mr Branson's keenly priced "Saver" bargain tickets.
As soon as I walked in, the first people I clapped eyes on were Mr Tobermore (GB edition) chatting with Mr Pavestone, who was agitated at the thought of certain "big" companies moving into the direct sales market. Halfway through the discussion, Mr Stone-in-Bolton, appeared, and you could sort of tell that this was an event that was definitely attracting the right sort of people.
Although there were no block paving companies exhibiting (or perhaps I should say no companies exhibiting block paving), the buzz topic of conversation amongst many of the paving people I met during the course of the day was the imminent sale of TopPave by daddy Tarmac following another poor year of depressed sales and falling market share. I suspected summat was afoot when the PR bod at TopPave never contacted me, as requested, following the Homebuilding and Renovation Show at the NEC a couple of weeks ago. I had been considering a featurette on the TopPave training scheme, but as my request for a chat was never answered, I put the idea on hold - which is probably a good thing in the light of this latest development! It will be interesting to see who, if anyone, comes in to buy what was formerly one of the top brands in the paving trade. The current portfolio looks weak in comparison with others in the market, and there's only really the Classico block that has any cachet. Two possible buyers were mentioned time and time again during the day - one begins with B, the other with H (although they are themselves the subject of takeover talks). I wouldn't like to say which I thought was favourite.
Anyway, back to the real business of the day - the Stone Show. I'll start with those that were showing stone, and in particular, those promoting native stone. The biggest name at the show, and by some way, was Marshalls . A large-ish stand, but simply dressed, with what seems to be the trademark "hole-in-the-wall" feature that has adorned a number of Marshalls' displays over the last couple of years. This was a dual purpose display - the stone itself, obviously, but also the new range of stone street furniture, which was rather understated on the stand, comprising a minimalist bum-park (I hesitate to call it a bench as it has no arms) and a couple of balls. I suppose a stand littered (no pun intended!) with street furniture might have been a bit daunting in the available space, but for a product launch, it felt remarkably understated.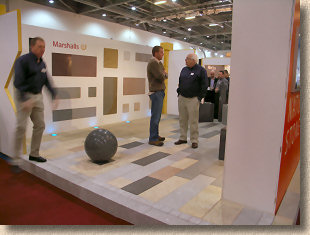 The paving, as you'd expect, covered the floor, and consisted of strips of various stones laid in a 45° stretcher bond, with two panels of native sandstones sandwiching an eclectic collection of imported granites. This is a display design that is well-used by a well-known stone distributor who had decided not to show at this particular event, so no prizes for originality, but it is very effective at getting across the message that they have a healthy palette and stone works best in combination with contrasting colours and/or textures. If there were no prizes for design originality, then Jeremy Swallow and his team certainly deserve the flagger's maul award for attentiveness. This is a busy stand, but no-one was left un-tended for more than a few seconds, and the sales team were certainly knowledgeable and chatty.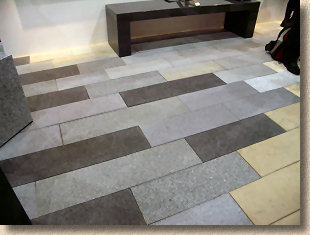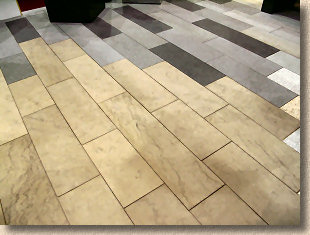 Two items in particular caught my eye - firstly, the bull-nosed kerbs used to edge the display area: these were cut from two-types of yorkstone and laid out alternately, which helped emphasise the contrast. Secondly, a large panel of granite tactile paving stuck onto the back wall. I guesstimated these pieces, one of blister and one of directional, must have been at least 600mm square, which is what summoned my attention, because the plan size for tactile flagstones is, for want of a better phrase, carved in stone within various "statutes" and a format that size is not mentioned therein. Had there been changes? Were large element tactiles now permissible? A Frayed Knot! These were specials, cut for the show to show off the fact that tactile format paving can easily be cut from any of the Marshalls' natural stone range.
The next major British supplier was Formpave Forest Pennant , with their cockle-warming Pennant stone that has caused me to wax lyrical on several previous occasions. If you've not familiarised yourself with this classic of the British Flagstone Industry, you should go and stand in the naughty corner for ten minutes. The blue is crisp; the mixed is charming, and with both colours available in either sawn or shot finish, you really can't go wrong. Most surprising for me, was the absence of Formpave's regular exhibition Dream Team, Steve Spikes and Peter Johns - not that Simon Hart and the others aren't up to it, but just that I'm so accustomed to seeing Steve's big smile sat behind the Formpave desk.
Even without Steve and Peter, the hospitality and the craic at the Formpave stand is never less than mighty, and it would be very easy to spend the whole day just chatting amongst ourselves, but I never buy owt, and they need to make a living, so I limit myself to a few minutes to catch up on news and events, and it was re-assuring to see that during those few minutes there was a more-or-less non-stop flow of visitors keen to see and touch the stone and investigate new ways in which it might be used.

Huddersfield's very own Johnsons Wellfield Quarries had a corner plot paved with summat new. A gorgeous, gritty-looking red-orange-buff sandstone, edged with the familiar creamy Crosland Hill. Although this new stone is sawn finished, the varying grain size, gives it an amazingly gritty look, a look that says "you won't slip on this". The combination of colouring and texture make this an incredibly alluring stone that is northern and native and new, and deserves to be used at every available opportunity. However, finding out that a Tyke firm were calling their new baby "West Pennine" was a bit of a surprise, particularly to someone schooled on the West Pennine Moors above Bolton. Folk around there reckon God built the Pennine to keep the Yorkshire Tykes out of "Lankysheer", so finding those very same tykes selling stone in their name...well, they'll be choking on the Greenhalgh's pasties in Bowt'n, I'll tell thee!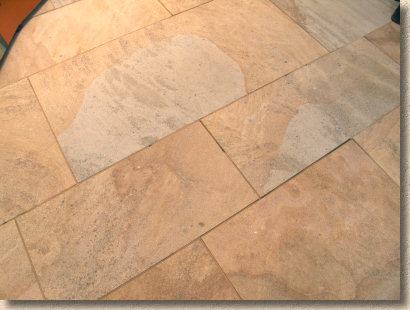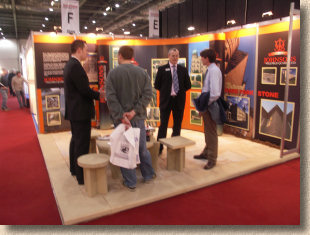 But to be fair, it is very reminiscent of the chunkier Millstone Grits that line the western Pennines from Bolton right up to Pendle and Colne, and I've a suspicion that, given enough time, those reddy-orange tones will coalesce to create the rusty hard tones so familiar in what's left of the clog-worn side streets of Darwen and Edgeworth. At around 50 quid per square metre for 40mm sawn-six sides, this has to be a winner. It's the best-looking stone I've seen for some time.
Stancliffe Stone are the last of the native stone exhibitors. Being directly opposite their parent company, Marshalls, could be seen as a curse or a blessing, depending on your point of view. However, to ensure there more chance of it being a blessing, you need to "work the stand", and in the course of two visits, I managed less than half-a-dozen words with the sales force ("force" is probably a bit of an exaggeration!), and these consisted of "Hang on while I take this call". I did hang on, for about 5 minutes, and then decided I really didn't need to hang on any longer.
Which is a shame, because some of their stone is really good stuff. They have two true red sandstones, the Bees Head and the Locharbriggs, not to mention the celebrated Stanton Moor, Scout Moor and Fletcher Bank, all from those legendary west Pennine hills. I found their stand to be worryingly user-unfriendly. The stone samples were displayed within perspex cases, and it was a struggle to get to touch them. Stone, for me at least, is a tactile material: I like to feel the grain and so come to understand the texture, and although it wasn't impossible to get your hand inside the perspex cases, I felt it sent the wrong message - that the stone needs to be protected, to be screened, and kept away from grubby hands.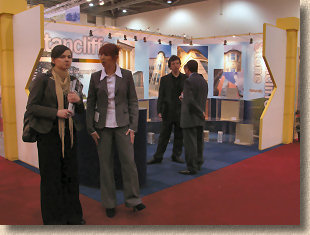 As I said, I didn't hang around long enough to find out more, so I can't tell you about price, availability and sizes, and I can't update my internal gossip about projects that I really should try to get to see for myself, or contractors that did a particularly good job, which is what I spend a lot of time doing at these events. And given that it could be the next Stone Show, in a whole two year's time, before I get the chance for a face-to-face chat again, it does seem like a wasted opportunity....for them.
Finally, a quick mention for Wessex Dimensional Stone . Their usual stock-in-trade is Bath Stone, the world famous honey-coloured limestone from Zummerzet, but I spotted a couple of flagstones lurking at the back, and my enquiry revealed that these were limey-sandstones, or sandy limestones, quarried in the Salisbury area, and were recognised as the oldest known flagstone type in Britain. Originals have been found laid as a chequerboard pattern to the floor of Old Sarum cathedral. No photos, I'm afraid, but I'm hoping to find out more in the next few days, because anything with a bit of history to it has me intrigued.
That's the British stone done and dusted - and notice I use the term British: no Irish stone on show, which is really disappointing. I saw a few bits of Laois walling stone, and one of the headstone boys showed me a lovely Celtic cross carved from Kilkenny Blue, but no paving. Sad.
However, as you would expect, the Indians, Chinese, Turks and Italians were very well represented. Imports of stone setts, kerbs and flags from these countries has grown by a staggering 104% in the last year (source: show catalogue p.88) and while it's easy to put this down to price (Asian imports are costing roughly half the price per tonne of stone from European sources), some of this growth has to be due to the sheer range of stone available. We're familiar with much of it - over-familiar with some types - so I'll focus only on those items that took my eye for one reason or another.
Malbros are one of the biggest traders in Indian stone, and have all sorts of wonderful projects and government accreditations to their name. Their displays are always a fantasy of stone, from tiny 10x10mm tiles to paving and walling and lots of sundries. It would be easy to saunter past and assume it just another stand of Indian stone, but over the years I've found that Malbros usually have one or two gems hidden in amongst the Kota Blue and Raj Green. This time, it was a tumbled Modak sett, 150mm square. Modak is familiar to many of us, and I have to admit it's not one of my favourites, but in this format, in small plan size and quite heavily tumbled, I think it's delightful, and I'd be delighted to use it as a design detail for a patio or even a driveway. Hopefully, someone in the UK will take it on and add it to their portfolio, because amongst all the honed and flamed also-rans, this one is a winner.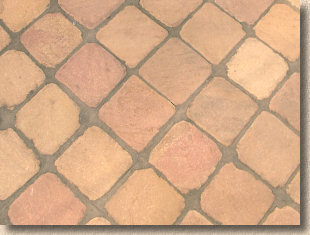 Cirencester Gold is not, perhaps, a name that immediately conjures up images of the stone fields of northern India, but that is actually where this very attractive ham-stone coloured range of flags originates. Obviously, the name has been chosen to appeal to a particular market in that part of England, and I'm not sure that is particularly fair (some of you may recall my acerbic comments regarding Marshalls' Haworth Mooristan range), but for now, I'll restrict my thoughts to the actual stone.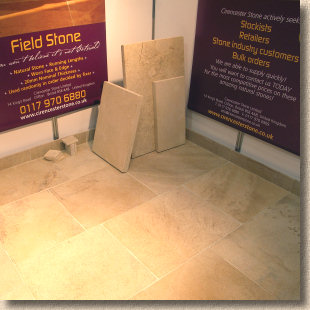 It is very Hammy. Those of you familiar with Ham Stone and the colouring of Oxford and the west, will be taken in by it, if only for a few seconds. However, I can see it attracting interest further north - its colouring isn't too far removed from one or two of the stronger-toned yorkstones, and it would certainly prove to be a talking point. It's warm and endearing, with a soft, worn texture brought about by the antiquing process.
It will work wonderfully well as the flooring for a conservatory extended out to a patio area, which is a popular design theme just at the moment. The importer assures me it will withstand the rigours of a British winter (but can it cope with a British March??) and priced at 49 quid per square metre for 50mm thick, it's priced to compete with many of the native stones, new and reclaimed.
A couple of Chinese exhibits that are worth a quick mention: First, a lovely bush-hammered bull-nosed granite kerb, in 600mm lengths. It took a bit of translating for me to winkle out of the exhibitor that the cost would be $5.70 - what is the point of quoting in US dollars? Euros, I can understand, but US dollars mean nothing to the UK market. They might as well have quoted in Yuan. On the off-chance that the people from Xiamen Prime Stone are reading this, here's a free piece of business advice: Price your materials in the currency of the country to which you are selling.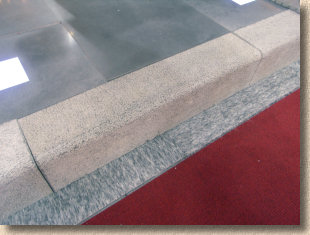 had a strange set-up - the table and chairs were tucked in a back corner and you were obliged to totter across loose samples to reach the people with the answers. I don't do tottering - my knackered back won't allow me, so I asked for a catalogue to be passed across, in exchange for a business card, and I just took the photo shown here. Setts-on-mesh is nothing new, I know, but I was quite intrigues by the colour and texture of these items. Time for more business advice to our Chinese colleagues - if you print a map of the world in your catalogue intended to show how stone from Xiamen province is sent to all parts of the planet, try not to miss off the British Isles, especially when you're hoping to sell to those countries!
Vietnam is an emerging nation for the stone trade, and their big asset is basalt, a solid, deep bluey-black basalt that can be worked as flags, setts, kerbs and all sorts of other items. However, dark bluey-black isn't the most appealing of colours, so the flagstones and larger items are usually textured in some way to add interest. Prometeo are an Italian company but the stone is definitely from Vietnam, and this combination of bush-hammering and "stripping" was particularly attractive.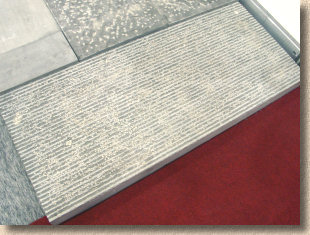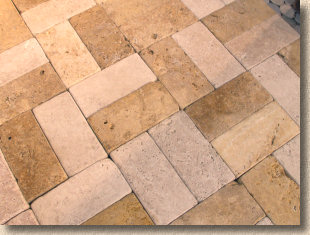 Travertine - I'm sick to death of travertine. It's been touted as the "next big thing" for the last two or three years, and it's not. It's OK for a conservatory floor, but it's far too problematic for patios and should never, ever be used for a driveway or any commercial project. It's a decorative stone - it's not a structural stone like granite or yorkstone. However, Stone Centre from London were showing these tumbled travertine blocks which I thought was an interesting twist on the tired old 400x400 flag format.
That's the stone over and done with. There was, of course, loads of worktops, cladding, flooring, headstones, statues and just about everything else that can be manufactured from stone, but for those of us with a hard-landscaping bias, that was more or less it. There were lots of sundries and ancillaries, including some bloody amazing monster-sized cutting machines that could be programmed to cut almost anything you could imagine, but I'll restrict my comments to those items with some connection to the paving trade.
Easipoint were the only jointing material manufacturer in attendance, and they made the most of their exclusivity by staging thrice-daily "come-and-have-a-go" demonstrations of just how simple it is to use their pre-batched, gun-injected mortar system. I know several contractors that regularly use this site have had Easipoint out for an on-site demo, and, without exception, they've all been impressed, and so it was with the crowds gathered to watch Arthur and Peter demonstrate jointing of riven flags, smooth-edged tiles and....glass block. Although using a mortar to joint glass blocks laid in the horizontal plane may seem a bit daft at first, it was done to illustrate how even deep joints (75-100mm in the case of these blocks) could be completely filled using the Easipoint system, and there was no shortage of volunteers keen to experience for themselves simple, straightforward, speedy, and (for the most part) stain-free jointing.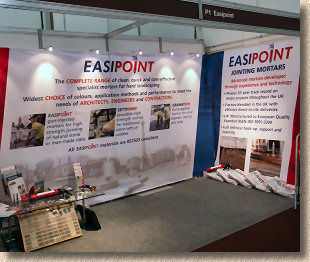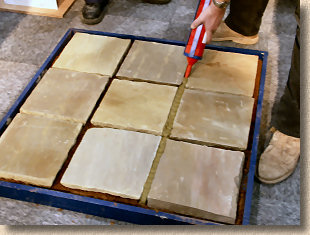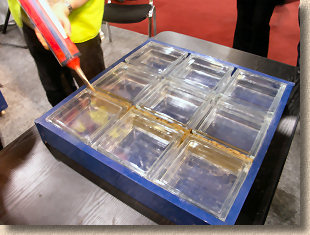 Two stain-prevention and sealants companies: Lithofin is possibly the best known name in this field, and it seemed that every third stand was offering Lithofin products as part of their range. I had been hoping to have an in-depth chat about the pros and cons of different products for different applications, but as soon as I made it clear that I wasn't actually a retailer or distributor, I was given a cd-rom and abandoned.
Slightly better results from Delta , who at least had the time and courtesy to sit down and identify two products that should be of interest to those looking to treat sandstone. Tergon is a water-based non-acidic cleaner that should bring out the best of your sandstone and with no risk of creating those awful rusty iron markings that happen when an acid-based cleaner is used. Saf Seal is a solvent-based sealant that has no visible impact of the appearance of the stone, but gently enhances the colour while providing protection from stains, moulds, and all the other gunge inflicted on our paving. Price information sent the salesbod into a tizzy as he couldn't understand the concept of a non-commercial website wanting to know what sort of price contractors could expect to pay for his products, but he eventually managed to come up with 6-7 quid per litre for the Tergon and 16 quid per litre for the Saf Seal - although there can be negotiated discounts for bulk purchases.
Plenty of tools suppliers, most of them focussed on diamond cutting and grinding blades, but two well-known names had expansive collections of mason's hand tools, particularly the pitching chisels (pitchers) beloved of us old-time streetmasons. Harbro Supplies offered everything from a giant crane for shifting stone to a cold chisel so fine I doubt I would be able to grip it, while Bradford's Combined Masonry Supplies (CMS) had what must be the widest selection of pitchers, chisels, punches and specialist mason's hammers I've ever seen. I've been looking for a long-shafted goat's head hammer since I lost my last one a decade ago after launching it at some twonk that had just walked across and dislodged a line of setts I'd spent all afternoon laying. As soon as I get my pocket money from Mrs Taz, a trip over the Pennines to Bradford could well be on the cards!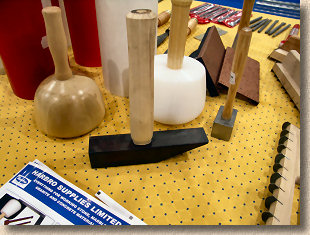 In conclusion, I'm glad I went. Yes, there was a lot of stuff of no interest to me, but I spent almost 6 hours looking at and talking about stone, tools and ancillaries that are of direct relevance to our trade. Any more would have been difficult because of my health, but I felt my time had been well-used and I came away feeling positive. The next Stone Show is planned for March 2008, at the same venue, and I've already booked it in to my diary. I'll be reminding everyone about it nearer the time.
Breaking News (as they say)
When I got back home, late on Wednesday evening, I was greeted by an email from the organiser of next week's Dublin Stone Show stating that the event has been "postponed" due to some unknown party sending a malicious email around claiming the show had been cancelled. I've had a dozen or so calls today from very angry exhibitors and perplexed would-be visitors wondering if I had any further info, as it's proving to be impossible to get through to the organiser himself, and strangely, none of them had received this alleged malicious email.
Summat's not right. The "malicious email" excuse was used following a disastrous first day at last year's London Stone Show . Further, the original show was supposed to have taken place 6 weeks ago at a different Dublin location, but was re-scheduled with hardly a word to anyone. Several of the exhibitors report feeling abused, misled and downright cheated, and fail to understand why the show has been "postponed", which most of them believe actually means "cancelled", and they face losing thousands of Euros in wasted advertising, travel, accommodation and administration.
Whether the "malicious email" is fact or fantasy is probably immaterial. I'm thinking this latest cock-up means the end of Mr Palmer and his organisation. Who would trust them with advance bookings ever again? And what will happen with the London Stone Show planned for June?