News Round-Up
Due to a calamitous series of computer crashes at the pavingexpert Borlochs Hall nerve centre, the News page has been missing for a couple of weeks. A failed hard drive compounded by an error in the external hard drive back-up, is bad enough, but when the laptop goes down the very next day, leaving me more or less incommunicado except for the son-and-heir's virus-plagued PornMaster computer bought for his 21st last summer.
A new HDD might be a simple operation, but the tame technician employed to get me back online also found it necessary to replace the CDRW drive, the motherboard, the RAM modules and god knows what else, along with a full re-install of the OS plus all my other software. The laptop needed a CD/DVD drive transplant and a complete re-install of the comedy Vista operating system. All in all, I've been hobbling along on the highly dubious PornMaster and a borrowed 6 year old laptop for the past two weeks.
All this at a time when there's been a number of significant stories that deserve not to be missed, so here's a brief round-up of press releases sent in while I've been offline...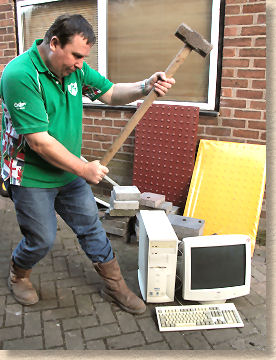 Tobermore's continuing success
Tobermore has extended its award winning formula to the British market and business has been growing steadily since they launched in England and Scotland four years ago and they now have a strong and experienced sales team of 14 sales staff covering England and Scotland as well as the Paving and Walling Centre at Leyland near Preston. Tobermore originally brought its pioneering paving and walling centre formula to England from the Irish market in May 2006 and it has proved so successful that they have plans to develop new centres in other parts of England and Scotland.
GB Sales Manager, Mark Law, believes the emphasis on quality product combined with first class customer care has been the main driver in the company's success over the past four years. This, combined with a thriving economy in the Irish market, has driven Tobermore to far exceed its own projected performance targets. Mark explains:
"Sales have gone through the roof this year. The market is proving to be increasingly dynamic right across Britain for us. We're delighted by the success of the Paving & Walling Centre in Leyland and the reaction has been fantastic. Elsewhere we are finding exceptional demand for our products in Jersey and the Isle of Man as domestic and commercial customers become increasingly aware of our brand. We're always striving to provide the very best in quality product and customer service to private and commercial customers with our free design service and dispatch services and we are convinced this is a key factor behind our success."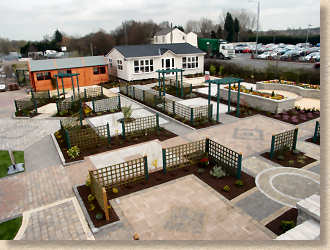 The emphasis on quality and service, both to commercial and private customers, Mark says, is reflected in sales and in a number of significant industry honours awarded to the company, the latest of which made the company "European Champions" after winning the respected European Foundation for Quality Management (EFQM) Award in Athens last October ahead of tough competition from the likes of Siemens and TNT. A second award in recognition of Tobermore's business results was also presented to the company on the night. For Tobermore, the award represented the culmination of 10 years of continual improvements, with the emphasis on quality, product and service.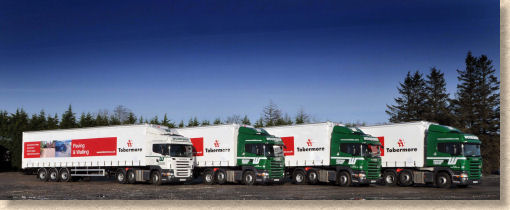 Tobermore's Managing Director, David Henderson, confirmed the investment programme is aimed at keeping up with increasing sales of paving and walling products throughout Ireland and Britain.
"Our sales have doubled in the past three years alone and the proposed addition of two new state-of-the-art processing units is about ensuring we have the capability not only to meet with today's demands, but will also give us the ability to meet the future requirements of our aggressive growth strategy in Britain",
he said.
David also predicted further employment by the company:
"In the past two years we have added around 100 jobs and we anticipate increasing that by a further 100 in the next two years. This investment and our recent success in Athens with the European Quality Award is further evidence that manufacturing companies in Northern Ireland can compete with the best in Europe and enable us to service the demanding GB market."
Tobermore's award winning product range comprising of paving brick, paving flags, natural stone, kerbs, facing bricks and walling products is sold to both the commercial market and direct to the public from its centre at Leyland on 0845 130 9515 or for more information you can vist the Tobermore website
Brett to debut at Tatton Flower Show
Brett Landscaping and Building Products will be showcasing some of its latest innovations currently in development when it debuts at the RHS Flower Show at Tatton Park, Cheshire, in July, teaming up once again with multi-award-winning designer Geoff Whiten, who has also created the company's impressive show garden for the 2008 Chelsea Flower Show in May.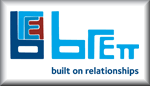 Zack Barrett, marketing services manager at Brett Landscaping and Building Products, said:
"We're delighted to be making our Tatton Park debut during the show's 10th anniversary. Brett has recently invested heavily in its plants and we are striving to not only increase quality standards but also flexibility across all sites, so that we can continue to deliver excellent services and respond easily and rapidly to our customers' changing needs. Tatton Park is one of the north of England's most spectacular shows, which makes it the perfect platform for raising Brett's profile in the North. It gives us the opportunity to introduce consumers to our superb range of landscaping products, while at the same time confirming our commitment to stockists and merchants throughout the region as we start to drive enquiries to them through initiatives such as this."
The Tatton Park show garden " Real Life by Brett " will further develop the concept behind the Chelsea design, giving it a more modern twist to appeal to busy young professionals.
Designer Geoff Whiten said:
"Like the Chelsea garden, the Tatton Park design will be something that anyone can easily aspire to. The focus will again be on flexibility and adaptability to suit changing needs, along with the inclusion of environmentally friendly, ethically-sourced solutions. At the same time, subtle changes will be introduced to give the Tatton Park garden a more modern, contemporary feel. For example, the building will be adapted to accommodate an office or entertainment area for young professionals keen to make the most of their outdoor space.
Traditional large flag paving will make way for the modern, crisp lines of small, modular block paving; while planting will reflect the modern trend for cooking using locally sourced food, building on the nation's increasing appetite for and willingness to try growing a greater variety of fruits and vegetables in their own gardens,"
added Geoff.
For more information about Brett Landscaping and Building Products visit the Brett website .
The RHS Flower Show takes place at Tatton Park, Knutsford, Cheshire, from July 23 to 27. For further details visit the RHS website .
Permeable Paving in Driveways
Concrete block permeable paving received a major boost with the launch of the government's water strategy for England in February. It offers a great opportunity for installers to get involved with this expanding market and Interlay is already geared up to help its members in a variety of ways.
Launched by Environment Secretary Hilary Benn on 7 February, the new water strategy 'Future Water' includes several proposals that have a major impact on concrete block permeable paving. The most significant change for domestic paving is new legislation due late 2008 requiring planning permission for paving of front gardens of existing - as well as new - homes, unless permeable systems are used. And it can be expected that in many cases permission will not be granted if permeable paving is a viable alternative. So, installers will start to see a rapid increase in demand for concrete block permeable paving in both domestic and commercial sectors, and need to keep up to speed with the construction techniques.
To help with this, training on the theory and construction of Concrete Block Permeable Pavements (CBPPs) is now available via Interlay. Members of Interlay automatically have access to the Hard Landscape Training Group (HLTG), an initiative set up by Interlay, Interpave and BALI to develop the skill base in our industry. The HLTG offers a wide range of training courses ( news to me!! ) to installers on a variety of topics, including two pilot courses on the construction of CBPPs.
The new water strategy also affects new housing and commercial projects, as there has been some confusion over responsibilities of the adoption of CBPP by local Authorities limiting the growth of CBPP in housing developments, an issue which the government is now determined to address with a consultation process. As a result, surface water management plans will be required to co-ordinate activity, clarifying responsibilities for SUDS and their adoption by local authorities. The new water strategy also calls into question the automatic ability to connect new development surface water drainage to the public sewer, strengthening pressure for on-site solutions such as concrete block permeable paving.
Text reproduced verbatim.
I think the intention was to publicise the two "pilot" training courses for CBPP being staged during April and to urge readers to enquire about possible places on said courses, in which case, they should contact HLTG