All of the sealant samples had a stage photograph taken one week after the sealant was first applied.
Regrettably, the photo taken at the one-week stage for this sample has become corrupted during storage on a hard drive and is not salvageable.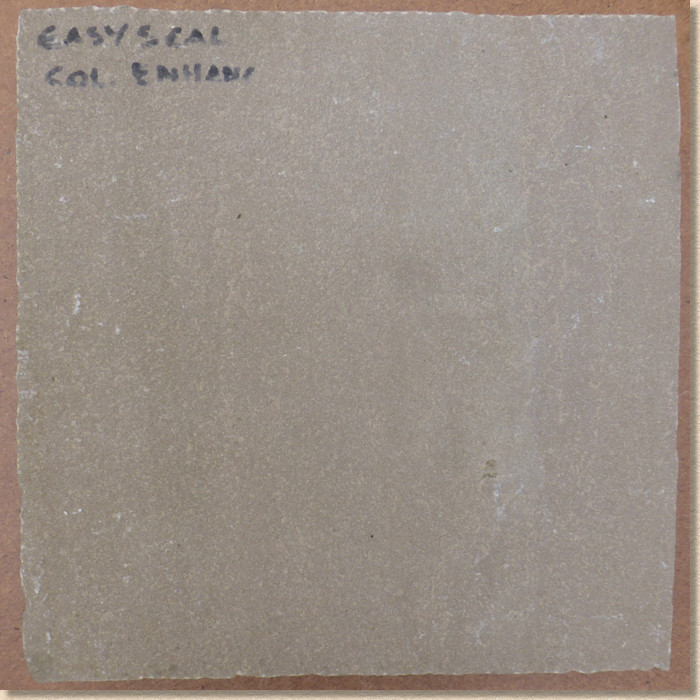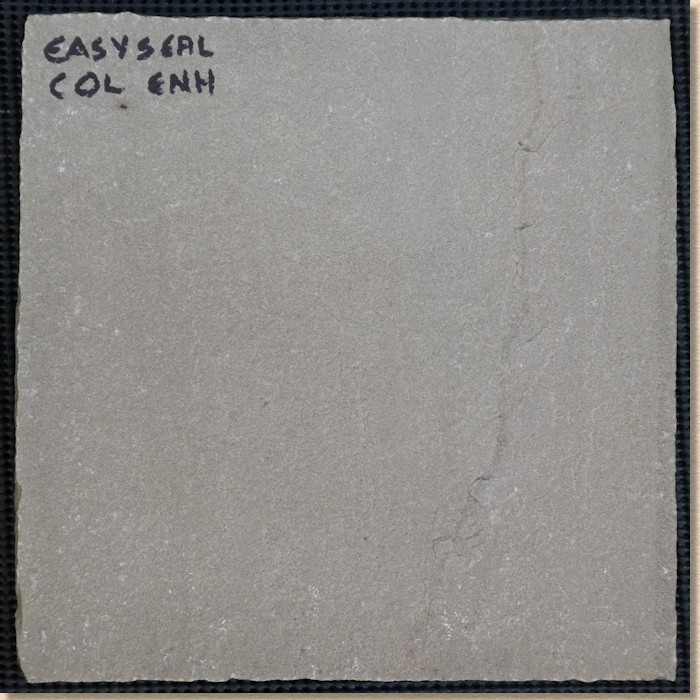 Summary:
1st coat: Thin white liquid with no odour and very slow penetration. Dries to noticeably enriched finish with slight lustre.
2nd coat: Very good coverage and easy to spread.
Colour enhanced? Really? There doesn't seem to be any difference between the treated and untreated areas at the completion of the 14 month trial, but more worrying, there is little sign of it when the Spring photo was taken.
If a products sells itself as a colour enhancer and then singularly fails to enhance the colour, is it really worth the money?
Stain Trials: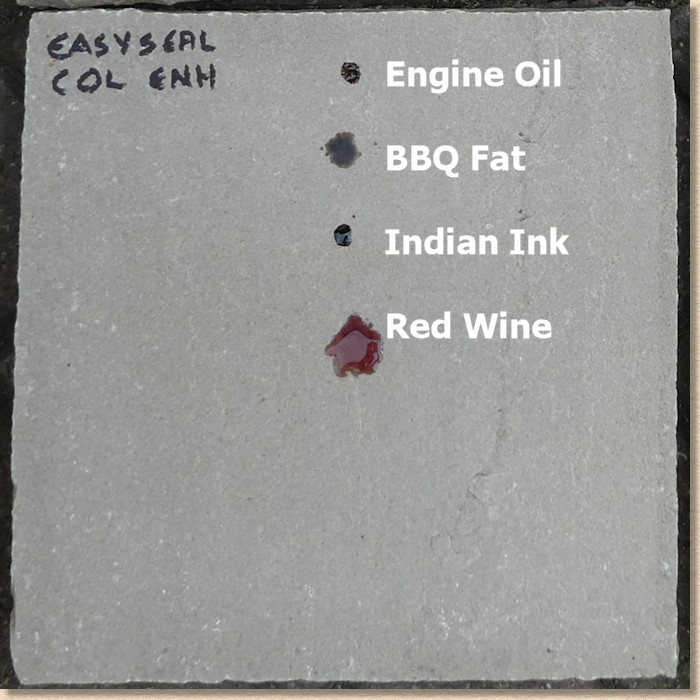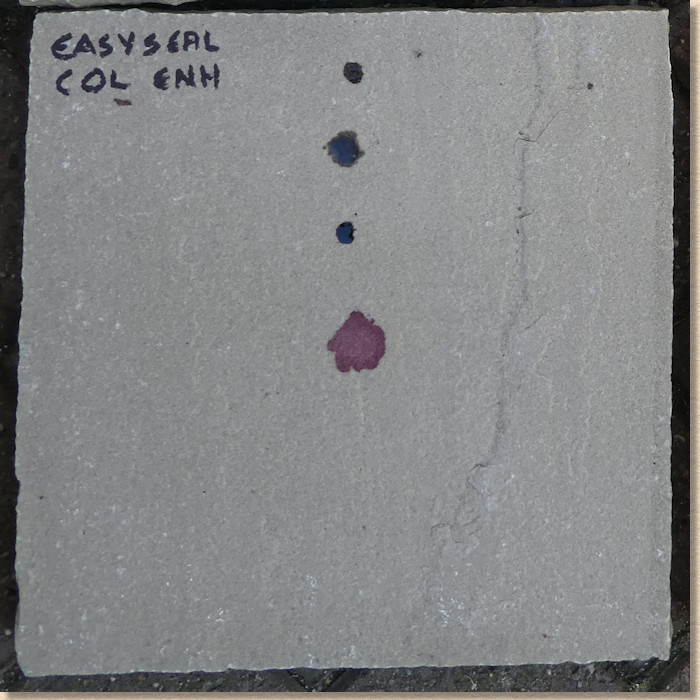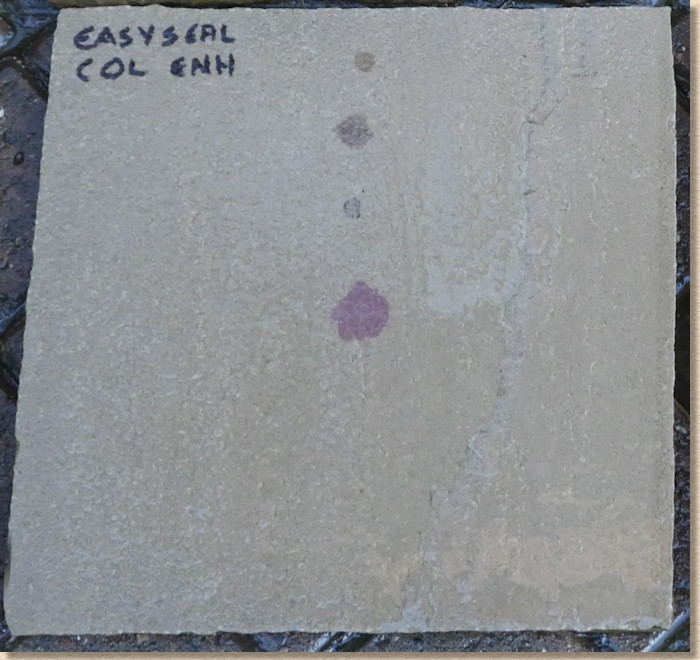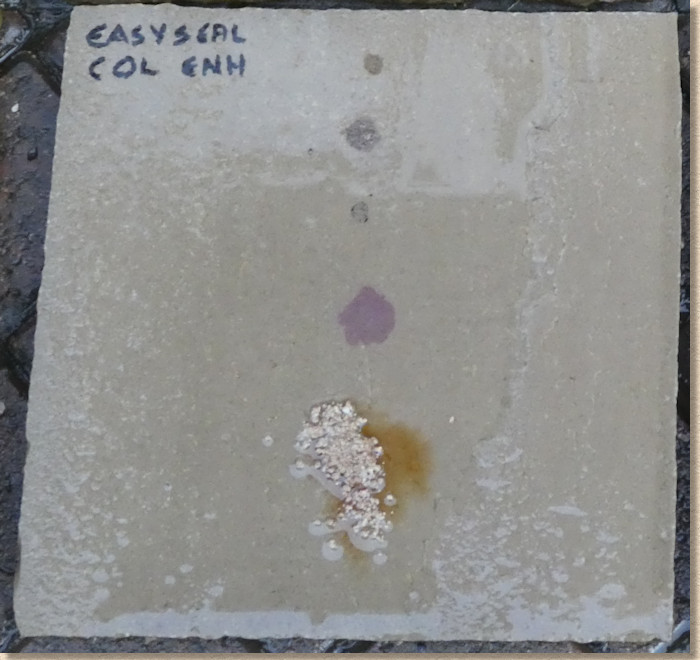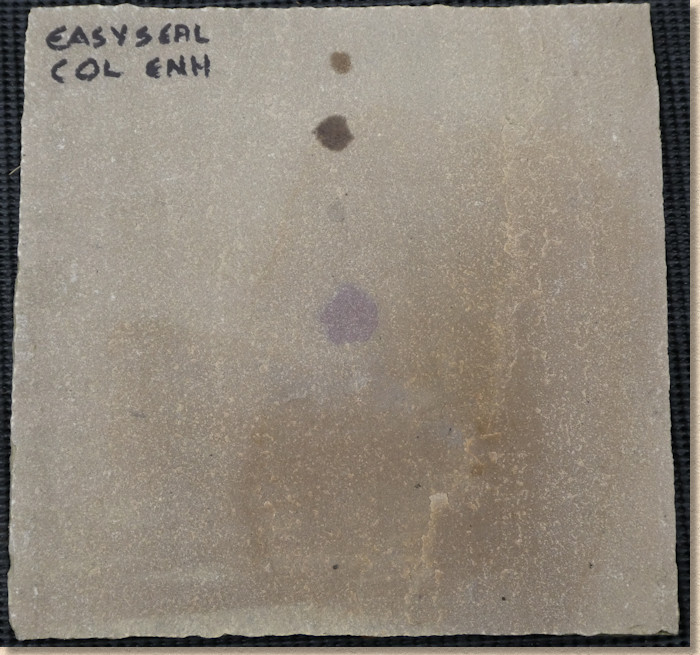 Comments:
No colour enhancement and no stain protection....at least not in this trial.
This is a real shock result. EasySeal Colour Enhancer is a popular product and, while there have been complaints that it needs to be re-done every year, on the evidence presented here, even getting 12 months useful service from it would seem to be miraculous.
This will *definitely* be a candidate for re-testing over the coming season. Something is seriously wrong here.
Note: Any apparent variation in colour of the flagstone is due solely to changes in the condition of the natural daylight at the time the photograph was taken.
Other than cropping to exclude extraneous background and adding a drop shadow to the cropped image, there has been NO post-processing of the original photographs.
Supplier:
Easy Seal Colour Enhancer is available from: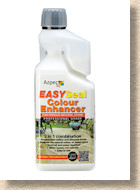 Advanced HD | Advanced Stone Seal | Dry Treat Intensifia | Dry Treat Metacreme Dry Treat Stain Proof | Dry Treat Stain Proof v2 | Easy Seal Col Enh | Easy Seal Ultimate Funcosil OFS | Hanafin Finisha | K-Seal | Larsen | Lithofin Col Int | Lithofin Stain Stop Eco Lithofin Stain Stop Plus | LTP Col Enh | LTP Nat Fin | LTP Matt | Pavetuf | Resiblock Indian Romex Col Enh | Vulcaseal 277 | Vulcaseal 286 | Weiss FT Plus | Weiss Stain Protect