New length for steel edging
EverEdge, manufacturers of the popular steel edging system that is loved by groundsmen and greenkeepers throughout the nation (and is growing in reputation amongst landscaping contractors), have unveiled their new "2.5M Pro" version.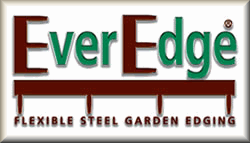 Technical Manager Simon Arrowsmith showed me the 'prototype' earlier this year at one of the trade shows and I promised to feature it on the news pages when it became commercially available as I believe it's a product that's underused by hard-landscapers.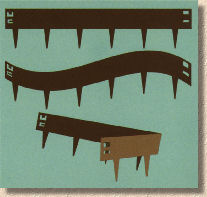 Basically, the EverEdge product is a pre-fabricated steel strip edging that at its simplest is driven into the existing ground and hey presto! It provides a reasonably sturdy retaining edge that is discreet, cost-effective and ideal for use with loose materials such as bark or gravel. Soft-landscapers like to use it as a lawn retainer, because it looks smart and creates that crisp, clean edge the grass-obsessed gardeners and groundsmen seem to like so much.
But we shouldn't let the soft-scapers have it all to themselves!
An edging system such as this has so many other potential uses: it could be set into concrete to give an 'invisible' retainer edge for block paving, tarmac, resin-based surfacing, or almost any other form of hard paving. It can be bent to form arcs or even S-curves, and it can be ordered in a selection of colours (although earthy-brown is the standard colour).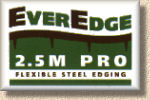 "The new 2.5m long edging is similar to the Classic Heavy Duty range in that it is a sturdy 2.5mm thick, but it has slightly bigger 'teeth'. It creates clean lines and looks superb! A single 2.5 metre length can be curved round on itself and bolted to create a simple tree pit ring with a diameter of just under 800mm."
"We suggest that it is a two-man job to install, and that the ground be loosened with a pick, if necessary. Haunching with concrete is optional but is usually not required."
"We envisage much use for this product on driveways and in parks. Readers of Pavingexpert.com might be interested to hear that we can manufacture steel edging to whatever depth or guage they require and our bespoke offerings use welded lugs and steel fixing pins rather than the 'teeth' featured on the Classic products"
The new Pro EverEdge is available in three depths: 75mm, 100mm and 125mm. The 75mm deep option weighs in at only 4.4kg, and should retail at somewhere around 6 quid per metre making it very, very competitive with many of the popular decorative wet-cast edging products. When you factor in the cost of installation, it has to be worth considering.
EverEdge is now available in an ever-growing number of countries. British sales are organised via the HQ in Gloucester, but you can order online via the EverEdge website . Simon suggests giving him a call on 01939 291110 if you have a larger order or need any further advice. Readers in Ireland can obtain the EverEdge products via Des Lalor in Stillorgan, Co. Dublin - have a look at the Irish website for more info.