Acheson-Glover at the Olympics
Retaining wall blocks from Anchor Wall Systems have been used in an innovative way in a new pedestrian footbridge built by The London Borough of Enfield as part of a business relocation programme for the 2012 London Olympics.
The bridge, which spans Mossops Creek at the eastern side of the London Borough of Enfield links two parts of a 1.2km long River Walk footpath. The footpath is being built for Enfield Council by the London Development Agency as a condition of its planning approval for the development of the adjoining industrial area for the relocation of small businesses from the Olympic Games site.

The curved approach ramps for the bridge are made up of two back-to-back walls of Anchor "Vertica" segmental retaining wall blocks, sandwiching a core of no-fines concrete. Originally Enfield intended to use back-to-back geogrid reinforced-earth retaining walls but it was later decided to infill with no-fines concrete as the wall is only 2.0m wide and 1.5 metres high at its highest point. Conventional butterfly ties were used to tie the two walls to the concrete core, in what is said to be both an innovative and cost effective engineering solution.
Stephen Skinner, Acting Head of Highway Services Environment, Street Scene and Parks for London Borough of Enfield commented; "The Anchor Vertica blocks were used because of their good visual appearance, the consistency of the wall finish and the speed of erection. The fact that the blocks were suitable for use in curved walls was also a major consideration in the decision" .
He added; "The overall cost of the ramp construction using Vertica blocks was similar to that of a 215mm-thick engineering-brick wall with no-fines concrete infill but the visual effect of the Vertica blocks was felt to be far superior to that of engineering bricks" .
The Anchor Vertica Walling used to form the Mossops Creek Bridge ramps is a dry built, segmental retaining wall system made up of concrete facing blocks that usually work together with polymeric geogrids and compacted back-fill to form a highly efficient, engineered retaining wall.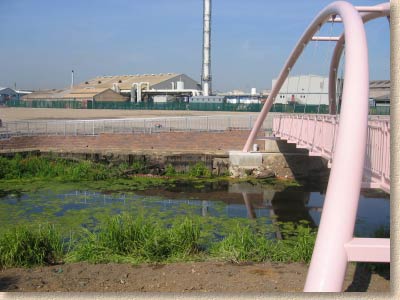 Vertica walling does not require concrete foundations and, because of its modular nature, it can be used to form tight curves and corners and constructed in difficult access situations. The system requires less skilled labour and plant than many alternative retaining wall solutions which means it can be installed quickly and cost-effectively.
The bridge and ramps were designed by Enfield Council's Highway Services Centre with the bridge itself fabricated by steelwork specialists, Allerton Bridges Limited of Northallerton, Yorkshire. The foundations, southern ramp and abutments were constructed by A H Nicholls & Sons who were Enfield's Civil Engineering and Term Contractor at the time.
The 22.2m span bridge will be opened to the public in July 2007 and over 10,000 people – mostly workers from the local industrial areas plus a substantial number of leisure walkers are expected to use it each year. Construction started in February 2006 and was completed in August.
Anchor Retaining Wall Systems are marketed in the UK and Ireland in partnership with concrete products manufacturer, Acheson & Glover Group and Maccaferri, who provide engineering and technical support.