Bradstone 2016 Brochure
In what is becoming a tradition (can two years running be classed as a tradition?) first out of the gate in the 2016 New Brochure Stakes is the much-fancied filly from Bradstone . After a good showing in the 2015 running of this annual race, hopes are high for a top placing in the new season.
The fact that the 2015 edition of the Bradstone "Garden Landscape Collection", to use it's full name, was so well received has obviously impacted because this new version is, superficially at least, identical. Same fuss-free format, same stylish looks, and the the same clean, uncluttered layout. As Confucius probably didn't say, "If it ain't broke, don't fix it".
Naturally, there has to be some minor changes otherwise they might as well just re-print the 2015 edition. Each new season's brochure brings with it an expectation of new products, so these have to be accommodated, and if the bill of fare is being refreshed, it make sense to re-jig the menu card itself.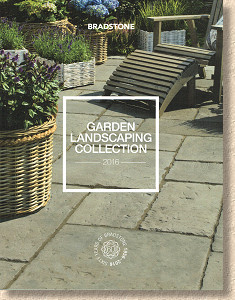 And so we can spot minor changes in the brochure itself, but they are minor and, without exception, they are improvements, not just tweaks. So, for example, the A-Z Product Index is promoted from its former place inside the back cover where it skulked inconspicuously, to the first page inside the front cover, where it's easy to find and so much easier to use.
The arbitrary division of the range of patio flags into Contemporary and Traditional is maintained, and there's nothing overly controversial for 2016, but it isn't always easy to locate the specific product of interest, so the Index can, and will, be a real boon, particularly for contractors wanting to show a certain flag range to a prospective customer and struggling to recall whether it's Contemporary or Traditional.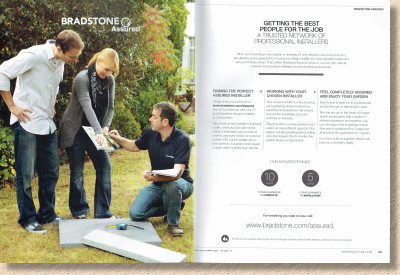 However, despite the tweaks and improvements, the overwhelming core content of the brochure remains pretty much as it was in 2015. There's a minimal amount of bluster at the outset regarding the downloadable garden design packages from Paul Hervey Brooks, the ethical and responsible sourcing policies, and the benefits of using a so-called "Approved" Installer, but nothing too much.
The real meat appears relatively quickly, and by no later than page 10 we have the first luscious double-page spread featuring the Contemporary Menu (but no page numbers) and then it's straight into the interesting stuff whick kicks off, unsurprisingly, with the anointed star of contemporary paving, the porcelain flags revelling under the product name Mode.
The porcelains have had what might best be described as a fair-to-middling year. They haven't sold in the fanciful quantities suggested by some this time last year, but neither have they bombed, as others suggested. They've done sort-of-OK, and the further south you go, the more OK-ish that becomes, with good sales levels reported in that London and the south coast with more moderate figures for the North and Scotland.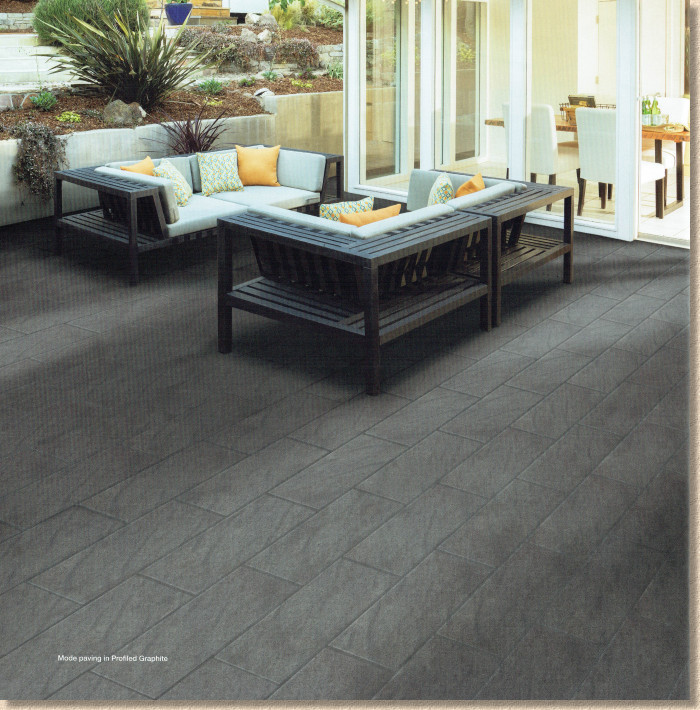 And as proof that sales have been, well, let's say "adequate", the much-needed expansion of existing ranges will make itself evident over the coming months. Too many ranges had very limited choice in terms of sizes, but that is changing and a first step in that direction for Bradstone is the inclusion of a 600x300mm unit to complement the....yawn....single size 600x600mm which was launched last year.
Well, it's a start, I suppose. It does expand the design and layout possibilities, albeit only just, but at least another two sizes are needed to make this range of genuine interest. Another oblong, say 450x600mm, and a smaller square of 300x300mm would make this a viable option for lose looking for a less geometric, a less formal and predictable layout.
And further proof of tolerable sales figures can be read into the decision to expand the range by offering a wood-effect porcelain. Talking to European manufacturers, it's the wannabe-woodens that are selling really well. For whatever reasons, the ability to look like weathered timber while having none of the drawbacks (slipperiness, almost non-stop maintenance, slipperiness, discolouration, slipperiness and greening with algae) is something which appeals to the contemporary customer.
And so, Bradstone bring us Madera , pronounce it how you will, which is a long-aspect porcelain paving in two colour options, the mid-brown Oak and the silvery-grey Birch, but just one size, 900x225mm. Intended to be laid in a plank-like decking layout, the single size is less critical to design than is the case with the stone-look porcelains, but even so, having a couple of different length options, perhaps a 600mm and a 750mm, would allow an element of unpredictability in layouts.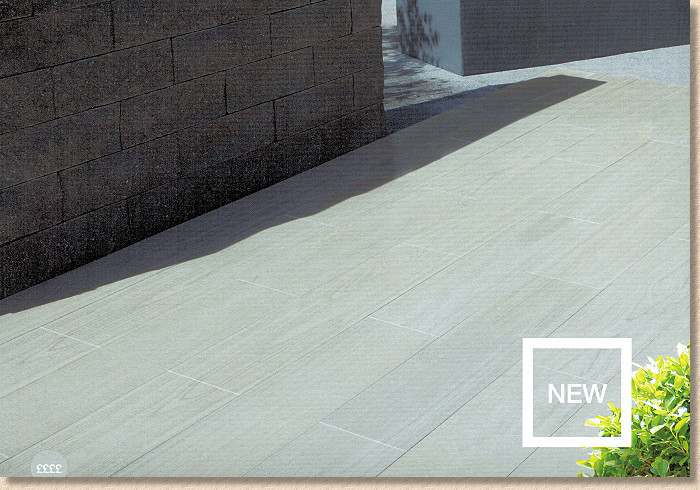 The Madera pieces have crisp, clean arrisses, which may, in your opinion, look good when laid close-jointed, but for me, I'd much prefer to see a slight chamfer on the edges, which would accentuate the individuality of each piece and make the whole look more like actual timber flooring and less of an homogenous wooden slab. However, this really is not-picking and I'd be surprised, possibly slightly shocked, if this didn't garner sufficient attention to ensure its inclusion in the 2017 brochure and beyond.
A new product with slightly less certain prospects, but definitely deserving of a bright future is the Riverwashed Limestone . Regular readers will be all to aware that I've often lamented the lack of respect afforded to limestone as a paving product, but I'm hoping this will change with this intriguing new product from Bradstone. No matter what the name suggests, this lovely, tawny-grey limestone has not actually been washed in a river. It's a riven limestone with gently profiled surface which has been further softened by a top-secret (my arse!) "rubbing" process which removes any harsh bumpy bits and leaves a beguilingly tactile and highly naturalistic surface.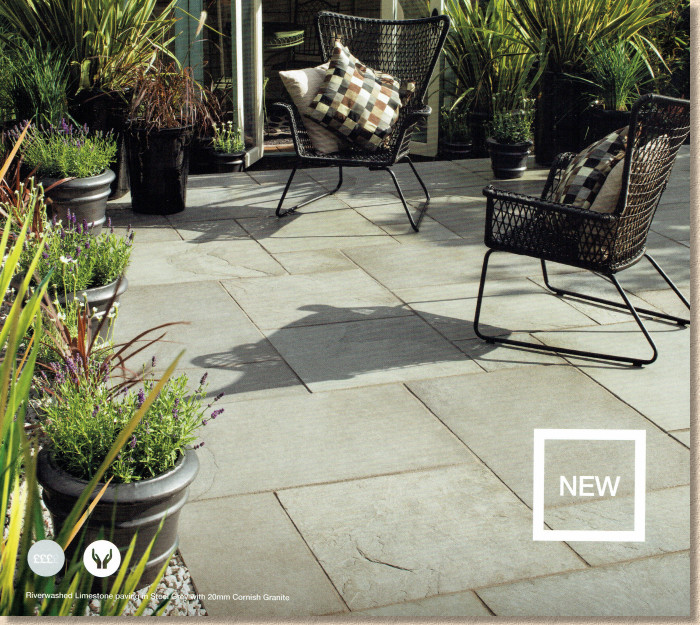 The colour, and there's only one, for this Indian-sourced limestone is said to be Steel Grey, but in a thoroughly unscientific survey of my family and four semi-tame contractor chums, there was 100% agreement that it definitely wasn't Steel Grey. It might be Tawny Grey, or Earthy Grey, or Browny Grey or, God forbid, even "Taupe", but it is not, apparently, mine or anyone else's idea of Steel Grey.
No matter: with it's gently sympathetic colouring and barely-detectable texture, with sawn, crisp edges, it's begging to be laid close-jointed in a random layout, which is handy as it comes in 15.3m² Patio Packs comprising four modular sizes. In the publicity shots I've seen, it provides an unexpectedly pleasing blend of the organic surface profile with geometrically precise joints. Yes: we've seen this combination previously, most commonly with cheap, pressed concrete flags, but this is the first time it's actually looked anywhere near decent.
What else is new? There's a mega-sized addition to the Natural Granite flagstone range. Weighing in at 900x900mm and 56kg a-piece, these are impressive statement pieces, and not for the faint-hearted installer. They really should be laid with a vacuum lift and anyone trying to lay by manual lifting genuinely deserves that slipped disc!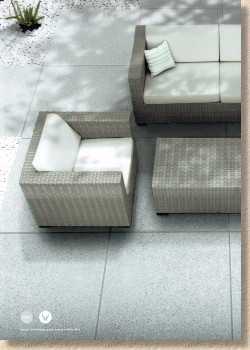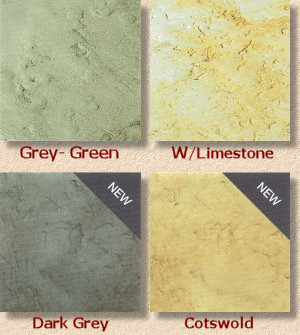 The wet-cast Layered Slate Effect flags are now only available as a 900x225mm 'long aspect' piece, or as a three size Patio Pack, which is probably more of a boon to stockists than installers. The brand-defining Old Town premium wet-cast range is augmented with two new shades, a funereal Dark Grey , which is very much in keeping with modern tastes, and a strongly-hued Cotswold which has a definite ochre tone which is in keeping with that part of Western England but might not find quite as much favour further north.
There's also a new Slate Edging insert which is modular with the rest of the Old Town range but offers a stone-on-edge surface rather than a riven flagstone surface. As a fill-piece for Old Town, it's a great inclusion, but there's just one colour for now, the popular Grey Green, and it's only available as part of a Patio Pack . I'd love to see a more contrasting colour, say the Dark Grey, which would provide colour as well as textural contrast. Whenever I've seen this idea used in real life, pieces of slate or stone laid on edge to fill awkward gaps in pavements, there's been a colour difference which has emphasised the effect rather than camouflage it, and that, I feel is the best implementation of what is a clever new idea to reinvigorate an existing range.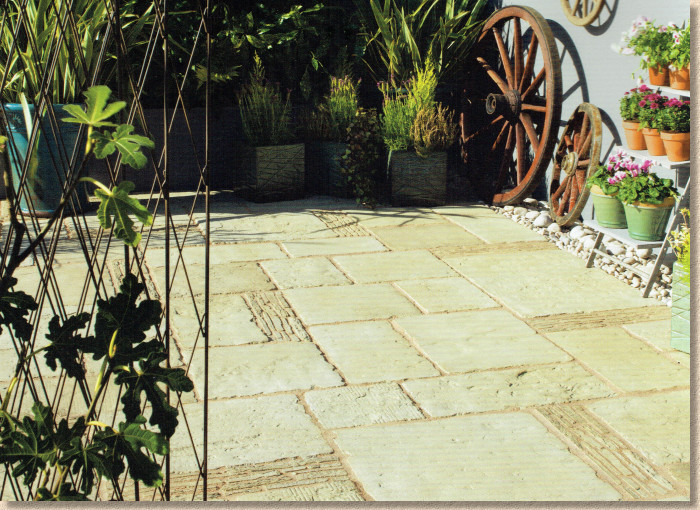 Ashbourne , too, benefits from a new colour, an entirely predictable two-tone grey, Weathered Grey, which boosts the colour options for this mid-priced wet-cast riven to a very healthy five.
And talking of Derbyshire place names, Edale is the moniker given to a whole new range of low-cost, riven effect, single size (450x450mm) flags in two simple colours; a gentle buff Cream and a flat off-white Grey. Nothing elaborate, nothing exciting, but a straightforward solution for those wanting a cost-effective decorative paving for low-use areas.
That's about if for newbies in the "Garden Paving" section, but we're not quite done, as there is the Driveways section to come, and heading up the new treats therein is a new size for the ever-brilliant Stonemaster range. I know I wax overly lyrical almost every year about Stonemaster but it is still my favourite of all the premium block pavers for residential use, so the addition of a new size, a 300x100mm block, can only make me love it even more.
300x100mm is a incredible versatile size for a block paver. It enables all sorts of patterns to be created; single and multiple herringbones, curvaceous stretcher bonds, clever weaves and even a basic random effect, but when you combine it with the other sizes available in the range, then the potential is raised exponentially. No pictures of it in the brochure, which is disappointing, as words can barely do justice to just what can be done, aesthetically, with such a paver, but hopefully this will be remedied by the time the 2017 brochure is released.
In an age when we are losing our regional accents and local identities, it is a great comfort, at least to a paving anorak such as me, to observe pavers which are unique to a particular location. I spent years laying and re-laying the gorgeous Southport Pavers which really only occur in any quantity in the Lancashire seaside town and one or two spots in North Wales; in East Anglia we find clay pamments brought over from what used to be known as the Low Countries, often as little more than ballast for a flourishing trade in textiles and ceramics; in North-East England, there is a distinctively shaped block paver named after a well-known "Heritage" town which I won't mention because it's made by a rival manufacturer.
Now, Bradstone have brought us their own version, which they've dubbed The Lumley Cobble. It's an eight-size mix of blocks featuring chamfered arrisses and heavily splayed shoulders, giving a distinctive profile, almost domed, which produces a reassuring rattle when trafficked by modern vehicles.
Just one colour, named as "Stone", which is a sort of dirty grey judging from the photies, but I've not seen it in the flesh, so I could be doing it a disservice. Again, I'm judging from photographs, but there doesn't seem to be much tonal variation which I fear will give it a flat, artificial looking surface, much like poor quality PIC. I do hope I'm wrong.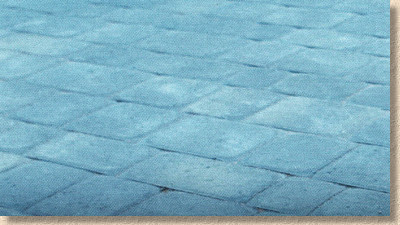 In the odds and sods lumped together as Landscape Features, just one new item of note, a Terracotta colour version of the ageless Ropetop edging kerb, with a complementary Corner Dolly. This surprises me because I hadn't realised there wasn't already a terracotta or even a plain red version of this perennial garden favourite. You live and you learn!
That's it for the new products, and, as already discussed, the essential format and layout of the brochure remains practically unchanged from that of 2015, but what else can we spot that is different?
There's a noticeable intensification of focus on Bradstone's self-appointed role as a supplier of "garden landscapes", rather than just paving. The introductory burble about Approved Installers makes much of their alleged expertise as garden creators proffering advice on planting, lawns and much other greenery. While this is certainly true of some installers, there are at least as many who are paving contractors, pure and simple, with no real feel or interest in the soft elements of a landscape. There's nowt wrong with that: some of us are paviors and some of us are garden builders, but to suggest that ALL installers are fully competent in ALL aspects of garden design and construction is, I feel, stretching the reality.
The very fact that the brochure is branded as a "Garden Landscaping Collection" reinforces that idea of Bradstone being a garden brand, rather than a paving brand, and the strong association with the respected designer, Paul Hervey Brooks will further emphasise that perception.
While this 'green push' will almost certainly help sales of flagstones, it does run the risk of the brand being overlooked when it comes to driveways, which were, only a few years ago, the main market for residential paving, but has more recently been losing share to PIC , resin surfacing and even blacktop!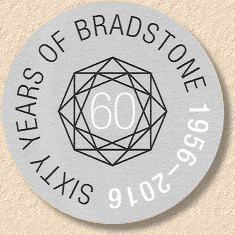 The fact that Bradstone is now a brand celebrating its Diamond anniversary, a whole 60 years of producing paving and hard-landscaping items, is, I feel, underplayed to the point of almost being overlooked. In an age when we regularly see brands come and go in the blink of an eye, to have survived, and, indeed, to have succeeded for 60 years is something that should be shouted from the rooftops, as will probably happen when AJ McCormack & Son reaches its own diamond jubilee in 2017.
A bit of a special logo on the front cover and the briefest of mentions on the inside: surely such an achievement deserves more than that?
Still, we should be grateful that they didn't do something really cheesy, such as commissioning some eejit celebrity garden designer to create a diamond shaped paver. Phew!
In conclusion, I have an air of satisfaction that Bradstone has, after almost a decade of turbulence, found a presence and a place in the market where it feels comfortable. Gone is the chopping and changing of style, gone too the merry-go-round of sub-brands, and in their stead a real sense of permanence, of being settled and comfortable both in what they produce for their customers and what they put out in their marketing. Long may it continue.
Bradstone's Customer Helpline: 01335 372 289
Click here to order a brochure