Marshalls' green-fingered goings-on
Despite their strong reputation in both the residential and the commercial sector, it seems that Marshalls have decided that they need to make an even bigger impact in the world of garden hardscaping, and to ensure no-one misses the point, this month sees two major statements of intent from the Yorkshire-based manufacturer.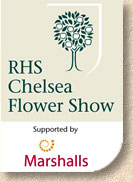 In a move that has cowed many of their competitors, Marshalls have agreed a somewhat expensive three year deal to sponsor the world's most famous garden event, the RHS Chelsea Flower Show, due to take place this week in that London. Not content with sponsoring the whole shebang, they're also building one of the big show gardens, designed around the theme of Sustainability, with solar panels, water harvesting, and rubble-filled gabions, all put together by landscape makeover specialists, Scenic Blue, who, following their recent conquest, are now another limb of the Marshalls corporate body.
Obviously, such a bold move has sparked a deal of discussion in both the hardscape sector and amongst the nation's gardeners. There's a wide range of opinion, ranging from the peeved to the delighted, from the concerned to the indifferent, but only time will tell just how well this tie-up works. There's no doubt that both the RHS and Marshalls are well-respected entities within the world of landscaping, but will this be a symbiotically successful relationship, or will the notoriously conservative horticultural sector take exception to such a strong presence?
While it's a fantastically positive move to see the planet's premier gardening event sponsored by a paving/hard-landscaping manufacturer, I hope that other manufacturers and suppliers will not take umbrage and cut back on their own involvement. An event such as Chelsea deserves the widest possible support, as it is the biggest window on home landscaping trends and ideas, and we don't want to see such a vista obscured in any way.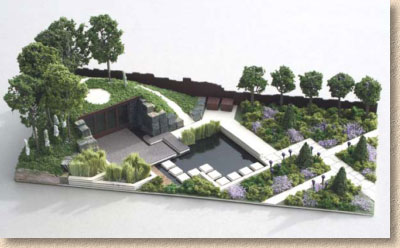 Meanwhile, back to the online world, and the green-fingered theme is continued with the launch of the Marshalls' Garden Visualiser , a free-to-use, online software app that is intended to help with the design of gardens and landscapes. Think of it as an improved version of the well-respected Driveway Visualiser app, with added greenery.
As with the Driveway Visualiser, the software allows users to upload a digital photie of the area in question, and then use the impressive array of tools to 'paint in' walls and paths, patios and play areas, and a selective range of garden buildings. Once complete, the magic of the interweb allows you to take a simulated stroll through your 3D cyber creation, as long as you have a broadband connection.
Paul Hill, Marshalls' Marketing Communications Manager, says, "This new Garden Visualiser complements our existing on line Driveway Visualiser, and offers an innovative way for people to quickly and simply design a new garden. The design choices are endless and allow for totally unique designs to be created."
Design takes place in "real time" and Marshalls state that over 700 "photorealistic" products images are available, along with 180 laying patterns for the various paving products, which encompasses their enitre domestic range, including the sheds, gazebos and greenhouses. The app also includes a series of "interactive tutorials" hosted by telly gardener Sven Wombwell, aimed to make the design process more rewarding for the novice user.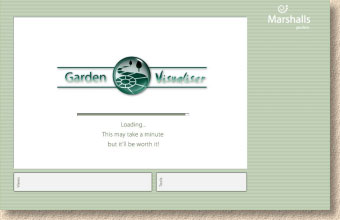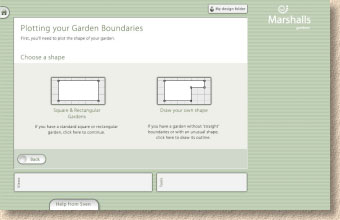 The Garden Visualiser, and its more established sibling software, are superb examples of how the web can be used to best effect, by offering a service that can't be replicated in a catalogue or brochure. This is a significant move forward in web implementation and takes us away from the simplistic "brochure-ware" websites that have dominated the internet for the past decade. However, as seems to be standard practice with the latest versions of the Marshalls website, it takes an age to get started, even with an 8Mb connection. Telling you that "This may take a minute" was, in my experience, highly optimistic, as it took a good three minutes and fifty seconds to get to the opening screen, and that was only achieved after I'd switched browsers: for some reason, it doesn't want to play with my preferred FireFox browser.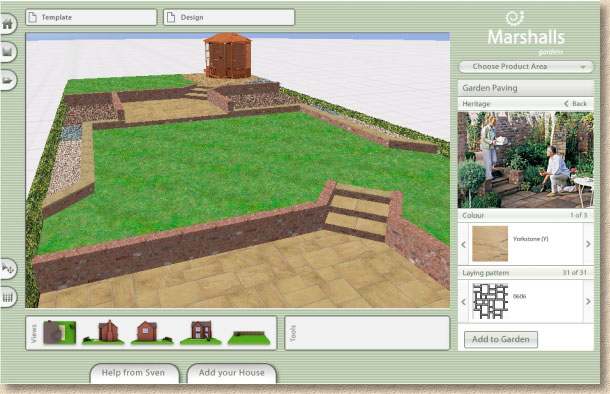 As with many of these applications, an attractive user interface doesn't guarantee intuitive use. If you've a rectilinear plot, getting started is relatively simple, but non-geometric or organic shapes are a problem that I didn't have time to resolve. Once the plot is designed, you can save your outline by giving it a name and an email address, and then move on to the more detailed planning.
I'm sure many DIYers will find this to be an engaging tool, and they can gleefully spend an evening or three playing around with their ideas, but contractors and full-time designers are likely to find it too limiting, too prescriptive and, most importantly, too slow. This is not intended as negative criticism: it's a fact. Even with so-called "high speed broadband", downloading a software application of this size and complexity is not something that happens in seconds, and to develop the application to a point that would meet the demands of professional designers would only slow it further. It's not intended to be AutoCad or Sketch-Up; it's a free, online tool for simple garden design, aimed at one-off or occasional users, and when judged from that perspective, it's a definite winner.