New packs for Terram
Terram, probably the most well-known name in the world of geo-synthetics and geo-membranes, have launched two "Handy Pack" sizes of their ever-popular Terram 900 fabric which should be of interest to paving contractors, general builders and DIYers alike.

The new packs will be sold under the BuildA Brand, and are aimed at the users who don't need the full 450m² roll (4.5m x 100m) but need a good bit more than the 11m² Patio Partner packs aimed at the DIYers and gardeners. The new BuildA packs contain rolls measuring 2.25m x 25m (56.25m²) and 2.25m x 50m (112.5m²).
The product is made of 115g/m² Terram 900 in the standard light-grey colour (the Patio Partner is a sort of browny shade) and will be stocked by Sheffield Insulations and Greenham Trading as well as the better Civils and Builders' Merchants. Terram's spokesman, Steve Hancock told me,
He's right - has anyone ever tried counting the number of potential uses for the Terram membranes? It seems that a new use comes to light almost every day. No Contractor's van should be without a roll!
Stockist information, and requests for technical info should be directed to the hotline number - 01495 767444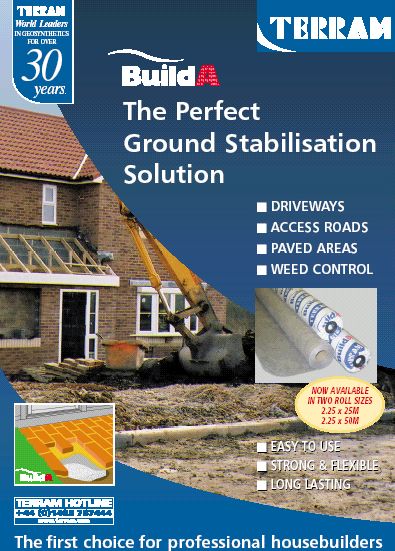 More Info???
Terram Geo-synthetics MamhiladPontypool,GwentNP4 0YR
Tel: 01495 757722
Fax: 01495 762383