Stonemarket 2009
As daft as it might sound, I've been dreading this: year on year, Stonemarket produce the most sumptuous paving brochure and I think I've finally run out of superlatives. I could simply write "stunning", and leave it at that, because that one word tells the full story, and I'm struggling for something original to say about the one brochure against which all others must be judged.
I don't want to waste 2,400 words on just how fab it all is, so I'll attempt to remain objective and comment on the new products and the brochure's usefulness to its target market, which would be the more discerning homeowners and the more astute contractor.
In styling, it is much the same as last year, with a classy white cover adorned with just four sample images and the simple Stonemarket logo, all enclosing 132 pages of sheer loveliness.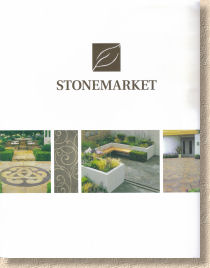 The contents page declares three main sections: "Handmade Reconstituted Stone" (marketing speak for concrete), "Natural Stone" (ie: not concrete), and "Paver Systems Driveways" (block paving), with an addendum for design, planning and installation information. New products are clearly identified, and they've picked up on a previous gripe (that some allegedly new products were just new sizes or formats of existing products) by clearly stating when new means new and when it means new sizes or formats.
Opening with the Handmade Reconstituted Stone , the very first product to be featured is totally new. Cruciform was shown at Glee back in September and would normally have won the pavingexpert award for best new product if it hadn't been for something even more gorgeous. More of that later: for now, Cruciform has the stage and deserves our undivided attention. It's more than just a new paving; it's a new concept with a new texture and new colours. The basic premise is a simple modular 600x600mm cross-shaped (cruciform) unit that appears to be composed of 10 individual pieces or elements, with each module laid to interlock with adjacent modules, while edges can be 'squared-off' using special T and L pieces.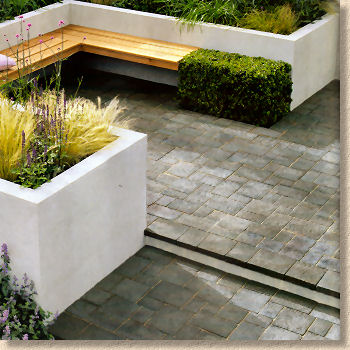 We've had multi-element modular paving in the past, but almost without exception, it's been ridiculously easy to identify the individual modules when laid to a larger area, which sort of spoils the intended effect. It's not so easy with Cruciform. In fact, once it's laid and jointed, it takes quite a while to 'get your eye in' to spot the individual modules. This trickery is achieved partly by having 10 elements within the one unit, but is massively helped by the strong surface texture, reminiscent of Rossendale or perhaps Caithness flagstones.
From memory, only the olive-khaki colour was shown at Glee, but the text claims there will be "Biscuit" and "Cinder Grey" (the colour used in the main photograph here) options available. No official news on price just yet, but one potential stockist told me they thought it would retail at around 35 quid per square metre or even a bit more.
The only fault I can spot is that some versions of the main unit contain a crossed joint, even though it could be avoided with a bit of re-jigging of the moulds. Given the human eye's instinct for detecting patterns amongst chaos, these crossed joints jump to the fore in any layout and mar the overall random layout.
Next newbie is Rio Walling . Obviously intended to complement the Rio range of shot-textured and smooth-ground paving, this is basically a 440x140mm split concrete walling block with accessory copings. Nothing revolutionary there, and it would be hard to justify the premium price this product commands were it not for the provision of a Stygian dark "Carbon" unit (220 x 65mm) which contrasts both in colour and size with the Silver and Grey units. This allows the construction of attractive string courses to break up what might otherwise be a fairly monotonous expanse of slightly sparkling granitic grey.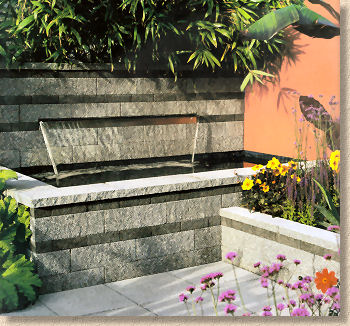 The choice of jointing can make or break a dark walling block such as this. The brochure photos uniformly show tight joints, which I assume have been created using the M-Fix cement-based thinset mortar, and this looks good. If a more traditional mortar joints was required, I'd strongly urge the use of a black lime mortar: any light coloured mortar is going to jump right out and assault the eyes, despoiling the subtle charm of this unobtrusive walling option.
Nothing else new in the concr….errr…Handmade reconstituted council conglomerate section, but a brief word about the Millstone range. As a replica paving, it's been at or close to the top of the tree since its launch many, many years ago. I recall laying it 16 or 17 years ago, and it's still one of my top three replica flagstones despite its long history. Hard to believe but in all that time, nothing better has come along to take its place. However, I recently had the opportunity to view a "Millstone Creation", a whole garden constructed using Millstone products and while the paving has weathered slightly but retained its looks and charm, the walling just did not look right. I couldn't make up my mind whether it was the mortar jointing, the lack of colour variation, the way the light hit it, or the overly repetitive modularity of the walls, but summat weren't right, and it struck me that despite being made using the same materials in the same factory (or Reconstitution Facility, as I suppose it must be called), with near-identical moulds, the paving looked uncannily natural while the walls screamed "fake".
Anyway, on to the Natural Stone new products. This starts with the Avant Garde Etched , which is essentially a smooth ground 855x570mm calibrated sandstone flag with a fancy design etched onto the surface and a fancy price attached to it. So fancy, indeed, that it is afforded the honour of a quadruple page super-duper photie pull-out in the middle of the brochure.

This is an idea with skip-loads of potential. If it can be drawn, it can be etched, so the only limit is ones imagination. The two designs offered so far are at opposite ends of the complication spectrum, with the ultra-simple and stylish "Helix" offering fantastic design possibilities for long, linear features, while the over-busy and fussy "Swirl" needs to be laid in larger panels, say two flags by three flags as a minimum, for it to make any sense.
Whichever is used will need dutiful maintenance to keep it looking pristine. If allowed to 'green' with algae or become spotted with lichens, as Indian sandstone in outdoor settings is wont to do, the almost 100-quid-per-metre price will be damned hard to justify, so a good quality sealant is highly recommended.
Neither is going to sell in huge quantities, but they do offer a very attractive complement to the unetched Avant Garde range. There's limited versatility: they are what they are, but it's where this technology can lead that is interesting. Expect to see more etched products from more manufacturers in the coming months!
The Trustone Celtic Knot was the winner of the coveted pavingexpert Best New Product award at Glee, and so taken with it was I that there is a carefully packaged Celtic Circle Kit parked up on my driveway just waiting to be laid as the new Borlochs Hall patio as soon as the frosts lift.
The 'knot' components are cut from the Cotsdale (Kotah Yellow) limestone and set into a background of Sable (Black) sandstone. The optional squaring-off kits are available in either the limestone or the sandstone to suit individual tastes and projects. The circle on its own has a diameter of 2840mm while the squaring-off option bumps this up to 3125 x 3125, the perfect size for a patio table and a set of chairs.
Yes: some of the seventy components (only forty-six if you make do with just the circle) are fiddly and exceptional care will be needed when laying, but the finished result is worth it. Rarely (if ever!) do I go all weak at the knees when encountering a new patio circle kit, but this one does it for me and, more importantly, for Mrs Taz, too! Watch out for an installation blog on the website sometime this spring.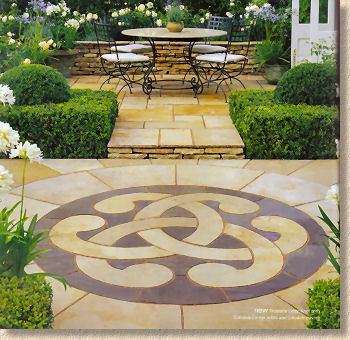 Returning to the more conventional circle format, TruSlate , the Stonemarket brand for their range of slate (doh!), has been treated to a non-standard thirty-one piece (1-10-20) 2.6m dia circle, with optional squaring-off taking it up to a shade over 3 metres. This will be available in the blue, the green and the copper colours, and I think there may be some mileage in combining, say, a copper circle with a dark blue square-off kit.
New circles, too, for the Sand Multi and Pink Multi flavours of Marketstone , the non-calibrated basic range of Indian sandstone. These are standard thirty-seven piece kits (1-12-24) but just to keep you on your toes, the Sand Multi is a slightly smaller 2440mm dia, while the Pink Multi stretches itself to a more comfy 2840mm to match the existing circles in the Marketstone range. Wouldn't you think they'd all be the one size?
Bonus points should be awarded to Stonemarket for the acknowledgement that some of the imported sandstone is quite porous and prone to algaefication (or "may need more regular cleaning" as the Stonemarketeers put it) and that the Kandla Grey "may develop brown markings", which we common folk refer to as 'rust'. There has been reluctance on the part of far too many suppliers to acknowledge the problems that can occur with some imported stone, and all too often, it's the poor old contractor that gets it in the neck from a disappointed customer, while the supplier is nowhere to be seen, or refers the discontented parties to the miniscule print buried on the back page of a very limited print run handout. It's good to see that a company with the stature of Stonemarket are big enough to forewarn their customers, and it's a move that will be widely welcomed by contractors.
Onto the final product section, Paver Systems Driveways . I'm glad to see the name of Paver Systems hasn't been forsaken completely. When the Lanarkshire-based manufacturer was first acquired by Marshalls/Stonemarket, the logo was emblazoned on all publicity, but then it seemed to fade from view for around 12 months.
For me, there's a marketing logic in using the Paver Systems brand for concrete block paving. Stonemarket built their name and reputation on flagstones and patios. As mentioned earlier, there seems to be a corporate anathema to using the word "concrete", so when it comes to block paving, why not take advantage of a well-respected separate brand?
New products, too, leading off with Rio Pavers . These round off the Rio range, adding blocks to the flags and the (new) walling, and mirroring the three monochrome colours of Silver, Grey and Carbon. The obvious comparison would be to their step-siblings in the Argent range from Marshalls. Both share a grey palette, a 240/160/80 x 160mm format, and a shot-textured finish, but there is a slight colour difference (or there is in the samples I have). I've long admired Argent, and there's no reason not to extend that admiration to Rio. However, I'd like to see potential customers forewarned that the lighter colour (Silver Rio or Light Argent) are a bugger for being marked by car tyres and are best suited to non-vehicular areas or as detail/contrast blocks.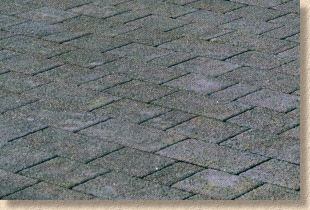 Trident , the three-size tumbled multi-colour Tegula wannabe is now available as a 50mm block, which makes sense, as its only real market is the driveway sector which has more or less totally switched away from 60mm blocks over the past decade. Of course, the key factor in its success will be the cost: there has to be a worthwhile cost saving otherwise contractors will stick with what they know.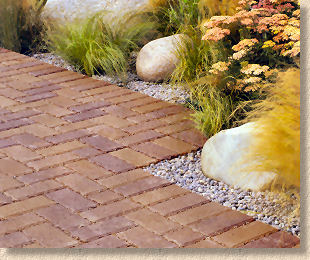 Permeapave , the permeable block paving offering, is new, or to be more accurate, is new to Stonemarket, as I can't see any difference other than colour between this and the Priora product from big brother Marshalls. We all appreciate that every manufacturer has to have a permeable option to comply with driveway planning notes in Scotland or the recent comedy legislation in England, but there's more chance of Dervla Kirwan ( Homer Simpson mode: Mmmmm….. Dervla Kirwan! ) bearing triplets to me than there is for the sort of quantities predicted by DEFRA/CLG in the Guidance Notes being laid to the nation's driveways in the coming years. However, we have to start somewhere, and while there's nothing spectacularly different about Permeapave, the colours, especially the Forest Blend, are most attractive. Sadly, it's a fact of life that price will more often sway a customer, and from the prices I've been quoted, Permeapave is going to struggle.
I'm not going to waste words on the technical and installation bumf. It's more or less the same as last year, except for the few bits and pieces about the newbies. The tech stuff is lucid, well laid out and reasonably comprehensive while the installation guide is just about as little as you could get away with and still be able to refer to it as installation guidance. However, as I've said before, I'm quite happy for manufacturers and suppliers to stick to flogging paving and to leave the laying advice to those that actually know what they're talking about.
In summary – you can guess what is coming – you need this brochure in your life. It should be compulsory reading for anyone making a living in the residential hard-landscaping trade, and essential browsing for any homeowner thinking about what to do with their patio, driveway or garden over the coming months. Even if you don't buy a single Stonemarket product over the course of the year, your life WILL be enriched by having its spirit sent soaring by the unrivalled photography, exquisite staging and sheer wealth of ideas that are somehow crammed into a mere 132 extremely classy pages.