Tobermore's Big Bash
No-one could ever accuse Tobermore Concrete Products of doing things by halves: when they put on a do, they certainly put on a do.
Last Friday saw them play host to almost 300 paving contractors at the Tobermore HQ in Northern Ireland, treating the assembled horde to a tour of the brand new "Hess 3" block-making plant, handing over hot-off-the-press copies of the 2008 catalogue, giving them an exclusive sneak-preview of new products, and stuffing faces with a gut-busting barbecue steak dinner, all washed down with seemingly limitless supplies of your drink of choice.
It's long been part of the Tobermore tradition to treat their loyal contractors to an evening of eats and entertainment, but this year has to go down in history as the largest assembly ever of paving contractors in these islands. This year, rather than stage separate events in Ireland and in Britain, they chose to host just one super-event, bussing-in local contractors from the six counties, while flying-in their counterparts from Northern England, from Scotland and even from as far afield as Jersey. Over 300 contractors had been invited, with an expectation that maybe as many as a quarter wouldn't make it due to work or family commitments, but there was a strange mix of panic and relief amongst Tobermore staff when it was realised attendance was in excess of 90%.
With so much going on, it makes sense to deal with each activity separately, and to do so in chronological order starting with the guided tour of the plant.
The original block making plant has served well for the last few years but with ever-expanding sales, not least in northern England and Scotland, the need for additional capacity was evident and so the new "Hess 3" plant was ordered last summer and built during the first few months of this year. I've seen a good number of block making plants in my time but this is, without doubt, the most technologically advanced, and by quite some way. The dry-powder dye system feeds a six-colour production line, enabling the manufacture of blocks with incredibly delicate and precise colouring, tailored to suit individual products, markets or even the requirements of a specific customer. During the tour, the line was turning out the popular Shannon block in the richest colour blend I've ever seen: even contractors that might normally consider themselves to have 'no eye for colour' were raving about the fantastic spread of colours, right across the mould board. The Hess installation engineers were still tinkering with the controls and confidently predict they will get the cycle time down to under 9 seconds – that's 28 Shannon blocks, just over a square metre of paving, every 9 seconds: over 400m² per hour.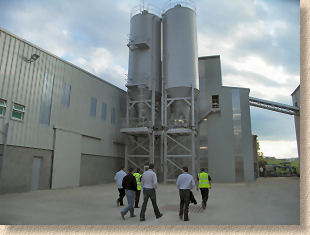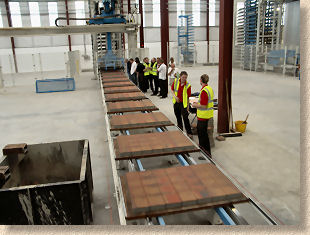 The potential for this plant is boundless. Such a fast cycle time combined with rapid turnover to other moulds for different blocks will guarantee there's rarely, if ever, a problem with stock levels. The phenomenally accurate weighing system will ensure the distinctive close-finished face on all Tobermore blocks will be improved even further, while the stunning colour blending options put them well ahead of their competitors in terms of versatility.
The range of new products being offered for the 2008 season is equally impressive. The aforementioned Shannon will now be available as Shannon Duo, offering a new size (173x173mm) to complement the existing 208x173mm format and the creating the possibility of more intriguing laying patterns, and the gorgeous granite-topped Sienna will also be made in the Duo format as well as in a new, darker colour, which they've named Graphite. And if you have a new colour, why not share it with related products, which is what's been done with the cute Mayfair setts, also available in the new Graphite colour.
Roma, the multi-width/length antiqued block, will be manufactured in the ever-popular Heather and Bracken colour blends, which can only increase its appeal for residential clients. In response to demand from commercial contractors, Tegula is to be produced in a 200x100x80mm format, enabling traditional herringbone layouts, as well as its potential for use as edge courses. There's a new range of radius kerbs, specially manufactured for the British market (much of Ireland is still struggling to understand the concept of modular radius and transition kerbs, following years of relying on extruded concrete kerbs), in both standard and textured finishes.
There's even new products in natural stone; a 600x400mm quartzite flag that is, to be honest, a bit too busy colour-wise for my taste, but will undoubtedly appeal to those clients looking for a change to the more usual Indian Sandstone. A range of modular granite steps that looks both classy and stylish is certain to cause jaws to drop when the price is revealed: it should be possible to have 1200mm wide single step in a delicious light-grey granite for less than it costs to build something similar in blocks and kerb units. And the double step, with rounded quadrants is a real steal: I had to check the price twice with sales director Brian Wilson because it just sounded too good to be true.
Mouseover to pause images
The walling products range has been seriously expanded. New on the scene is "GardenStone" a double-faced dry-build walling block for non-retaining garden walls up to a metre or so in height and available in Heather, Bracken or Slate. The too-damned-clever-forits-own-good Secura retaining wall range has added a reduced width block to be known as 'Lite', and a double height block dubbed 'Major'. A significant advance for commercial applications is the Secura Grand which features a hollow core, reducing its weight but also cutting its cost per square metre by almost 50%.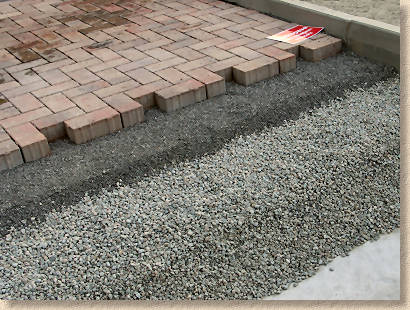 Along with many other manufacturers, Tobermore are aware of the massive interest in permeable paving solutions. Although this October's promised/threatened legislation from Defra will affect only England, there is already a strong market for permeable systems in both Scotland and Ireland, with Tobermore being viewed as a market leader, for both commercial and residential products. To reinforce their position, they plan to introduce another four or five permeable versions of popular existing products over the next few months. A permeable version of Tegula was on show, along with cut-away installations of Hydropave showing the distinctive sub-base and laying course materials.
Some manufacturers are delighted to offer one or two new products; the development crew at Tobermore must not have slept for the past 12 months to have come up with such an expanded range, and one with so many products which have real potential. Contractors now have a portfolio of attractive, distinctive and quality paving that is second to none.
And to better present those products, a new residential paving brochure has been published, with shiny, only-just-dry copies handed over to contractors as they made their way into the giant marquee for the big dinner. A fuller, more considered review of the brochure will appear on this site in a week or two, but a brief perusal reveals the 2008 edition to be chock-full of high quality photos, with many afforded a full A4 page. I recall commenting at the time that the 2006/07 brochure seemed to have a lot of white 'dead' space: that's not the case this time. The pages are full, without being crowded, and seem to offer a good balance of descriptive, informative text with attractive photography.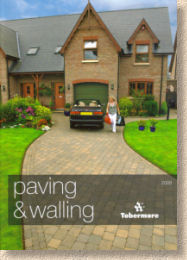 It's traditional at these Layer's Evenings for the eminently affable managing director, David Henderson, to make a short speech outlining Tobermore's achievements since the last such event and their plans for the immediate future. He rightfully boasted of the new Hess 3 plant and the potential it offers, and he announced the opening of two new paving centres in mainland Britain: at Falkirk and Wakefield, later in the summer. The lucky people of Yorkshire and Scotland's west coast are in for a real treat, because I've still to see a better planned and presented paving centre than those created and run by Tobermore. David gracefully thanked the contractors for their efforts over the year, recognising that they are often the people making the actual sale, and Tobermore fully understand that a large part of their success is due in no small part to careful nurturing of the relationship between manufacturer and installer. He also made a point of complimenting his incredibly loyal staff for their undeniable hard work throughout the year. One noticeable trait with Tobermore staff is the universal enthusiasm and affection for the company and the fact that there's almost no turnover of key employees: the faces you saw last year were there the year before, they're still there this year and there's no reason to think they won't be there again next year. A company's true strength is its workforce; a stable, happy and dedicated workforce is a reliable indicator of a successful and well-managed business.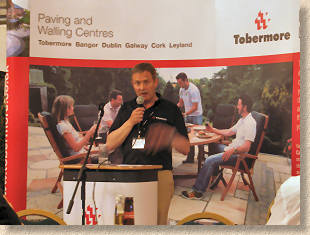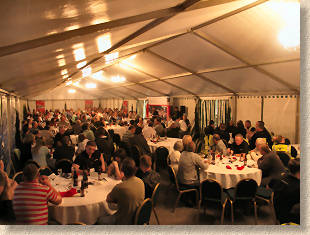 Tobermore have a distinctively different approach to selling paving. They have a close relationship with contractors, and reward them accordingly with events such as this. They have the aura of a family-run business, with managing director, the business manager, the sales director all being on first name terms with near enough each and every contractor in attendance, but they also have the competence, the organisation and the high quality product range of a major international manufacturer. Such a combination is a rare thing and should be appreciated for the value it adds to our trade. As an ex-contractor, I think I can speak for most of those present in saying that it's nice to be appreciated for the work we do. Thanks Tobermore!