Page 2 - Middleweights & Deco Aggs
Page 4 - The Others & The Awards
GLEE 2006 - Page 4 of 4
This is the fourth and final page of the four-page Pavingexpert review of GLEE 2006 (honest!). Use the panel above to navigate to other parts of the review. This page looks at the ancillary exhibitors, and ddoles out the hardly prestigious Pavingexpert Awards.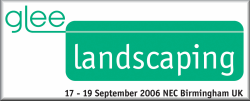 Aco
So, on to those exhibitors which provide all the ancillaries that we need, the drainage, the specialist surfaces, the lights and all the other bits and pieces that make for a better quality job. Aco are possibly the best known name in linear drainage systems, and their presence at an event such as this might seem strange, but, as noted in the comments regarding CED above, I'm actually grateful to see them here as I feel it reinforces the feel of a hard-landscaping event and diminish the primacy of all those bloody plant pots and godawful fripperies.
Although Aco did have linear channels and slot drains on their stand, their main thrust was the Ground Guard reinforcement system, which does have potential for sales via garden centres and retailers, as a grass reinforcement product or as a cellular gravel module. The display here focussed on Ground Guard's use with gravel, which does tend to survive a three-day event such as this rather better than does grass, and for a non-core item, there was a steady show of interest.
And launched at the show, the new HexDrain Garage pack, which comprises three lengths of HexDrain channel and grating, an outfall connector and a pair of end-caps, all bundled together in one convenient pack that the BMs should be knocking out for under 40 quid. Naturally, I completely forgot to photograph it, so you'll have to make do with a photo of an installation I photo'd for the HexDrain earlier this year.
SureSet
After last year's show, SureSet weren't sure whether they'd be involved again, as theirs is not really a retail product, but since then, there's been so much interest in the product that they've trained-up a slew of new approved installers and need to keep them busy, so Victoria and her team were back, with a bigger and much improved stand that really did show off the design versatility of this type of surfacing. Now, visitors could see for themselves a choice selection of aggregates in-situ, and the design possibilities become so much more apparent.
I was really pleased to see the stand gave them the opportunity to show off the tree-pit version of the SureSet resin bound paving system, as I think this is a grossly under-used application, and also because it ties in nicely with my support for all things SUDS . The porous system allows the tree's roots to exchange gases and receive valuable water, which encourages healthy growth, but an often overlooked bonus benefit is that all the bloody fag ends and chip wrappers have nowhere to collect, and the whole surface can be washed down when necessary.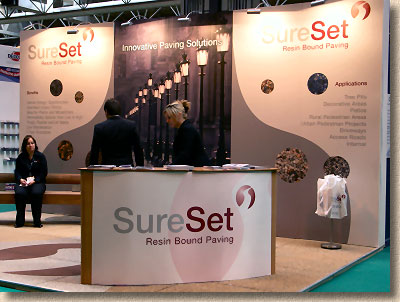 Again, Glee might not seem a natural venue for a product such as SureSet, but it does attract a lot of attention and is always well-received. As with CED and Aco, their presence expands the hard-landscaping theme, and allows them to reach sections of the industry that might not be fully aware of alternative surfacings.
Romex
Two jointing products were also on parade, and both are rightly popular with many of the contractors that use this website. Romex is, for my money, the best brush-in jointing product on the market. I first saw it around three years ago, and I've raved about it ever since because it's clean, it's simple and it works, which is not always the case with this type of product. However, there's been an ongoing problem with distribution that has stopped it developing the British market as thoroughly as should be the case. It's readily available in some parts of the country and yet it's unheard of in others.
What has stunned me over the past 12 months is how well distributed it is in Ireland, where Donegal's McMonagle Stone put it out to merchants, contractors and local authorities from every part of the island, yet here at the NEC, in Birmingham, the home town of the British distributor, most of the stands were still using GeoFix, which is not even in the same league as Romex. A missed opportunity? McMonagle's are planning to help out with British distribution in the immediate future and so I hope to see a better awareness and availability of the products in the Romex range in the coming months and years.
Easypoint
I have to admit that seeing the name of Easypoint on the Exhibitors list was something of a surprise, as the natural market for the high-strength gun-injected mortars they supply really is the specification and civils market rather than a retail outlet.
However, the stand was never less than crowded, and MD Trevor Wilson was buzzing about the level of interest shown. When you think about it, the prospect of a clean and reliable traditional cement-based jointing system that's simple enough to be used by a competent DIYer could be just the thing to take off at the retail end of the industry.
Business was so brisk, Trevor press-ganged me into making a small presentation to the most successful salesman of the three days – I hope Arthur McNiven made it back to Knutsford with that bottle of bubbly intact!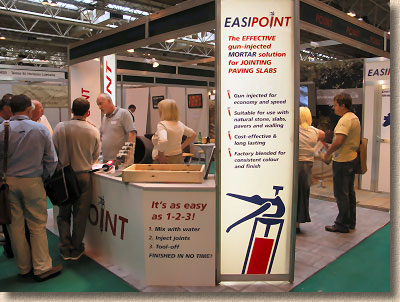 PLM Illumination
One late-in-the-day surprise was PLM Illumination – I chanced upon their stand while looking for what was said to be the official winner of the "Best New Landscaping Product" (which turned out to be some seen-it-a-million-times-before decking in a tile format – who the bloody hell chose that? Have they actually been out of the house at all in the last ten years?)
Anyway, PLM are the clever people that provide the little LEDs for paving and so much more. They can supply kits, or they can supply pre-drilled and pre-installed kerbs, pavers or even handrails. They were being helped out by what sometimes seems like the nation's most reclusive CBP manufacturer, BS Eaton of Walsall who have consistently spurned my advances for the past 9 years. Perhaps they should have a word with Rebecca Lee, the sales manager for PLM, because although this was the first time we've met, she's been chatting to me by phone for two or three years now and some of her products have managed to find their way into the lighting for paving feature on the website.
Hard Landscape Training Group
The last exhibitor to get a mention is, possibly, the one that's closest to my way of thinking and ambition. The Hard Landscape Training Group was set up to develop and promote quality training for our industry, and I'm delighted to be involved in my own small way. The decision to appear at Glee is all about "brand awareness". Although there are always a few contractors wandering around the halls, the HLTG knew it was unlikely to sign up new members, but if they could catch the eye of more people within the wider hard-landscaping industry, it makes it easier to promote the work that is done, and to attract sponsorship and assistance for the training courses that it puts together.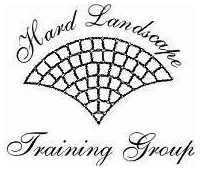 The first actual "paving" course is to take place in just a couple of weeks ( afull list of other courses and dates can be read here ). Marshalls have very kindly allowed HLTG to take advantage of their Southowram (Halifax) training facility and, assuming I get it all completed in time, a one-day "Introduction to Block Laying" course will take place on Friday, October 6th. Can I make a plea for everyone in the industry, whether you're a multi-national manufacturer, a one-man-band contractor, a tool supplier, or in any way involved in the trade, to make contact with the HLTG and see how you can get involved? The only way we can improve the public perception of our trade, and make it a more profitable industry for everyone, is by having properly trained operatives out there on the front line. Please give us your support.
The Pavingexpert Awards
Last year, as a bit of light-hearted fun, I created the Pavingexpert Awards for the exhibitors at Glee. It was intended as bit of a laugh, something not to be taken seriously, but to raise a smile and possibly stimulate discussion amongst both visitors and exhibitors when they read the review after the show. So it came as a bit of a shock to be repeatedly asked, at what seemed like 10 minute intervals for the whole of the last day, what was my "best new product" for this year, and who had the best display.
Well, not wanting to disappoint….
Best New Product
It was a very tight decision for best new product. Even as they were breaking down the display areas on Tuesday evening, I went back to take one last look at the shortlist of two, and I still wasn't 100% sure, but, after a couple of days with the weight off my poor owld aching feet, and with the benefit of contemplative reflection, the award goes to the Tumbled Chinese Slate from Pavestone.
An honourable mention must go to the Midnight Blue Octagon from Natural Paving which was only just pipped at the post. In terms of value-for-money, the Octagon is unbeatable, but I feel this is an award based primarily on looks, and, in that respect, the Tumbled Slate just about has the advantage.
The Flagger's Maul Award for best new paving product goes to…..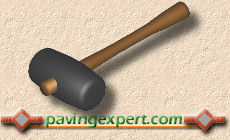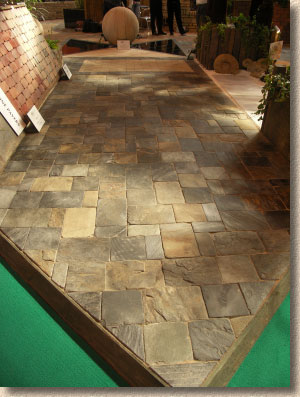 Pavestone for the Tumbled Slate Paving
The award for best stand was almost as tight. Again, it was a choice of two, but there was less doubt in my mind that, for the second year running, the Bradstone display was the one against which all others must be measured. This is a show for the garden industry, and the Bradstone stand was the one that look, felt, tasted and sounded most like a natural garden environment. If you had to choose just one stand on which to do business, you'd be hard pushed to find a more aesthetically-pleasing and relaxing venue than this.
The Golden Trowel Award for best stand in show goes to……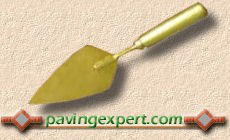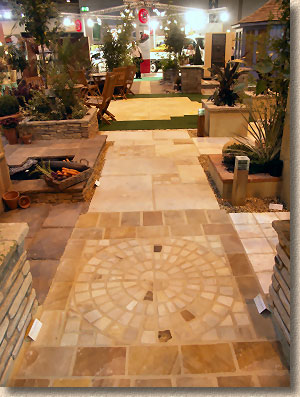 Bradstone
And finally, the highly-coveted Chairman's special award for hospitality and best brew has to go to the Marshallettes – Natalie Taylor on M-Joint and teapot, Michelle Thompson on brochures and anecdotes, and Tina Crossley on mission statement and gossip.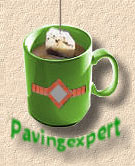 Page 1 | Page 2 | Page 3 | Page 4 || News Index Page