Paving Contractors List
The Pavingexpert.com Contractor List has been putting clients in touch with Contractors since 1998. Each month, the website receives dozens of enquiries from main contractors, developers, builders, architects and private householders looking for reliable and skilled tradesmen. So, in order to pass on these valuable job leads, Pavingexpert.com maintains an offline list of contractors with basic information, such as which areas they work, what type of work they undertake, and how long they've been in the trade. When a clients asks if we can suggest a suitable contractor, the database spits out a list of contractors meeting the necessary criteria, and this list, which might be just one contractor or might be a dozen, is forwarded to the client.
Signing-up for the Contractor List is completely free. There is no membership charge or registration fee, but then there is no guarantee that enquiries will originate in any particular area or region. You sign up: we pass on your registered contact details to enquirers; simple as that. It is up to the enquirer to make contact with the suggested contractor(s). Pavingexpert.com does not act as an intermediary.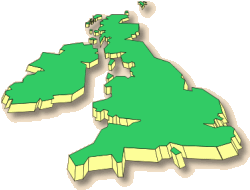 What's in it for us? Well, you could buy me a pint the next time you see me, but there's no obligation. The ability to have direct access to a wide range of British and Irish contractors allows the website to conduct genuinely independent research on trends, prices and practices within the industry. Further, it allows us to offer various manufacturers, distributors and retailers a moderated pathway to the more clued-up contractors, to provide the supply-side of the industry with impartial feedback on products old and new, as well as offering them a reservoir of talent and experience that can be called upon when necessary.
But, if you did want to send me a bottle of Jameson's....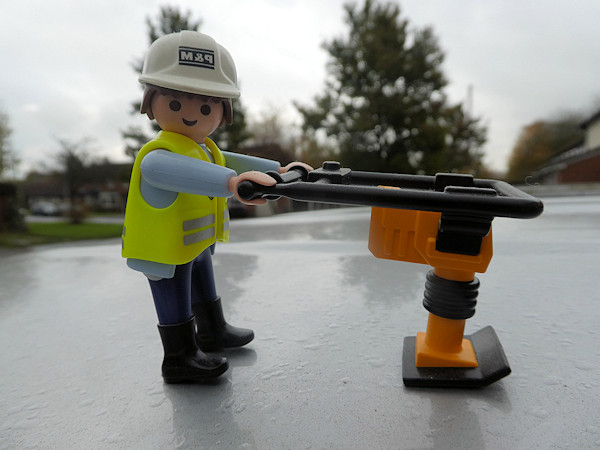 What have you got to lose? Use the form on the application page to contact us, and we'll be in touch by return.
Not a contractor? Sorry, but I do NOT publish the National Contractor List for data protection reasons. If you're looking for a contractor to undertake your project, have a look at this page for general advice or consider using one of the contractors which contribute to the Brew Cabin discussion forum and are listed here
Email news:
Occasionally, list members will be sent the Pavingexpert.com Newsletter by email. This will provide information on what we consider to be highly important news of direct relevance to the paving, drainage and hard-landscaping industry.
Anyone can sign-up to be included in the Newsletter mailout. Although the content is usually of interest to contractors, it may also entertain DIYers or anyone with an interest in the paving trade.
You can sign-up to be added to the mailing list on this page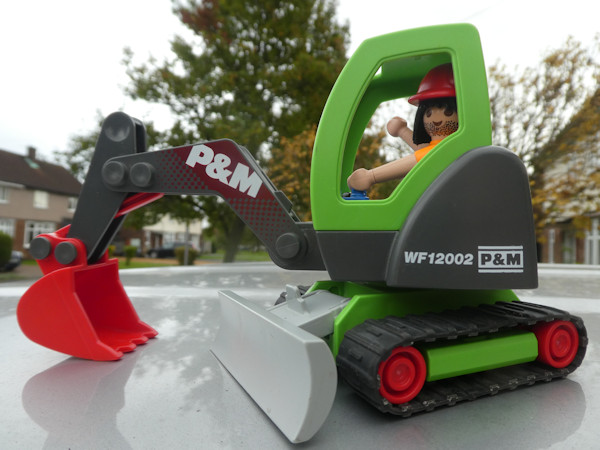 No irrelevant drivel, no adverts for finance or pharmaceuticals of dubious origin, no useless crap dropping into your inbox every week: just an occasional email alert that will keep you up-to-date with the information you need to know to help you run a better and more profitable business.
Email and other contact details are never passed on to any third parties (see privacy policy). You'll only ever receive emails from Pavingexpert.com. Should a manufacturer or other relevant commercial party wish to contact members of the list, the only way they can do so is via us, so you can be sure your inbox won't be filled up with meaningless twaddle that you don't (and won't!) ever need. Should you ever receive email or other contact from a third party claiming they obtained your contact details from Pavingexpert.com, you can be sure they're a set of lying bast... ...err.. rogues.
Product trials:
Each year, several national and international manufacturers of paving and paving-related products ask Pavingexpert.com to conduct "Field Trials" of new and/or updated products, and to report back to them regarding the success, or otherwise, of the trial. Over recent months we've arranged installations of recess tray covers, linear channel drains, a new tumbled pavior, and tried out a new screeding system, amongst others.
The Pavingexpert Email Newsletter enables us to contact suitable contractors throughout Britain and Ireland and offer them the chance to take part in field trials that link in with their current workload, whether it's a private driveway or a city-centre pedestrianisation scheme.
The deal is simple: we provide all the materials at no cost to the contractor, and in return, we document the installation or trial, taking photographs, making notes, and recording feedback from the installation crew, which is then written up as a report that will help develop better tools and products. Some manufacturers also offer a token payment and/or additional free product to cover the cost of any inconvenience or disruption to the normal working schedule while helping with the trials.
Want to see an example? Have a look at this Recess Tray installation case study .
Training:
Pavingexpert.com has worked to develop and deliver a range of training programs and modules that address specific skills and tasks within the paving and groundworks trades.
Skills improvement:
We provide intensive half- and full- and multi-day courses that focus on particular skills and aim to improve operatives' understanding and competence in key skills areas, such as cutting-in for block paving, detailing around utility covers, setting-out and kerb-laying.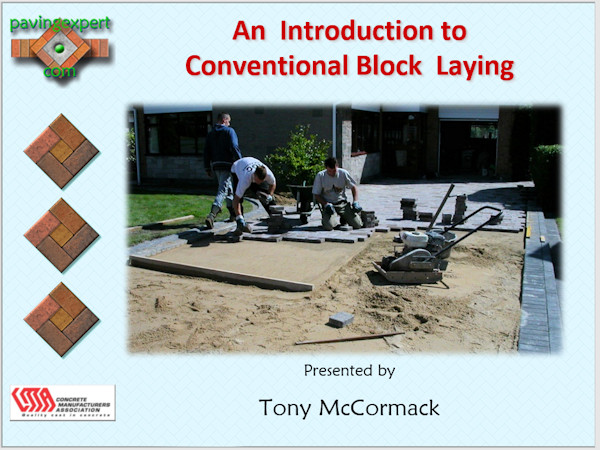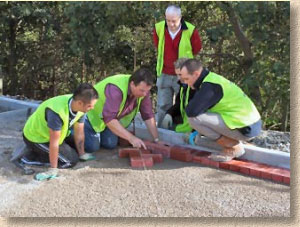 Training on-demand:
Does your business lack a specific skill? Do you have a group of raw recruits that need educating in the basic whys and wherefores of the trade? Is there some aspect of the industry that you would like to learn more about? Tell us what you need, and we'll put together a programme or point you in the right direction to help you get the training you need.
Winning more work:
A special training module aimed at business owners and sole-traders in the driveway and patio sector of the industry. This short program examines how work is assessed, how it's priced, and how it's presented to the client, with particular attention being paid to creating a professional image from first contact right through to final payment and beyond.
Colleges, Trade Associations and Institutions:
A regular request is to provide a presentation to colleges, graden design groups, specifier groups, trade bodies and other interested parties. Often it's a request to provide a simple overview, but there is also demand to address specific issues, such as Drainage for Gardens or the ever-popular "Latest Trends in Hard Landscaping".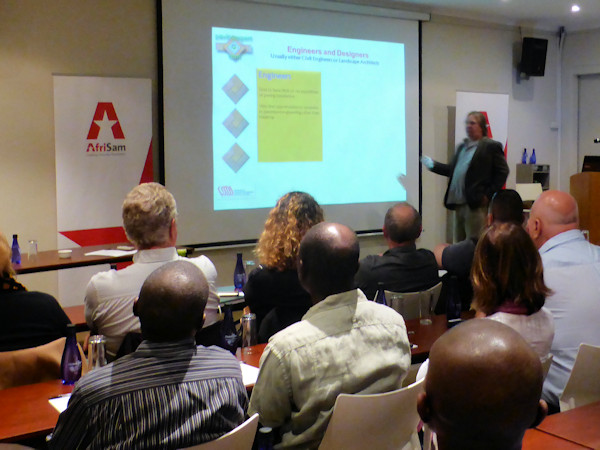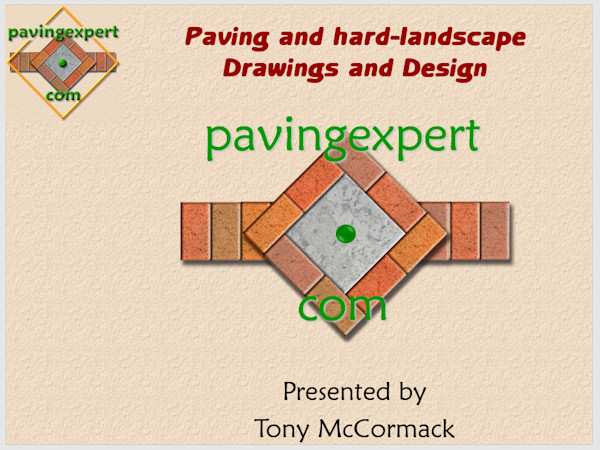 Whatever the need, whatever the audience, it would be a privilege to create a bespoke presentation for your particular grouping.
Contact us for further information
Preferred Contractors:
Established contractors can apply to be rated as a "Pavingexpert.com Preferred Contractor". Applicants are carefully vetted using a procedure that considers their customer relation procedures as well as their construction skills. Preferred Contractors are granted priority placement on both the online directory and the off-line Contractors List.
Use the form below to find out more....