Soldiering on
We're used to hearing about shortages in the armed forces, but from now on, there's no need to worry about their paving provision. Hanson Formpave have just completed the installation of a tank-tastic 10,000m² of its Aquaflow™ permeable paving system to the car park areas of the barracks up at Catterick, in North Yorkshire.

A SUDS system was essential on the project due to water discharge restrictions imposed as part of the planning consent, and the Aquaflow™ system was deemed to measure up. Its sophistication at handling, cleaning and harvesting rainwater to ensure good quality water discharge provided an ideal drainage solution, performing excellently even on this steep sloping site.
As part of the MOD's project SLAM (Single Living Acomodation Modernisation), the Catterick Garrison barracks has benefited from a £330 million investment programme to develop the facilities, including a total of 2,800 bedrooms, a physiotherapy centre, dining facilities, a sport and leisure centre and swimming pools as well as redeveloping the centre of Catterick town.
"On such an extensive site the car parking areas were an essential part of the redevelopment process,"
says Steve Robshaw, project manager at Debut Services Ltd, Project SLAM.
"The Aquaflow™ system has been installed on site in excess of 12 months now and we are very pleased with its performance. Even during heavy rainfall, water is drained away immediately and there is no surface water or puddles."
Installing Aquaflow™ at the brownfield, steeply sloping site was a challenging prospect but with 15 years of experience of working with concrete block permeable paving (CBPP) systems, the design team were able to battle through these challenges to deliver an effective and reliable solution.
Steve Spikes, development director at Hanson Formpave said,
"Several rigorous test areas had to be constructed in order to prove the Aquaflow system as a reliable and efficient SUDS solution to the client before we secured the project. We were more than happy to demonstrate the system and left the installed permeable paving test areas in place for 3 months to undergo typical wear and tear and trafficking. The paving structure was then lifted and the sub base checked for performance and silting. We also designed a bespoke subbase for the site. "
Arup, the consulting engineers on the project, specified Hanson Formpave as suppliers of the permeable paving. Ayan Das, senior engineer at Arup, said,
"We are very happy with the promptness and quality of responses to the technical queries and issues that were experienced on site. I would certainly use Hanson Formpave again."
An 80mm paver was used throughout the car parking areas and henceforth will require minimal maintenance, with sweeping of the surface a couple of times a year the recommended practice. As revealed at the International Conference on Concrete Block Paving , held in Buenos Aires last month, much research is being done around the world into determining the best maintenance regime for permeable block pavements, and initial indications suggest that nothing more than sweeping is necessary.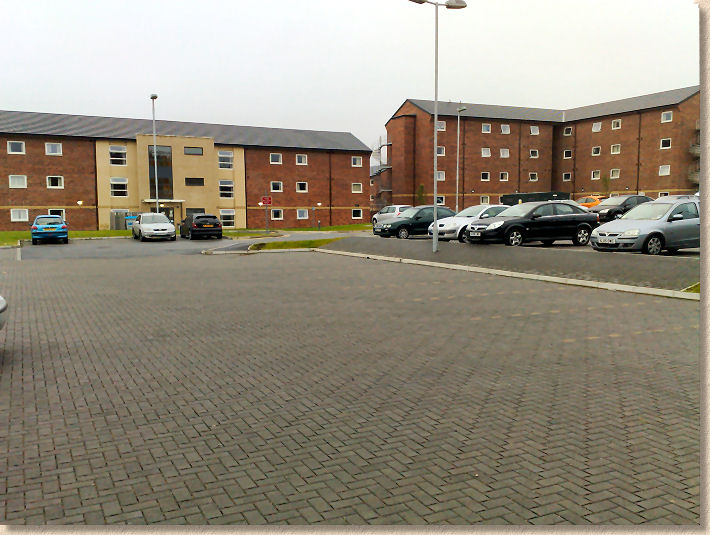 The Aquaflow™ SUDS system works by allowing rain to infiltrate through a permeable concrete block paved surface into a unique stone sub-base where it is cleaned, by filtration and microbial action, before being released in a controlled manner into sewers or water courses. This rainwater can also be harvested for reuse when infiltrated directly into the sub-grade before the clean water is pumped back out for secondary uses including flushing toilets and watering gardens.
Hanson Formpave claim that the Aquaflow™ Permeable Paving combined with SUDS provides an affordable solution to the challenges of storm water disposal and treatment, water conservation, recycling and reuse. The patented Aquaflow paving system is said to deliver immediate environmental benefits and financial savings, when compared to traditional drainage. The system can also be used to harvest and reuse all water that falls on hard surfaces such as roofs and car parks, representing additional environmental benefits and cost savings.