Gapfast™ Launched by Resiblock
Resigap Ltd, the Essex-based side-project from world-leading sealant manufacturers, Resiblock , has just launched GapFast™ , the first spacer specifically designed for the British paving market. Available as of now directly from the manufacturer, this innovative product will be available from both leading DIY retailers and builders merchants in the very near future - distribution deals are already in place, with more to come.
"Just like a tile spacer but for Paving. Every how-to-lay-a-patio leaflet or on-line guide will stipulate the use of spacers but before Gapfast™ you couldn't buy them and had to make your own"
said Craig Amor, Director Resigap Ltd.
The Gapfast™ paving spacer has been designed to ensure accurate 10mm joints every time and the clever little spacers stay locked in place to help make paving stronger. Once the pointing is complete the product is invisible and will not rot or disintegrate. The spacer can be used with either stacked or broken bond laying patterns and comes packaged in bags of 50 spacers that should be enough for around 10m², depending on the size of flags being used, obviously. The product has been patented and is British-made using recycled materials.
The product was first presented to Tony McCormack, of Pavingexpert.com because the company wanted to get feedback from an experienced contractor with extensive industry knowledge. The feedback was very constructive;
"These paving spacers are a simple and effective tool to assist the paving layer and I can see them becoming widely used" ,
said Tony.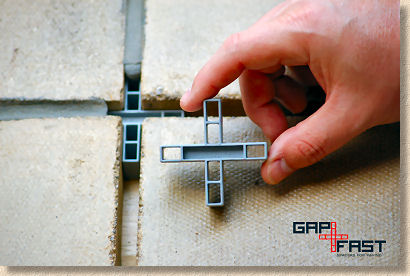 Putting aside the marketing blurb and press release quotations, this is another classic example of the best ideas being the simple ones. I've watched this product develop over the last few years from Craig's first idea through to a well-designed and genuinely useful aid to accurate laying of flagstones and other pavers.
It's easy for we so-called professionals to scoff at such simple ideas, but those of us that have worked with the modern dimensionally accurate pavings laid to exacting geometric patterns such as stack bond, know only too well how bloody difficult it can be to keep the alignment correct. In the past, we've used bits of ply, offcuts of copper pipe, and god knows what else, but now there is a professional method that will make accurate laying that much easier. Now, we return you to the marketing bumf.....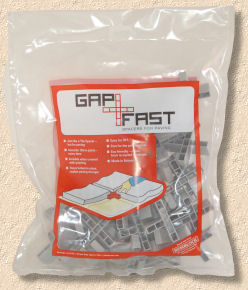 Whilst the initial target market for this product was the DIY paving layer, the subsequent market research and feedback has shown that the product has clear advantages for paving contractors as it can save them both time and money.
Gapfast™ is the first product launch from Resigap Ltd. The company has a number of innovative products that it is planning to launch into the paving market over the coming months.
For further information regarding the product and its application visit the official website and keep your eyes peeled for a case study on pavingexpert.com in the next few weeks.