Highways Sector Scheme to be launched
Although there were whispers about this doing the rounds 12 months or so ago, it seems that, almost from nowhere, a new "National Highways Sector Scheme" is to be unveiled this coming Friday in that London.
NHSS30 - The Quality Management of the Installation, Maintenance and Repair of Modular Paving
The avowed intention of these sector schemes is to improve standards. In the mangled words of the promotional material ...
The new Scheme will improve the installed quality of all types of modular paving including Blocks, Pavers, Setts, Kerbs, and Slabs in concrete, clay or natural stone in both rigid and flexible laying methods by providing an industry benchmark, ensuring project processes are planned, use properly trained and competent installers, and focuses on continuous improvement, quality of installation and reduced ongoing costs for both the client and supplier.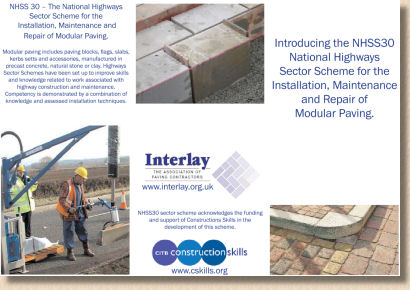 Mmmm. Reduced costs for clients and suppliers…nowt in it for the contractors, then?
It also claims that…
"The NHSS30 technical advisory committee is made up of representatives from across the paving sector, including clients, contractors, suppliers, trade associations, training organisations and certification bodies."
...but the actual representatives seem to have been drawn from a very, very narrow field with almost no representation from day-to-day working contractors.
Through admittedly limited discussions with tradesmen and suppliers, it seems that contractors' interests were allegedly represented by Interlay , which has suddenly re-branded itself as "The Association of Paving Contractors" for this project whereas its website and other documentation still shows it to be "The Association of Block Paving Contractors". Interlay is heavily subsidised by Interpave, the trade body for the concrete paving manufacturing industry.
Why the sudden re-focus and expansion of its remit? Why no mention of the scheme on its website? Interlay state that they've not been able to fully promote the scheme before now due to lack of funds.
It costs nowt to put a News feature on this site!
It's hard to fathom why such a potentially important scheme had been developed behind doors that, if not closed, have only been slightly ajar, with limited input from those who will be most directly affected, and no on-the-record discussion about it with those of us who seek to promote the paving trade. No information of any sort was sent to pavingexpert by the organisers and what information we have was originally sourced from another party concerned that there has been no genuine industry-wide consultation regarding this project.
Lots of questions to ask on Friday!

Download PDF of NHSS 30 Leaflet as obtained by pavingexpert