Formpave launch new website
Gloucestershire Concrete Block Paver manufacturer, Formpave , have unveiled their new look, info-packed website and have invited all Pavingexpert readers to pay a visit. Best known for their deliciously distinctive bush-hammered products, as well as their industry-leading Aquaflow range of permeable paving, Formpave are highly respected throughout both the specification end of the trade as well as the driveway and patio fraternity.

The new website features a simple horizontal navigation bar that provides links to sections dealing with their range of products, to a well-stocked Brochure & Download section, a very useful Photo library, as well as a "Where to Buy" facility, a News archive and the essential Contact information page.
Formpave director, Katherine Robinson told Pavingexpert,
There's a basic login facility on the Home page that will, eventually, provide more detailed information for registered users, but for now, the info provided on the site is a good overall guide to what's available and what can be done with it. The main image on the Home page changes with each visit, which is a nice touch, and once you've registered, there's a simple 'Welcome' message with your name at thge top of the page.
The bottom of the Home page provides further image links to the Aquaflow section, along with the News and Contact pages. The page loads quickly, and, I'm glad to say, there's none of that silly Flash Movie intro rubbish that far too many companies are now inflicting on us, in the belief that we will be so gob-smacked by moving photos and fading animations that we'll immediately rush out and place an order!
Instead, what we do get is honest-to-goodness hard information and reasonable quality photos (for the web) that give a fair impression of the actual products.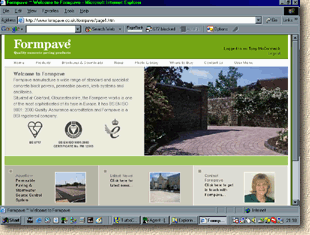 Brochures can be ordered via the onsite form, and they will be directly downloadable in PDF format in the very near future, and the plan also includes the ability to download AutoCad™ compliant specification drawings. NBS specification documents for the Aquaflow range are already available from the site.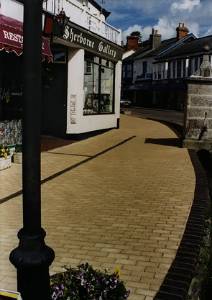 The Photo section is a useful tool, as it does cover the entire range with a wide selection of images, but I do feel that High Quality images should be made available as an option. I'm more than familiar with the issue regarding download speed, but as more and more of us move over to Broadband, our demands increase and we now expect to be able to find top-notch images of particular products that can help us make informed decisions, even if it means waiting 20-40 seconds for them to come through. Low-resolution, compressed images are fine for thumbnails, and to give an overall impression, but it's high-quality images that will sell a product - after all, we expect them in the hard-copy brochures, so wht not make them available on the web?
More and more Contractors are beginning to use laptops and the web as a selling aid, so, to me at least, it makes sense to put your best bib-and-tucker on show to help them sell your products. Not too many potential clients will be convinced by a medium-resolution or blurry, quarter-page images, so providing high-res alternatives could be the one touch that clinches a sale.
I do hope Formpave and their web designers will take the above comments as constructive criticism and add this facility to what promises to be one of the better web sites for our industry. Compared to the sites of some other manufacturers, it's clean, simple, straightfoward and has most of the information needed by specifiers, contractors and private buyers. Take a look for yourselves and let us know what you think ...comments are welcome in The Brew Cabin or email Formpave directly via their new site.