Introduction:
For so many years, resin bound surfacing has relied on there being a solid, reliable base over which the resin bound material can be spread, levelled and trowelled to a smooth finish. On new-build projects, this need for a base adds to the overall construction cost, but, up to now, that has been accepted because it is essential.
Meanwhile, some very clever resin technologists have been playing around with new formulations and all this research has led to the development of a new generation of binder resins that provide even greater strength and resilience. Using these latest resins, Addagrip have created a resin bound surfacing system that no longer requires a solid base. They've called it TerraBase® , a patented paving system.
Yes: a resin bound, trowel applied surfacing material that can be laid directly (more or less) onto a prepared sub-base!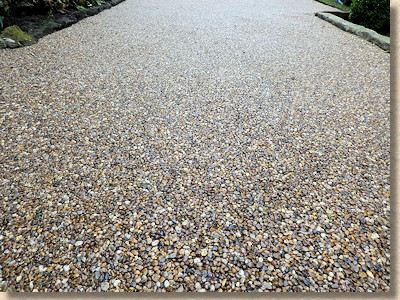 This development has obvious cost benefits for a new-build project. There is less excavation required, less spoil to cart away, no costly macadam or concrete base to install, no additional labour to install it.
And for reconstructions or re-surfacings, this new TerraBase® surfacing can still be applied more-or-less exactly as standard Addagrip resin bound surfacing, over a prepared base,
There are two versions available: TerraBase Rustic and the new TerraBase Classic.
TerraBase Rustic also offers a larger aggregate size as standard, 10mm is a popular choice as it creates a chunkier, more naturalistic, true gravel-like finish, with all the benefits of a fully bound, reliable and sturdy surface.
TerraBase Classic is a more contemporary option, in 6mm or 10mm sizes using Addagrip's BBA approved range of resin bound surfacing systems Addaset, Addabound and Terrabound in 6mm or 10mm sizes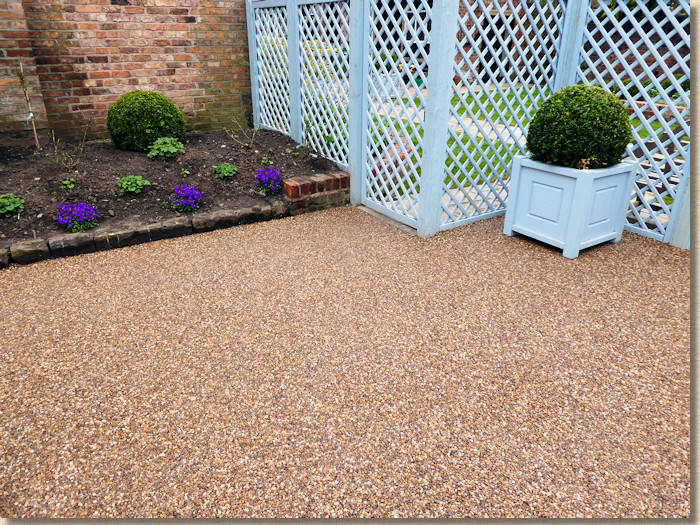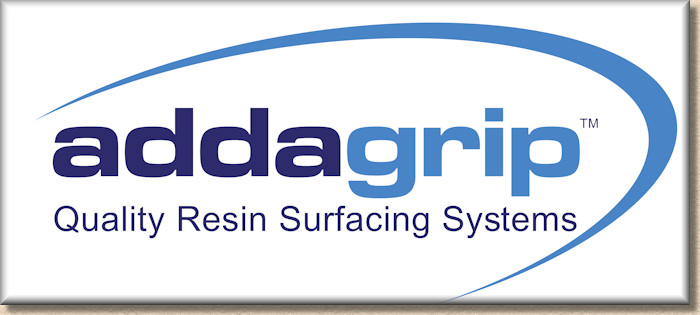 Advantages:
Can be laid without a solid base layer.
Reduced construction costs.
Fewer materials required to install.
Fully permeable.
Chunkier, more rustic, gravel-like appearance.
Suitable for pedestrian or driveway use.

Potential Uses:
Driveways
Paths
Patios
Bridge Decks
Pool Surrounds
Playgrounds
Woodland Walks
Golf Courses
Tree Pits
Cycle Paths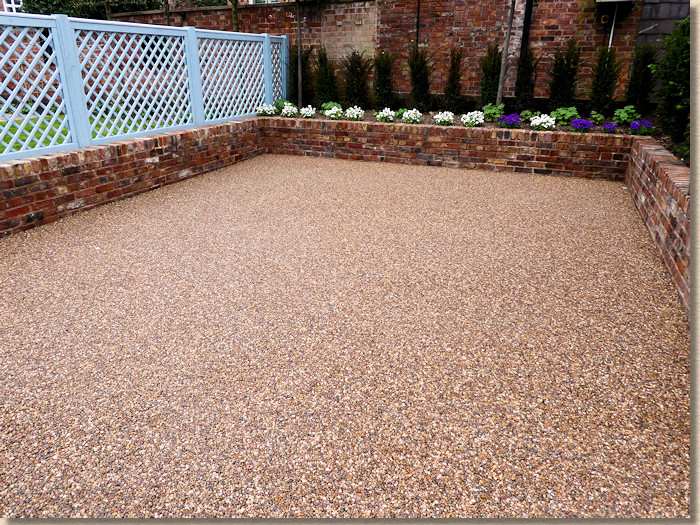 Construction:
How it all works
Preparatory Geo-synthetics
More observant readers will have noticed the " more-or-less " term used a couple of times in the preceding sections in relation to the installation.
The new TerraBase® resin bound surfacing does not require a solid base and can be laid directly onto a prepared sub-base – more or less.
The "more-or-less" refers to a minimal amount of additional preparatory work: the installation of a simple construction-grade geo-textile and a relatively shallow geo-grid . These two basic layers are positioned on top of the prepared sub-base. Even when re-surfacing over an existing base, TerraBase® needs the geo-textile and the geo-grid to ensure performance and aid sub-surface drainage.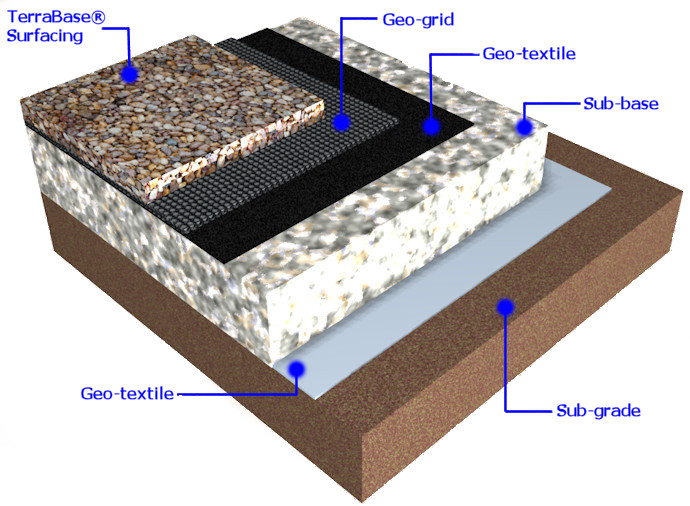 The 2/4mm thick geo-textile layer ensures potential contaminants within the sub-grade or sub-base cannot rise up and malignly affect the TerraBase® surfacing.
The geo-grid, sold as AddaGrid , is relatively shallow at just 8mm depth, acts as a locking layer, tying together the TerraBase® over a larger area and ensures an essential void space through which surface water that has drained through the TerraBase® can be directed when there is a solid base present.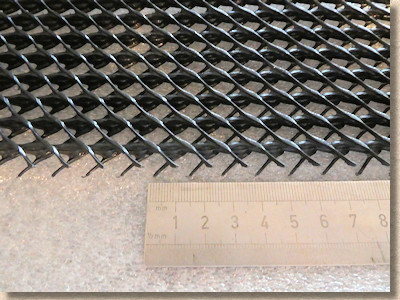 Sub-base
For new-build projects, a sub-base of Type 3 material (DTp 3/ Cl.806 / no fines) is preferred. A typical installation depth of 100mm for pedestrian usage, and 150mm for driveways is recommended.
It is possible to install TerraBase® over a sub-base of Type 1 materials (DTp 1/ Cl.804) but additional sub-surface drainage and/or surface drainage may be required because this type of sub-base is not as free-draining as the preferred Type 3 material.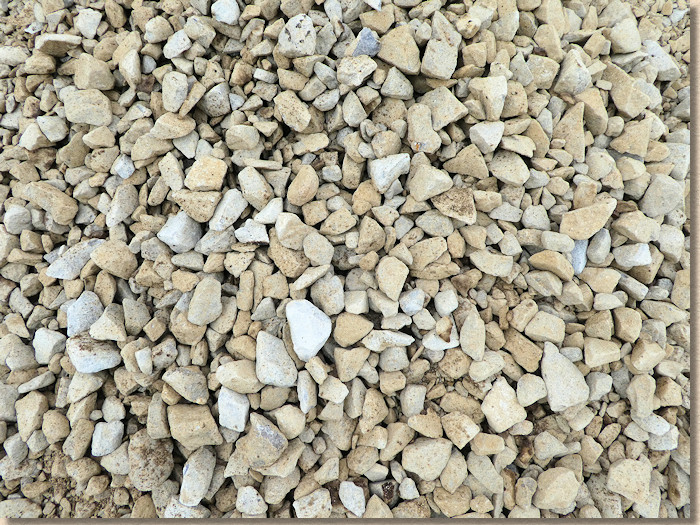 For re-surfacing and overlay projects, the pre-existing base needs to be relatively clean, free from vegetation such as moss and weeds, and have appropriate drainage provision. This may be existing gullies or a linear drainage channel, or simply a suitable degree of fall (gradient) to direct any collected surface water to an outfall.
The geo-textile is provided as a two metre wide roll. It is unrolled over the area to be surfaced and trimmed to fit as necessary. Where the roll width isn't wide enough to cover an area, individual sections can be overlapped by 200-300mm to ensure complete coverage of the area to be surfaced.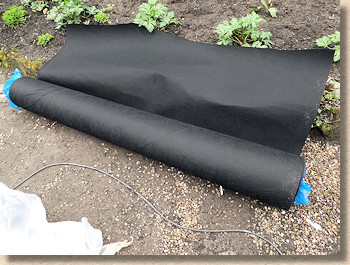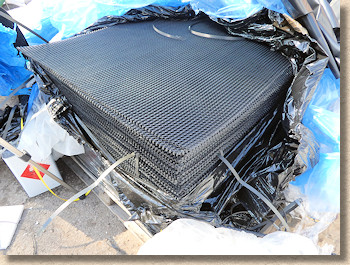 The AddaGrid geo-grid (aka a Geo-net) is supplied in convenient mini-panels, roughly 1100 x 900mm, that are placed over the geo-textile, abutted against each other, with panels trimmed as necessary using basic craft knife, to fit and ensure complete coverage.
Originally, the geo-grid was supplied as a roll of several hundred square metres, but this stuff is very springy, and managing such rolls on smaller sites was a nightmare. As soon as the roll was unwrapped, it was desperate to unroll itself, spread out flat and cover an area far larger than that intended. So, the decision was made to pre-cut the geo-grid into far more manageable panels that can be stored, transported and installed with far greater ease. Addagrip – always looking to make life easier for the busy contractor!
Once these simple preparatory tasks are complete, the prepared TerraBase® aggregate is laid directly over the geo-grid.

Mixing The TerraBase®:
On the case study project, a typical TerraBase® blend of "pea gravel" was chosen by the client for its naturalistic looks and colours sympathetic to the characterful property.
The TerraBase® material is prepared in individual batches using quality-controlled, pre-packed dried aggregates.
Each batch is mixed in a forced action or pan mixer, with the selected aggregates being added and mixed before adding the resins.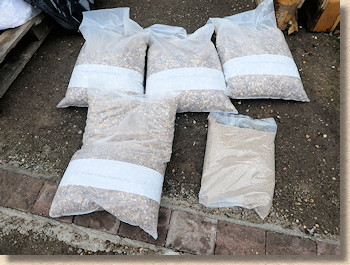 On this project, each batch comprises:
3 x 25kg bags of dried 6-10mm pea gravel
1 x 25kg bag of dried 3-6mm pea gravel
1 x 6.25kg bag of dried coarse sand (0-4mm)
1 pack of TerraBase® binder resin (Part A)
1 pack of TerraBase® activator resin (Part B)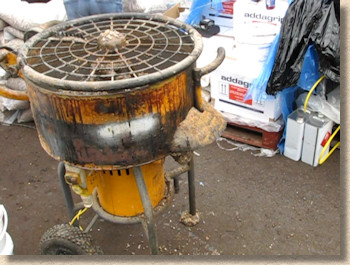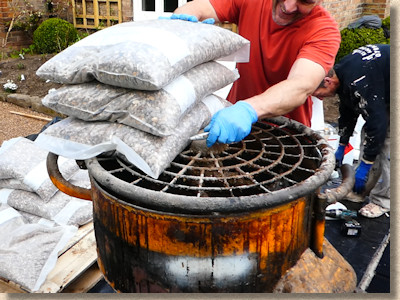 The aggregates are poured into the pan mixer first.
Three bags of the larger 6-10mm aggregate go in first, followed by a single bag of smaller 3-6mm aggregate, and finally, the small bag of coarse sand. The three blades within the pan mixer stir up these aggregates and blend them evenly prior to the prepared resins being added.
The resin comes in two parts; Part A, the binder; and Part B. the activator. There is no requirement for any additional PU accelerator.(Some TerraBase® blends will require the PU Accelerator and packaging may vary)
Part A comes in a plastic pail, which is also used as the container in which the resin is mixed, while Part B comes in a large sachet, packed ten sachets per box, which is slit open using a craft knife and added to the Part A resin in its pail.
The binder and activator are mixed together in the pail containing the binder prior to it being added to the blended aggregates. Mixing of the resins takes 60-90 seconds to ensure the activator is thoroughly and completely distributed throughout the binder. The mixing is done using a paddle mixer attached to a drill.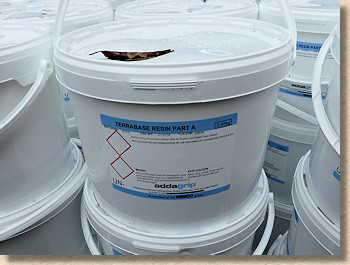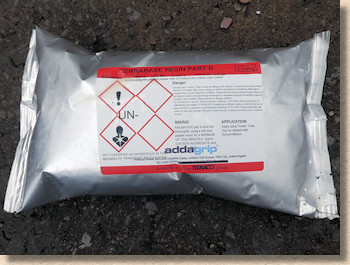 When prepared, the mixed binder/activator is added to the blended aggregates already in the pan mixer, and the whole is mixed for precisely 3 minutes. Consistent mixing time ensures the resin-coated aggregate is consistent in appearance and more importantly in workability, so that the same finish is achieved throughout the project.
On this case study project of a couple of hundred square metres, the mixing team comprises one operative responsible for preparing and mixing the resins; one operative responsible for loading the aggregates, operating the pan mixer itself, and checking each mix is accurately timed and a third operative responsible for emptying the mixed product into a plastic-lined wheelbarrow and ferrying it to the laying face, to be emptied where directed by the laying team.

Laying:
There are two, sometime three, operatives in the laying team, who work together to spread, level and float-off the TerraBase® resin bound surfacing.
The barrow operative will be directed as to where the laying team want the freshly mixed aggregate to be placed, whether it's just a third or a quarter of a barrow, a half barrow, or the full barrowful. Note how the barrow is lined with polythene sheet to minimise build-up of resinous material through the day. When the polythene sheet becomes too heavily contaminated with 'old' resinous aggregate, it can be stripped out and replaced with new.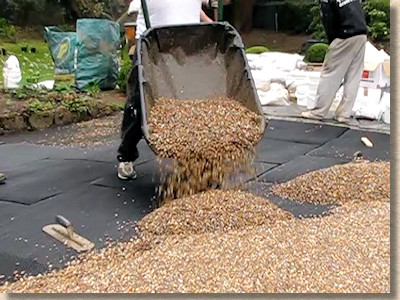 The bulk spreading is done using a spazzle, also known as a lute or even a 'blind rake' in some parts of the country. This tool is used to push and pull the TerraBase® to a rough level, and then 'fine-tuned' to a high degree of accuracy. This is a skilled job, requiring a keen eye for level and evenness and is usually given to the most experienced team member.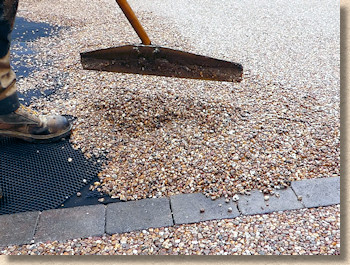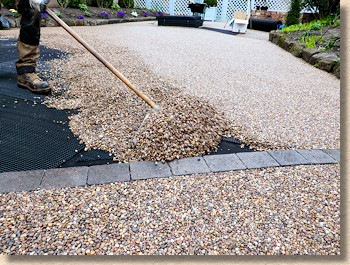 Once the operative is satisfied with the level, the second operative moves in with a bull float to smooth and polish the surfacing to a relatively tight and close finish. Regular checks are made to ensure the minimum thickness is always being achieved.
The float is used in long sweeping arcs, passing over each part of the surfacing several times to ensure a smooth and even finish, with no high spots or hollows. Levels are checked as required using straightedges and/or spirit levels.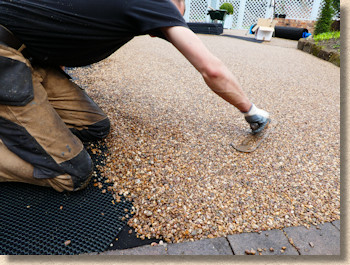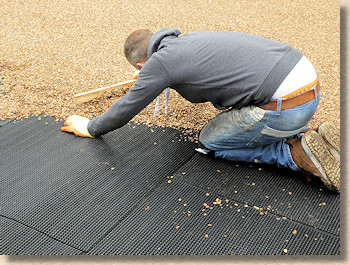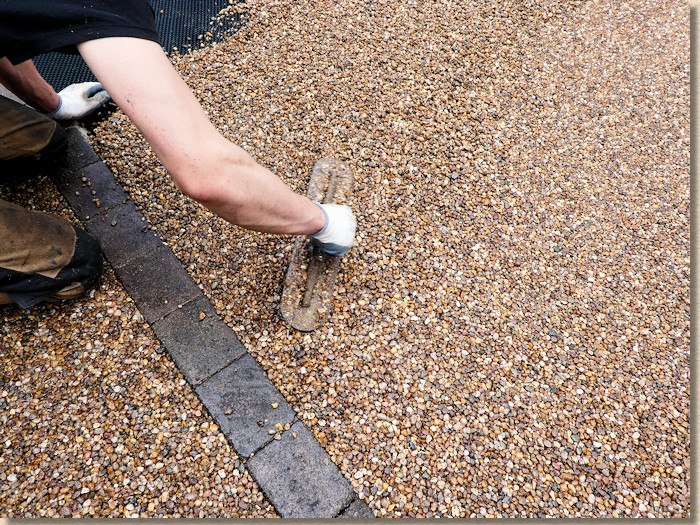 The final laying task is to pass over the still fresh and unset surface with a power trowel finisher to eliminate any minor unevenness and create a uniform looking finish. This, too, is a skilled task as over-floating can spoil the finished appearance, creating a surface that is too tight, too closed-up, losing its natural attractive chunky gravel look and impeding the drainage of surface water.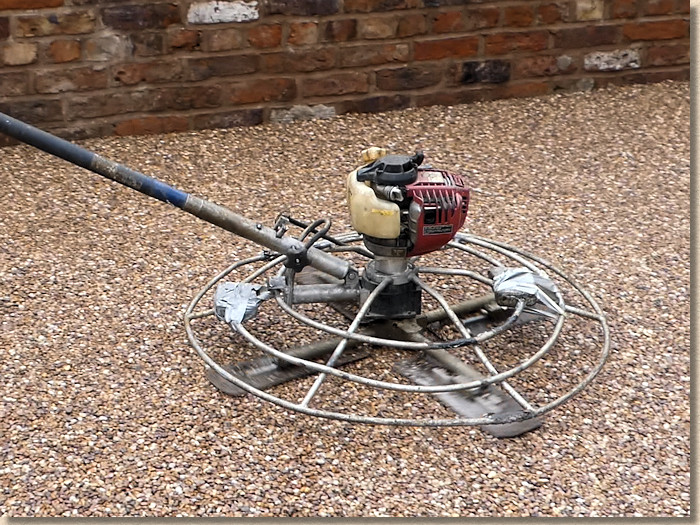 Cleaning Tools:
All application tools are regularly coated with a mist of clean water using a manually operated trigger sprayer to prevent the resin sticking to the blades of floats, lutes and gauging trowels.
At the end of the installation all tools and mixers should be cleaned using solvent to for thoroughly clean equipment.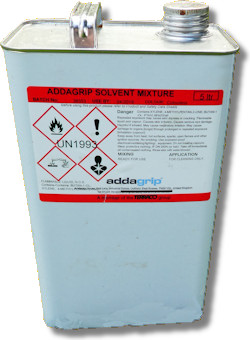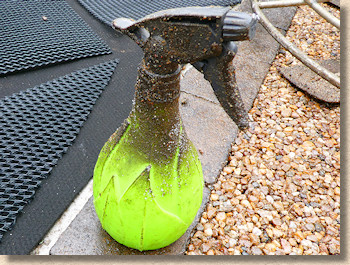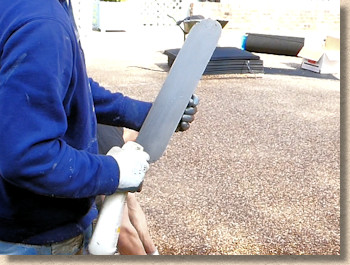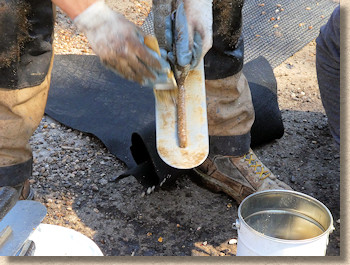 Finishing:
When the floating is completed and the laying operatives are satisfied with the finish, the final task is to scatter a traction grit to reduce the risk of slipping on the new surface. On pedestrian areas and residential driveways a finely powdered glass grit is used, while on heavier applications, a more resilient aluminium oxide powder will be used.
The grit is scattered by hand, with the aim of providing a light dusting to the entire surface. The grit is fine and once settled onto the still tacky, freshly laid surfac is practically invisible, but its impact on traction is significant.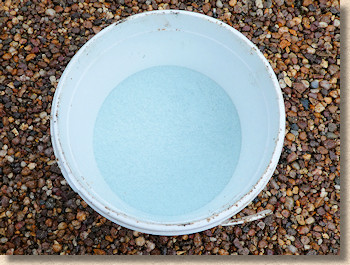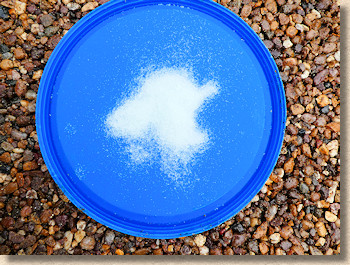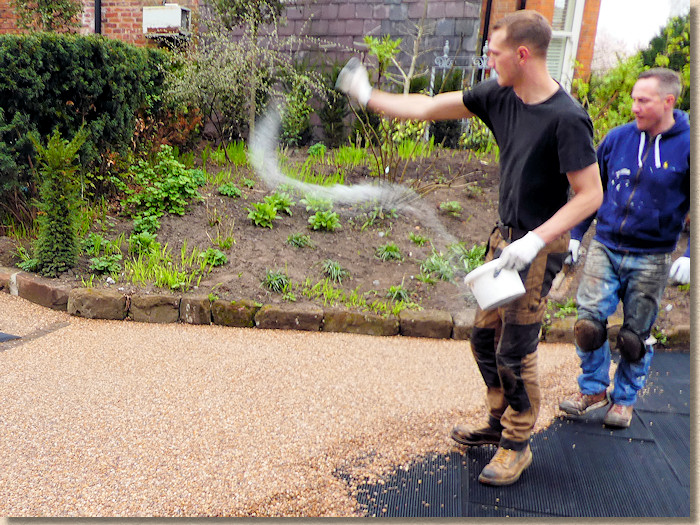 Finally, the newly laid area is barricaded as necessary to keep traffic off the still uncured surface. It will take around 6-12 hours for the initial cure, and 24 hours is recommended before allowing careful pedestrian traffic to access the new surface. Vehicles should be kept at bay for 36 hours.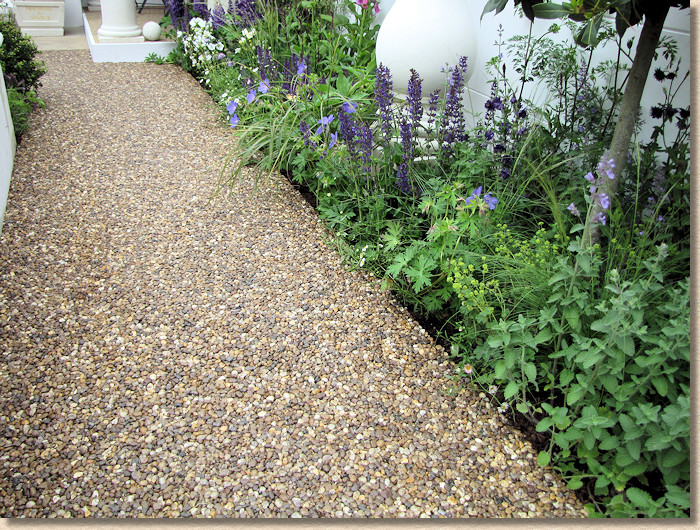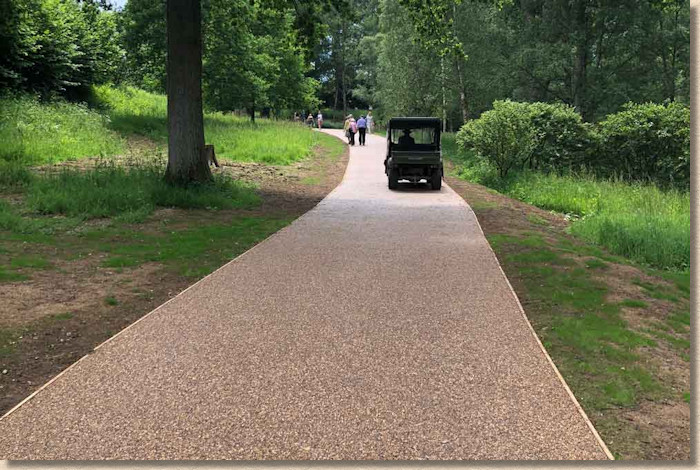 Further Information:

Addagrip Terraco Ltd
Addagrip House
Bell Lane Industrial Estate
Uckfield
East Sussex
TN22 1QL