Introduction:
As described on the Laying Flexible Block Paving page, the edge courses are usually laid on a bed of concrete and then haunched with more concrete to hold everything in place. However, in some parts of the world that are not blessed with the balmy climate enjoyed by those of us in Britain and Ireland, the amount of ground heave experienced during the winter freeze make the use of concrete for such support less appealing and so there are a few methods of fixing the edge courses and holding them fast that don't rely on concrete.
---
Keyform
In the UK, the most popular off-the-shelf solution is/was known as "Keyform"™ and was previously supplied by Marshalls plc . However, it was never widely available and has been withdrawn from general sale, although old stock of the product may still be in circulation. This product utilises a pre-formed plastic restraining strip that is, literally, nailed to the ground. Each restraining strip is 4m in length, and can be cut to size as required. Longer runs can be created by linking together adjacent sections with a special joining member that slots into each piece.
It is suitable for block-paved driveways, patios and other light-duty applications, and can also be used with patio flags or even as a shuttering for concrete or retainer for loose material such as gravel or bark .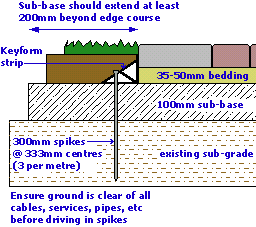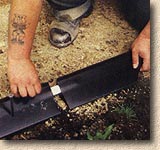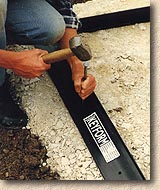 Curves and arcs can be accommodated by cutting wedges out of the Keyform and bending to shape as desired. Similarly, corners can be created by cutting to a mitre shape.

---
Borderguard
Aco , perhaps better known for their drainage products, have recently entered this market with their Borderguard product. This is manufactured from 100% recycled plastics, which means it's very light (under 400g per linear metre) and easy to cut to size.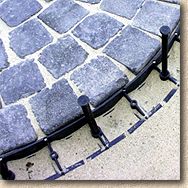 Slicing through the outermost support allows the basic straight unit to be bent to shape to form arcs and curves, or even bent right round into a 90° angle, so it can easily be used with block pavers, and also with flags or even Aco's cell matrix system, Groundguard.
The edging strip itself is 80mm wide and only 45mm deep, which makes it a good choice for patio projects, which typically use much thinner pavings than driveways and commercial projects, although there's no reason why this product could not be used with 60-80mm thick block pavers on such projects.
As with other systems of this type, the edging strips are fastened to the sub-base using a fixing nail that comes supplied with the system. The standard Aco nails are a 250mm long H-section recycled plastic item and can be driven home at roughly 200mm centres, and there is an option to use 8mm steel nails, if preferred.
Adjacent sections of Borderguard click together via a nifty dovetail joint.
More info available from the Aco website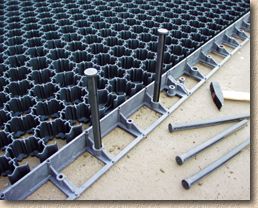 ---
Linefix®
An alternative UK system is "Linefix"® manufactured and sold by Hauraton Kaskade. This product is manufactured from recycled HDPE plastic and the serrated back flange gives a degree of flexibility for creating curves and arcs. It is fixed to the sub-base by 250mm plastic 'nails' at 400-600mm centres, although steel nails can be used on stony ground.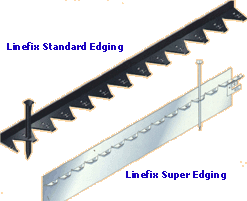 The Linefix Standard unit is used as a general restraining edging suitable for block paving, as well as for turf, gravel and other pavings. The Linefix Super Unit is manufactured from galvanised steel, and is 175mm in depth, which enables it to act as a shallow root barrier in vulnerable areas. Supplied 'straight' it can be bent to shape on site to create curves and arcs.
More information about Linefix can be obtained from the manufacturers .
---
Pros and Cons
The great advantage if this type of edge restraining system is that it allows soil to come right up to the edge of the pavement. However, as can be seen from the cross-section drawing above, this is only a relatively thin covering of soil, as the sub-base should extend beyond the edge of the pavement. In fact, if the sub-base is extended to 200mm beyond the pavement edge, this is considerably more spread than the typical 100mm width of haunching concrete
While Keyform and similar products undoubtedly have their uses, they do not have much of a market in Britain and Ireland for a number of reasons...
- we are not often affected by adverse freeze-thaw cycles
- establishing the pre-formed strips at the correct level can be time-consuming
- creating arcs and curves is complicated
- not suitable for use with kerbed edges
- concrete is relatively cheap and simple
- lack of product promotion within the trade
---
Non-UK/RoI systems
These are just a few of the edge restraint systems that are popular in Europe and North America.
The Easyborder® edging is manufactured by a Belgian company, Scala Plastics, with the same basic unit used to form straights and curves. It's manufactured from recycled plastic (HDPE, if you really want to know) and comes packaged in a box that contains four 1 metre lengths with 12 fastening nails.
This product was shown at GLEE 2003 and the manufacturer is hoping to have finalised a deal with a well-known UK/RoI distributor for the start of the 2004 season. Check their website for more information.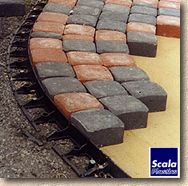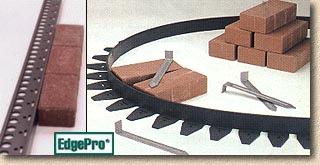 The EdgePro® system, manufactured by Dimex, features two basic components - a rigid strip for straight runs and a flexible strip for curves and arcs. The strips are fixed to the sub-base or sub-grade by metal spikes.
This system uses the weight of the paving to help stabilise the restraining strip. Unlike other systems where the spikes/nails are placed outside the pavement, the Gappsi™ system utilises adjustable straps to connect the restraining strip to the plastic spikes which are driven in beneath the paving.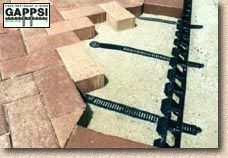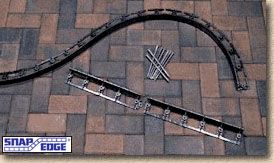 The edge restraint system from Snap-Edge Corporation relies on a single component for both straights and curves. The strip is supplied as a rigid, straight strip, but simple snipping of the back edge allows it to be flexed to suit arcs as fast as 1 metre radius. Again, steel nails are used to fasten the strips to the underlying layers.
The edge restraint system from Pave Tech Inc., is said to be the original and most commonly specified edge restraint in the world. It comes in 3 forms - "Rigid", for straight runs, "Flex" for curves and arcs, and "Industrial" for heavy duty applications.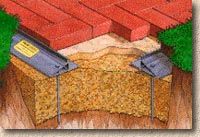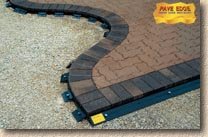 The fact that Keyform, discussed above, bears an uncanny resemblance to Pave Edge, can surely only be coincidence, can't it?
LINKedge is an aluminium edging system from Australia that comes in a range of depths and features a castellated base plate that allows the 3-metre lengths to be bent to form arcs and curves as required. Again, it's "nailed" to the sub-layers, using either 150mm or 300mm spikes as appropriate.
Personally, I think these aluminium systems, which are available in Britain and Ireland, work much better with highly decorative surfaces, especially the resin-bound systems , than with block or brick paving.
---
Other solutions
Timber
Although Keyform is the leading block paving edge restraining product in Britain, there are other possibilities. Two solutions we have seen in the past, although we've never used them ourselves, are timber restraints and steel edging strips. Timber restraints are constructed in exactly the same way as described on the Timber Edgings page. Tanalised or properly treated timber should be used and the supporting stakes should be at least 300mm in length. Some of the reasons why timber edgings are not commonly used as an edge restraint for block paving include...
- no significant cost saving compared to a concrete bed and haunch
- difficult to create 'sweet' curves and arcs faster than 2m radius
- tendency of timber support stakes to move
- presence of timber rail and stakes at surface of paving looks 'shoddy'
Steel
Steel edging strips would seem to be a more viable alternative to the usual concrete haunching. A relatively thin strip of 1.2 - 3.0mm or so would be sufficient to hold edge courses in place, and they can be fabricated in such a manner that the support stakes are integral and completely hidden from view when installed. They could also be bent to shape to accommodate curves and arcs.
On the downside, they are costly compared to concrete, or to the plastic systems discussed above. The "off-the-shelf" systems that are sold in Britain and Ireland, such as the Core LP system shown opposite, tend to come in relatively short lengths and although they are perceived to be aimed more at the lawn edging market than the block paving or driveway markets, they do work wonderfully well with elemental paving of all types.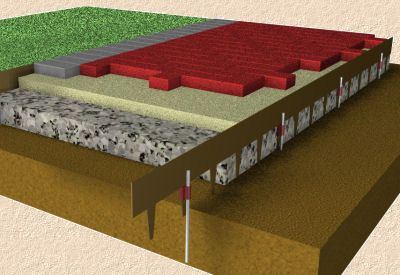 Longer lengths of a galvanised or powder-coated steel edging can easily be fabricated by a local Light Engineering Contractor, but again, they don't offer the ease of working that comes with a standard concrete bed and haunch.
Conclusions
While the various forms of Edge Restraining Systems undoubtedly have their uses and may be the ideal solution for certain projects, in the vast majority of paving jobs in Britain and Ireland, a traditional mass concrete bed and haunch remains the preferred option. It's cheap, it's simple and it's infinitely versatile.
---
---