Tatton 2009
Summer 2009 and a chill wind scours the Cheshire Plain, bringing a steady slough of drizzle, steel grey skies and a heavy dose of economic reality with it. The RHS Tatton Show is enduring its toughest year yet, judging from the scenes on Press Day this Tuesday.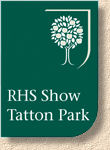 The Egerton Clump, Knutsford's northern equivalent to Chelsea's Main Avenue, is worryingly under-populated, and where in previous years gardens have been squeezed into geometry-defying spaces, the 2009 Show Gardens are separated by comparative prairies of open space. I counted a credit-crunched ten gardens this year, which isn't actually all that different to other years, but the smaller scale of many of them makes it all seem rather sparse.
And the depletion isn't limited to the big show gardens. The back-to-back gardens, so often a hotbed of too-damned-clever-by-half ideas, are performing as trios rather than the more usual quartets, while the Saddleback is scarily bare, with just five subdued creations thankfully culminating in Harry and Astrid Levy's sumptuous summer riot of colour in their Time Out garden that is a real ray of sunshine amidst the reserved, hushed designs and the ever-present grey weather.
I don't envy the judges, working in a drizzle that varied from what in Ireland we refer to as 'soft' to what in Lancashire is referred to in more excretory terms. I know from somewhat limited experience that it's not easy to be objective when there's rain trickling down the back of your neck and the damp is wicking upwards on your trousers and now approaching knee-height. No garden looks its best in the wet, and my heart goes out to all those exhibitors who have shed blood, sweat and tears over the past week to present their grand ideas to the best effect, only to see it all compromised by a dash of British summer.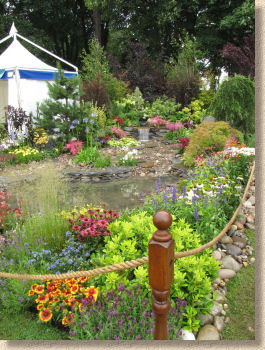 But what the rain takes away from the planting, it adds to the paving, and more than one would-be best-in-show creation was revealed to suffer from what might be considered, at best, a short-lived bird bath, but in some cases, the only term is "ponding". Yes: I know these are ephemeral gardens, here today and gone tomorrow, but those that are built as an advertisement for alleged professional construction and landscaping skills really ought to have conquered the basic principle of providing adequate fall to prevent water sitting in the middle of a very expensive patio.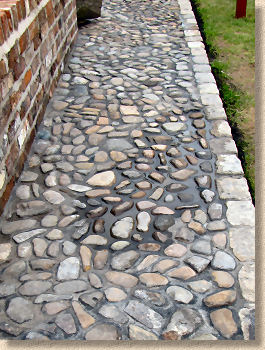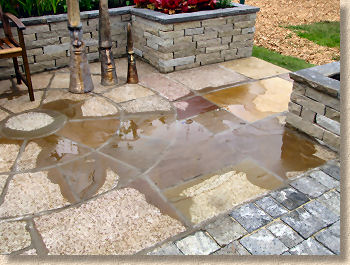 So, what trends could be spotted? To be honest, there wasn't that much paving on display. This can be attributed partly to the reduced number of gardens, but the RHS edict about acceptable materials has made it more difficult to use the sort of hard-landscaping materials that are found in your typical garden. While it may be admirable that the RHS is promoting environmental concerns, there is a point where it becomes proscriptive and actually restricts a designer's freedom to create their vision. And how is the environmental impact of various materials judged? Which poses the bigger environmental threat: stone quarried and dressed as flags or recycled glass crushed and mixed with epoxy resins?
Resin-based surfacing was a popular choice of paving. It offers much, in terms of serviceability, reliability and, not least, colour, but in terms of cost it can't really compete with the likes of stone flags or block paving, but the fact that much of that used at the show is based on some form of recycled product, usually glass, seems to trump all other considerations. The intensive chemical processes needed to produce the resins and the solvents are seemingly overlooked because the aggregate has been created from recycled Newky Brown bottles.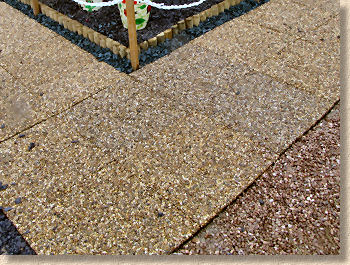 Resin-based surfacing is a great material. It's endlessly versatile, and the ability to have virtually any colour imaginable makes it incredibly useful for designers, but just because colour is available does not mean that colour is always a good idea. Bright yellow, lilac, fuchsia pink may all have the 'wow factor' but my own feeling is that when it comes to these in-yer-face colours, less is more. The resin surfaces that use a natural aggregate, whether it's a simple browny-buff pea gravel or a smaller-grained crushed bauxite, are more sympathetic to the rest of the garden.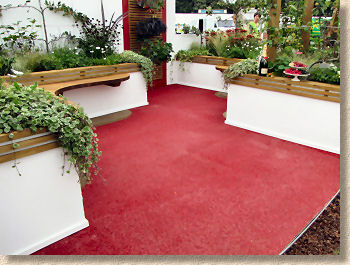 That's not to say that blocks of colour are always wrong. The crushed raspberry colour, augmented by the sugar-like sprinkling of traction-aiding silica sand, used by Sharon Hockenhull on her Be Fruitful garden was very effective and eminently appropriate for a garden promoting fruits and especially berries. This was one of the back-to-back gardens, and so there wasn't a huge amount of the material, which probably helped, as I can see this being too dominant if used on a larger scale.
In contrast, the large blocks of unnatural colour favoured by the DGS So 80s garden were a little too much for my taste. It should be borne in mind that this garden is sponsored by a resin-surfacing company using the Addastone system, so it's hardly surprising that they took the opportunity to show their wares, but for my uncultivated taste, it was too much of too many overly dominant colours - you saw the surfacing and nowt else.
Loose aggregate or gravel could be thought of as the poor man's RBA, and it is widely used on many of the gardens. There isn't anything simpler or cheaper when it comes to creating a hard standing, and with all the kerfuffle over permeability, it seems to be the surface of choice with the RHS, despite its heavy cost in terms of maintenance and accessibility for those of us with less than perfect health.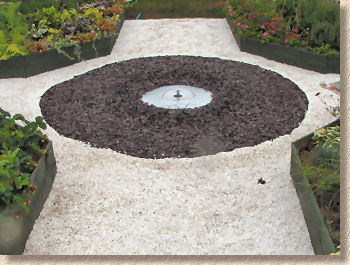 Self-binding gravels do assuage some of these concerns, but materials such as the ever-popular slate waste may tick the RHS environmental boxes, but they can often raise more problems than they solve. I've a strong dislike of loose aggregate placed against a lawn. The one thing you can guarantee about loose aggregate is that it will migrate, and shards of slate hidden within a lawn are a potential disaster for a mower, or for the poor sod operating the mower. Some form of boundary, such as an edging kerb, can help minimise the inevitable migration, but they can never prevent it completely. Flagstones, block paving, setts and the like might not be flavour of the month with the RHS but they do have a tendency to stay put, and not wander off into the lawn or the flower beds.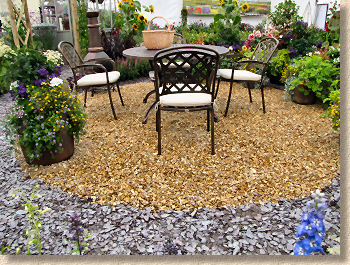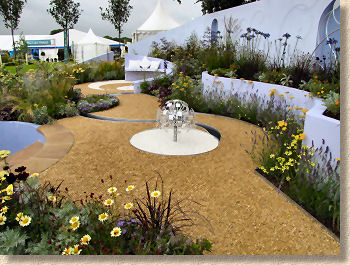 A healthy dose of common sense would be more than welcome. There is more than one way to skin a cat, and using a permeable material to direct precipitation to ground is not always the most appropriate. Non-permeable surfaces can provide a better pavement and can easily be drained to a suitable suds installation. So why the obsession with loose aggregates?
There is some modular paving on show. Marshalls have generously supported a number of gardens. Some have just a couple of square metres of paving to provide a base for a patio table while others feature relatively extensive paving and walling in both concrete and natural stone.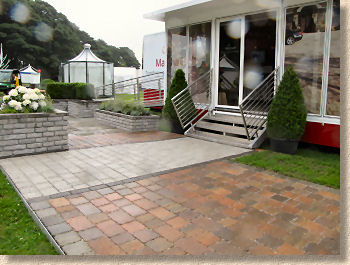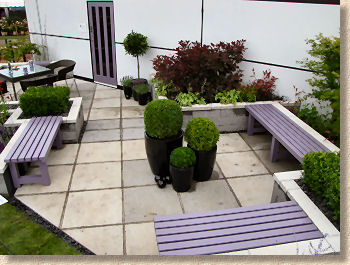 There was nothing radical, nothing new in terms of the actual materials, while new applications for these familiar materials are thin on the ground. The gabions filled with Indian sandstone are just about the best new-ish application. As an idea, it's intriguing and guaranteed to be adapted and adopted by other landscapers, but it needs tweaking to make it more cost realistic. Having even a mini-gabion stuffed to the gunwales with relatively expensive dressed stone makes no sense. Obviously, the face needs to present dressed stone, but unseen faces and the core could and should be filled with a cheaper material.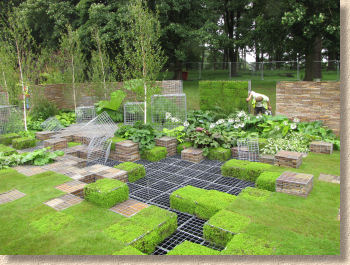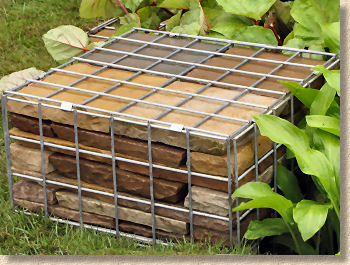 Speaking of gabions, it seems that every year I predict that, at long last, they will make a real impact on the market, but then the market fails to back my prediction and they remain an also-ran in the race to provide low-cost retaining structures. However, a couple of items spotted at Tatton persuade me to issue my annual prediction with enhanced confidence.
The gabion wall created for the BBC North West Tonight garden by the supremely over-talented students from Reaseheath is, without doubt, a masterpiece. I've never seen a better example to showcase the versatility of gabions. This wall demonstrates what can be achieved with a bit of flair and imagination. The gabion baskets have been filled with synclinic layers of contrasting materials, such as cobbles, field stone, sawn logs and pine cones. OK, with all that organic material, it's not likely to last more than a season or two, but it's the potential demonstrated by this structure that deserves recognition, because it's an idea that can be tweaked to suit individual projects.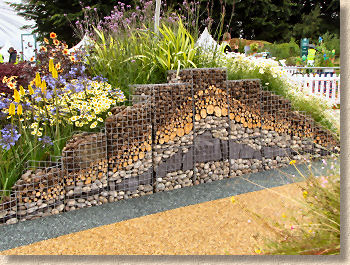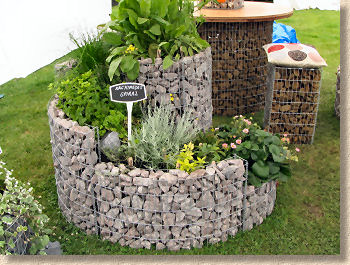 On a more commercial level, Handford Design are showing a clever range of gabion-inspired garden furniture and ornaments. There was no-one around to give an indication of pricing. As with many such offerings at these garden shows, they are unlikely to be as much of a bargain as might be hoped, but still, it's the idea that counts, and these items, particularly the "Archimedes Spiral" offer another stunning example of what is possible with simple wire baskets.
There is some natural stone paving on show. County Dublin's Stephen Dennis has created a garden inspired by the Fibonacci Numbers in Nature , which seems to translate as a big squiggly sculpture set to the rear of a large area of Irish limestone flags with a spiralling low wall/bum rest dominating the centre.
This particular steel grey limestone is quite rich in shell fossils, but it's been laid a little too unevenly for my hyper-critical eye and the butt-jointing does not help at all. The show catalogue describes it as "permeable paving" but I just can't see how that is, unless the hope is that water will somehow drain through those nasty butt-joints. It may do so for the first week or two, but once they fill with the inevitable detritus that afflicts all garden paving, any permeability will be severely compromised if not totally extinguished.
The best display of English stone is, without doubt, the fantastic Gold-winning garden by Andrew Loudon and Janine Crimmins billed as the Lake District Bluebird Garden and created as a tribute to serial lake-botherer Donald Campbell and his iconic speedboat machine thingy.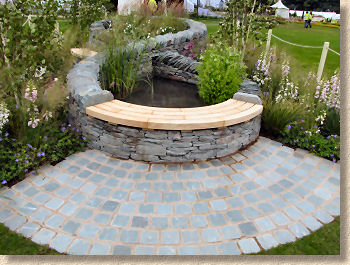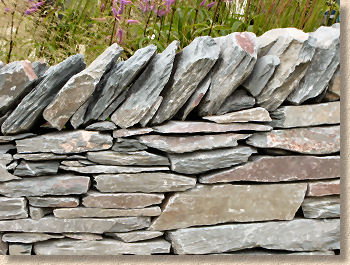 I don't know much about speed records or boat technology, but I do know superb stonework when I see it and this figure-of-eight arrangement of unmistakeable Westmoreland slate is just about as good as it gets. Dry-laid in the traditional manner, the two loops are intended to represent the natural landscape of the Lake District with the lower loop enclosing a small pool while the upper loop is stuffed with typical Lakeland planting. There are small areas of 150x150mm tumbled slate pavers providing a hard-standing for beautiful curved hardwood benches. I'm less certain about the cement mortar jointing: it's tidy enough but I don't think the pinky-brown colour of the mortar works with the ice-blue of the slate. I'd rather see a more neutral colour which allows the stone to hold ones attention without the distraction of what is a cheap fill product.
The riven slate paving in young designer and Reaseheath alumni Lee Belgrau's Gold Medal Red Rhythm garden looked wonderful in the wet. Moisture brings out the blue-grey and indigo colouring and emphasises the texture of the heavily riven stone, which then contrasts sharply with the transverse bands of red echoing the surrounding vertical structures. This form of paving isn't the easiest surface to walk across, but it does have an immediate aged appearance and provides a superb foil to the intense planting.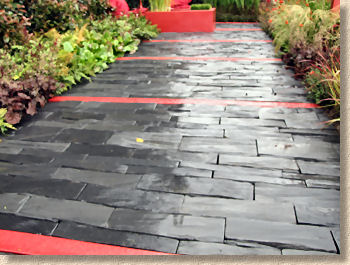 This is another design claiming that by simply omitting the jointing, the paving is somehow permeable. As evidenced by the woeful legislation on permeable paving for which they acted as key advisors, the RHS's understanding of permeable paving leaves something to be desired and if they are going to accept that empty joints equates to permeability, then I'm afraid they are going to inflict even more devastation on the nation's paving trade. Why don't they just stick to what they know best, ie horticulture, and leave the paving to those of us that actually know summat about it?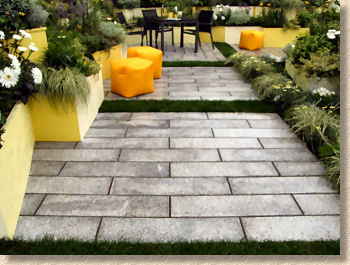 Finally in this all too brief review, The Revolution garden by Outer Spaces is intended to represent a restful courtyard for office employees. The paving comprises 4:1 ratio (roughly 1200x300mm) silver grey granite flagstones laid in transverse stretcher bond. It looked well-laid, but to be honest, by this time, the rain had become so heavy, my shirt was soaked through, so I decided enough was enough and fled for the shelter of my car and headed off for home.
So what memories, other than the rain, will be taken away from Tatton 2009? The predominance of loose aggregate surfacing rather than hard paving will probably be the most abiding, along with the shortage of garden exhibitors. Despite the lower numbers, the inventiveness and imagination displayed by the exhibitors is as strong as ever and Tatton remains the premier horticultural event outside the M25. The one worry I have is this silly notion that leaving out the jointing from paving is a short cut to permeability. It's not: it's a short cut to failed paving!