Editorial Note:
In November 2010, we were advised by Lancashire Trading Standards that this manufacturer was not allowed to make claims for its product being a biocide or algae/moss killer. The comments from the Trading Standards Officer is as follows....
"Several years ago they marketed the product as a biocide, claiming it could be used to kill and remove moss and algae. However, they did not obtain the required HSE authorisation allowing it to be continued to be sold, advertised or marketed as a biocide. As a result, in 2006 they stopped marketing it as a biocide and changed to selling it as a patio cleaner. Any references to its algae and moss killing/removing properties were removed from packaging and advertising."
As a result of this intervention, we have greyed-out the text in this news item and urge readers to pay heed to the comments from Trading Standards.
Green be gone
Over the course of the last few months, certainly since the end of the winter, one of the most common questions received here at Borlochs Hall has been to suggest a remedy for the algae, lichens and mosses that have colonised the paths, patios and driveways of these islands since last summer. Time and time again, people ask why their patio has turned green and is there anything they can do to get it back to how it was (or how they thought it was!)
Well, Algon , a company based in Chorley, Lancashire reckon they have the answer.
Algae, and the inevitable greening of lightly trafficked paving has always been a problem, but as more and more homeowners have "invested" in their gardens and patios over the last few years, and with the introduction of certain types of paving that are less able to resist colonisation, what was once considered a minor inconvenience is now seen as a blight and something to be dealt with. Indeed: more and more homeowners are citing the problems with algae, mosses and other vegetation as one of the most annoying aspects of installing paving to their home, and is often instrumental in persuading some people to consider monolithic surfaces such as imprinted concrete, even though this, too, is not immune from algaefication (neologism © Tony McCormack 2005).
It's not just homeowners, though. Local Authorities, Housing Associations, private landlords, retail parks, commercial premises, and even our beloved pubs are increasingly aware that their 'external spaces' need to be neat and tidy and presentable, and that a green, slippy, gooey pathway or plaza can be detrimental to the image they wish to promote. Think about it - do you want to eat your lunchtime butties in place with grotty paving, or take your family out for a meal on a grimy green pub patio? I thought not!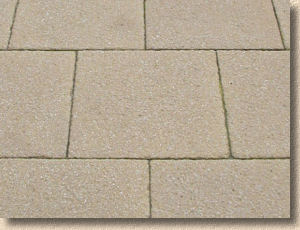 Power washing has been the usual remedy, but it's labour intensive and can damage some types of paving, particularly segmental paving such as blocks and small flags. Weedkillers such as Sodium Chlorate require application licenses and aren't particularly environmentally sound. Moira Jordan at Algon reckons their Organic Algae and Moss Remover is the ideal solution.
It can be safely applied to concrete flags and blocks, to stone paving, both native and imported, to decorative concrete, tarmac, even to bloody decking! It's safe for pets, even when wet, and can be added to water features such as fountains to prevent greening of the water. (Obviously, don't add it to ponds and pools unless you want to wipe out all your precious water lilies and other plants!)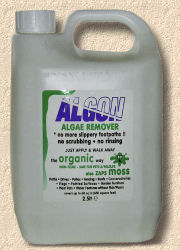 Application couldn't be simpler: you can use a sprayer, a brush, a roller, or even a watering can and rose. Coverage is roughly 20-25m² per litre, and there's no need to rinse off following application - just leave it where it is. Algae will curl up and die in a couple of days or so, moss might take a bit longer, and some of the more stubborn lichens might need a double hit, but, generally speaking, within a week there really should be a dramatic improvement. And once treated, most paved surfaces remain "immunised" for around a year.
As with all products, it's results that count, and so far, Builders' Merchants such as CW Berry in Leyland, and Local Authorities including Rossendale and Ribble Valley, have been more than happy to sing its praises. The Parks Dept at Rossendale have been using Algon for the past three years on paths, paved areas and tennis courts and claim "very effective results".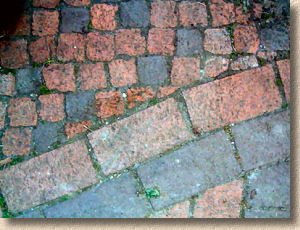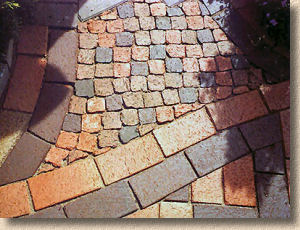 Cleaning paving to remove mosses, algae and lichen, along with other detritus can dramatically improve its appearance. Please note: these are Pavingexpert library photos, not photos of paving cleaned using Algon.
The company are recruiting new stockists each and every week and there's a good chance it's already on the shelves at your local Garden centre, but Moira is hoping to get more Builders' and Contractors' Merchants to carry stock, and she's more than happy to sell direct - you can order online via the Algon website .
So: if you or one of your clients wants to brighten up their patio or driveway, or you've a path, a car park or any area of hardstanding that needs to be de-greened, give Algon a go!
Call Algon on 01257 262620 for details of your nearest stockist.