A kerb you can pick up with one hand?
As most of us know, the Manual Handling Regulations (MHRs) don't allow us to pick up anything heavier than a bacon butty these days, and one area where the enforcement of the MHRs has had a massive impact has been in kerb-laying. In response, the industry has switched over to mechanical or machine-assisted laying, or we've switched over to smaller units that don't breach the upper lifting limit. Now, one company, Durakerb, have taken this to extremes and produced a full size road kerb that you can lift with one hand - yes! Just 6kg (that's just over 13lbs for you imperial dinosaurs)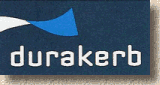 As someone unable to walk properly thanks to too many years coercing 6x12s and 5x10s into place, I believe this can only be a good thing: the more kerb-layers who make it to 40 years of age with an intact set of lumbar discs and a working pair of knees, the better!
Manufactured from recycled polymers, Durakerb claim their product brings all sorts of advantages to the kerbing sector...
- Kerb-layers can continue laying kerbs in the way they've used for umpteen years
- Faster and safer installation
- No need for costly handling machinery
- Reduced risk of back, knee and wrist damage or RSI
- Use of recycled materials
- Cut using standard hand tools
- Can be laid in reduced working space
- Helps Local Authorities meet targets for Agenda 21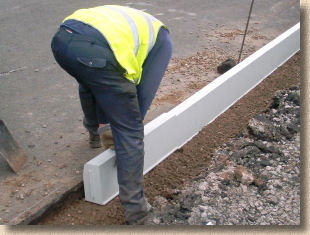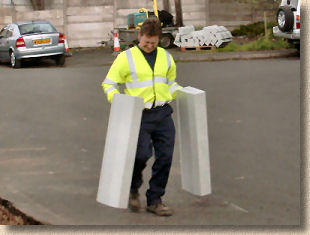 The kerbs themselves are basically hollow; what the manufacturers refer to as a "cellular" design. However, don't let this fool you into thinking it won't last 5 minutes - the kerbs themselves are capable of withstanding loads of up to 70 tonnes and use a similar technology as has been used on lightweight aerospace design for decades. The company has spent over 5 years developing this line of products, and the products easily meets the requirements of the BBA tests for both slip resistance and compressive strength. It's also been tested for impact resistance and bending strength, and is now being trialled with a number of Contractors and Local Authorities. The photographs on this page show a project undertaken by Dudley Council using the HB2 format kerb (255x152x915mm).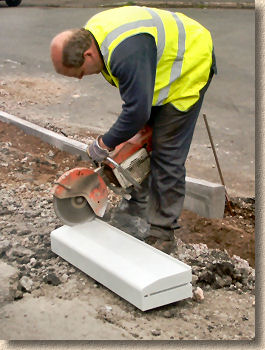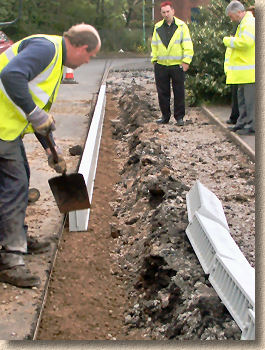 The stability of the kerb is enhanced by the presence of a flange on the base of each unit, and, as concrete bedding can find its way inside the kerbs as they're laid, the chances of them being accidentally knocked out of line are greatly reduced. Further, the hollow, tubular nature of the kerbs allows cables to be threaded through them!
The kerbs are now available in half-battered (HB) format in all of your favourite styles, including straights, radius uniuts, transitions and angles. Other formats (BN, Splay, etc) and styles (quadrants, combined kerb & drain units, etc.) are promised in the near future. At the time of writing, the kerbs should be available from...
....call Durakerb on 01675 432109 for details of your nearest stockist.
There's the bare bones of a website in place and a brochure is promised in the next few weeks, but if you have any technical queries, fax the Technical Support Office on 01675 432119 or email them via technical@durakerb.com