SureSet graduates at Northumbria Uni
Resin bound surfacing specialist, SureSet , has recently supplied and installed many of the areas of hard landscaping for the new City Campus East development at Northumbria University which has been developed using concepts designed with environmental sustainability in mind. It has already received praise for both the university and those involved in the project's development.

Lead landscape architects, SLR Insite, were sufficiently impressed with the surface treatments potential and versatility for it to be utilised extensively to help fulfil a brief that read
'provide an imaginative and contemporary landscape setting that is both flexible and adaptable to respond to the changing needs of the university and to promote its status as an international learning centre'.
Within the main campus area 4033 m² of 6mm Forest Green/Sterling Silver mix have been laid within pedestrian access areas and also as part of a central feature depicting left and right sides of the brain. A further 10m² of Sterling Silver have been used elsewhere with 42 Tree Pits having been installed as well, using 10mm Sterling Silver.
Whilst the new City Campus East development is of most importance and integral to the university's growth the project also incorporates a new bridge crossing the central motorway, allowing students and local communities access to the existing City Campus.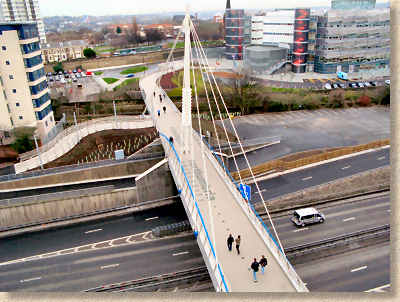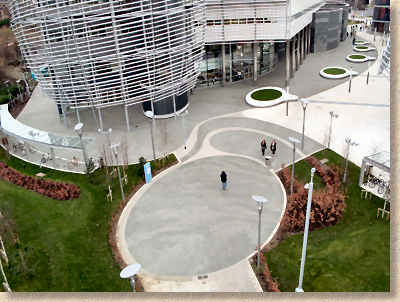 A striking aspect of its design is the utilisation of SureSet to create the words, 'Northumbria University' within the footpath. To achieve the desired result SureSet initially prepared laser cut MDF stencils from the plans as templates with metal edging being formed into position around the MDF to create the characters. At the same time these were filled with 6mm Forest Green for transportation to site where the background colour of 6mm Sterling Silver was then laid up to them. With its 10-year material guarantee SureSet are confident the resin bound surfacing will have no problem withstanding the bridge's constant traffic flow whilst retaining its pristine appearance.
The third element making use of SureSet is a landscape 'make-over' for Ellison Courtyard, an area within the original City Campus. The courtyard forms part of the walkway linking existing buildings to the new footbridge and continuing on to City Campus East. Here a mix of 6mm Forest Green and 6mm Sterling blends from each end to give a 50/50 mix at its central point with 10mm Sterling being used for Tree Pits. To quote the University:
' the new Ellison Courtyard provides a high quality 'oasis' within the heart of City Campus to be enjoyed by the entire University, community, visitors and others alike.'
For SLR Insite the choice of materials had to balance the competing demands of sustainability and longevity and to this end SureSet were able to source much of its raw material locally. SLR Insite Project Manager, James Brewer commented:
'we were looking for a really hard wearing and bright aggregate finish and SureSet gave us this along with some really crisp edging. I'm very proud of the result and students often comment on the unusual 'Northumbria' lettering'
SureSet provides a nationwide supply and lay service for the larger contract and for designers and specifiers comprehensive data in PDF format can be downloaded from the company's web site