Brett Approved Installer Awards 2019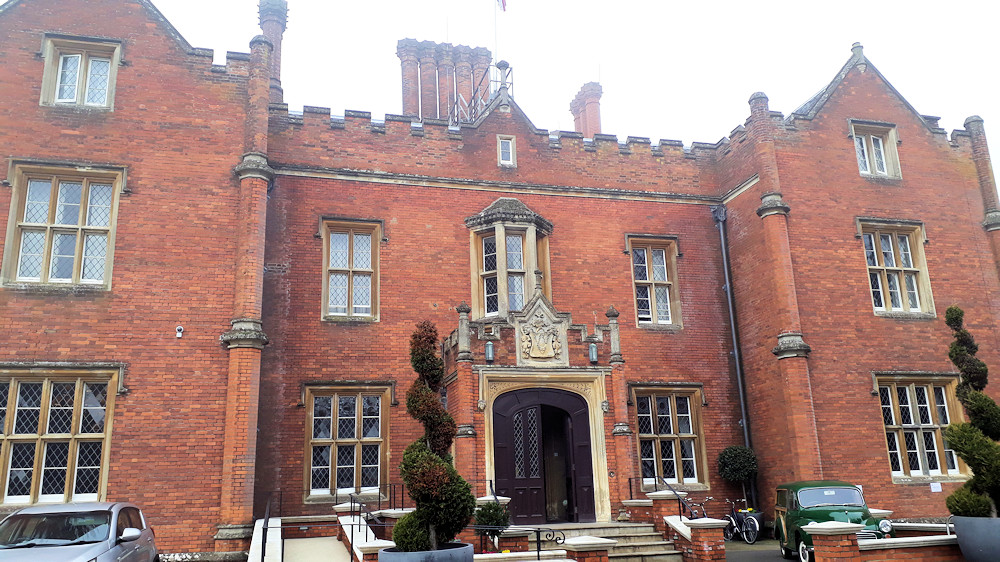 It's been a year of change at Brett and there's more to come.
The existing business structure was stripped down to its undies, exposed and examined, and is to be re-dressed to make it better suited for a rapidly evolving market.
The previous geographical arrangement of Area Sales Managers was found to be a bit pants, so has been re-jigged, and the nation is now sub-divided into four regions: North & Midlands; East; South-East; and South-West.
And there's a new marketing boss to start work this coming Monday (25th) with the aim of re-energising what has, in my reluctant opinion, become a tired and lacklustre effort of late. Speaking of which, the one-dimensional and woefully underperforming Brett website (yes, I know I'm in no position to criticise!) is to be completely re-built, which is something I can hardly wait to see.
After many years as the public face of the scheme, the ever-enthusiastic Calvin Jackson will be relinquishing his role as Scheme Manager in order to focus more on Product Development, and in his place will come Sales and Marketing Director, Mark Bushell. Calvin has very much stamped his effervescent persona on the scheme over his years in charge, and committed so much to it, so he'll be a damned hard act to follow – we can only hope Mark realises just what he has to live up to. His absence from the evening's big dinner and awards ceremony did not go unnoticed by more than a couple of contractors: Calvin has always made a point of being visible, available and approachable, even if it is just to have his ear chewed off. Can a busy sales director make the same level of commitment?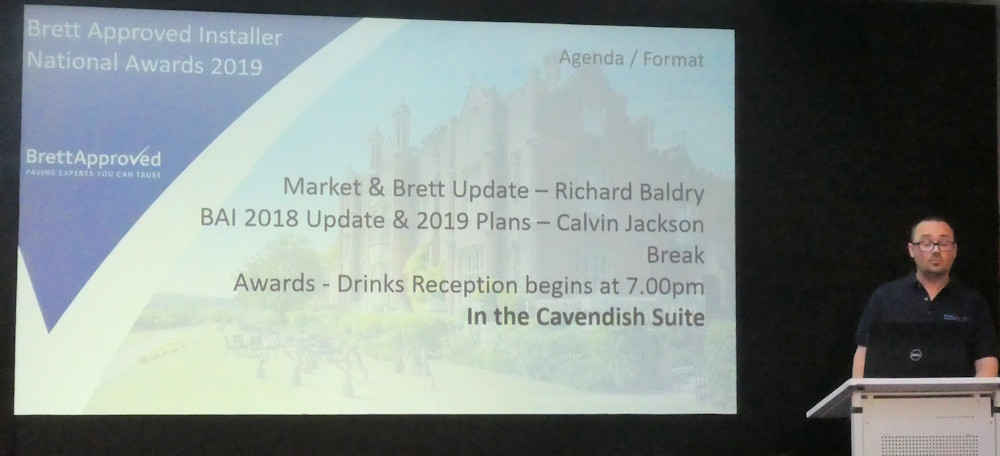 So, apart from the structural changes within Brett, what else is there to report? We were promised a keener focus on promoting new products, particularly the new Eclipse range of stone-effect porcelain and two new colours due late Spring for the Lugano block paving. There's also a desire to make better use of Face-Mix technology to create products that are contemporary and commercially attractive to customers.
As ever, there was a good supporting cast of third-party suppliers, including regulars such as Probst (Paving Tools), Resiblock (Sealants) and Pulvex (Diamond Blades), but new faces in EcoProTec with an unnecessary porcelain sealant (they did have other products, but this struck me as particularly useless), Redband Tools and The Artificial Grass Co (can you guess what they sell?).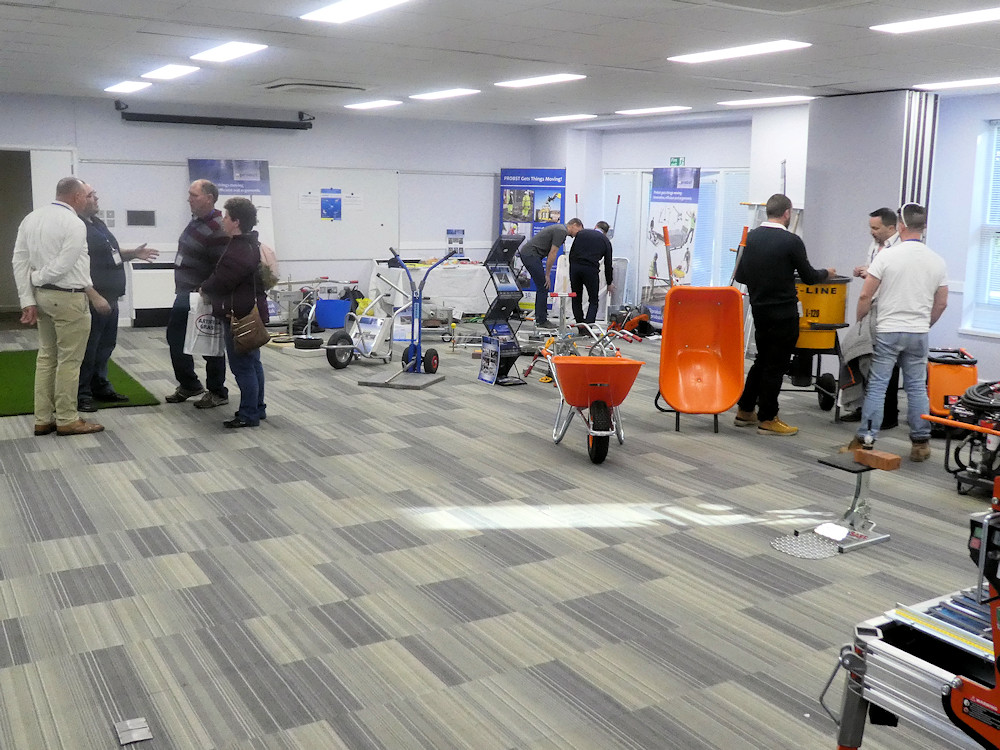 Short, punchy seminars through the afternoon highlighted some of these suppliers, and there were two very interesting presentations from Brett, starting with a guide to porcelain from Mark Mackintosh-Watson, and a Quality Control update from Jose Carrero which revealed noteworthy improvements throughout the business. However, the main event is the keynote address from the new MD, Richard, who certainly made plain his passion for hard-landscaping and a clear vision for where he wants to see Brett in the years ahead. Calvin's eventual valediction was brave, noble, dignified and professional to the last.
Other than the re-jigging of personnel, the really big news for those of us lucky enough to live in the North-West of England is the completion of a deal with Benchmark Building Supplies to stock a full Brett range at all their depots throughout Greater Manchester, South Lancashire and North Cheshire. For as long as I can recall, I've been nagging away at Brett that they need to get their paving into the North, where we are very poorly served for choice, so this is a most welcome first step. All they need now is a committed and talented band of professional installers to get involved with BAI and to sell the products to their customers.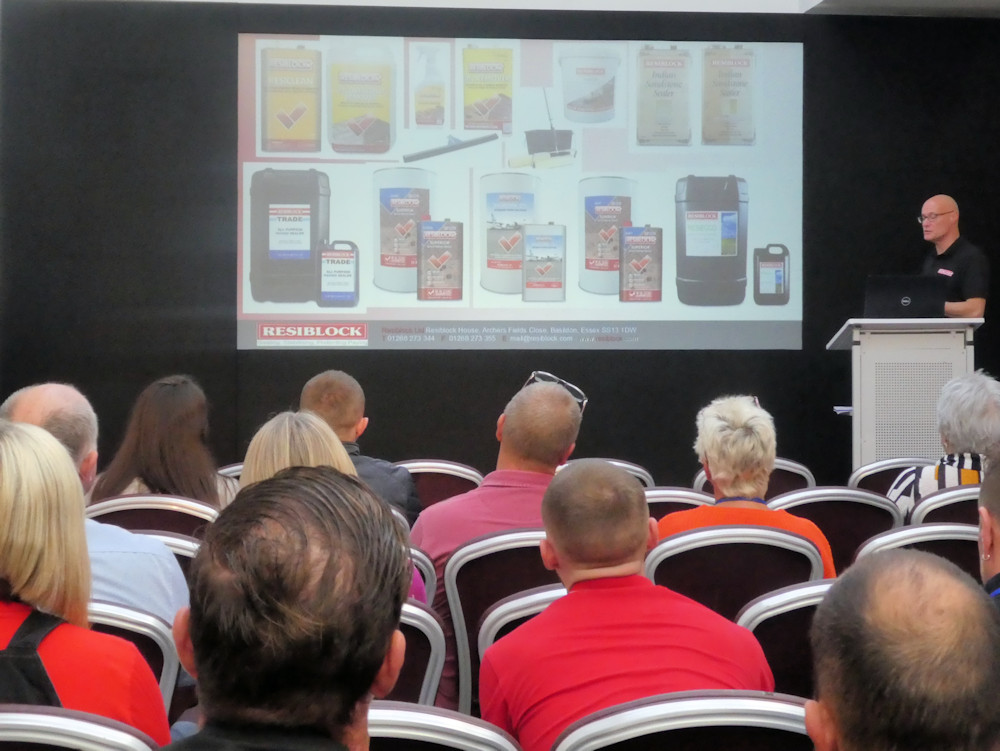 So, on to the evening's shenanigans, and the highlight of the entire event, which is the presentation of awards. This is the tricky bit, as it requires rough-handed installers more comfortable in jeans and boots to spruce themselves up and put on a decent set of clothes. Some of them are completely unrecognisable once they've been hosed down and scrubbed up!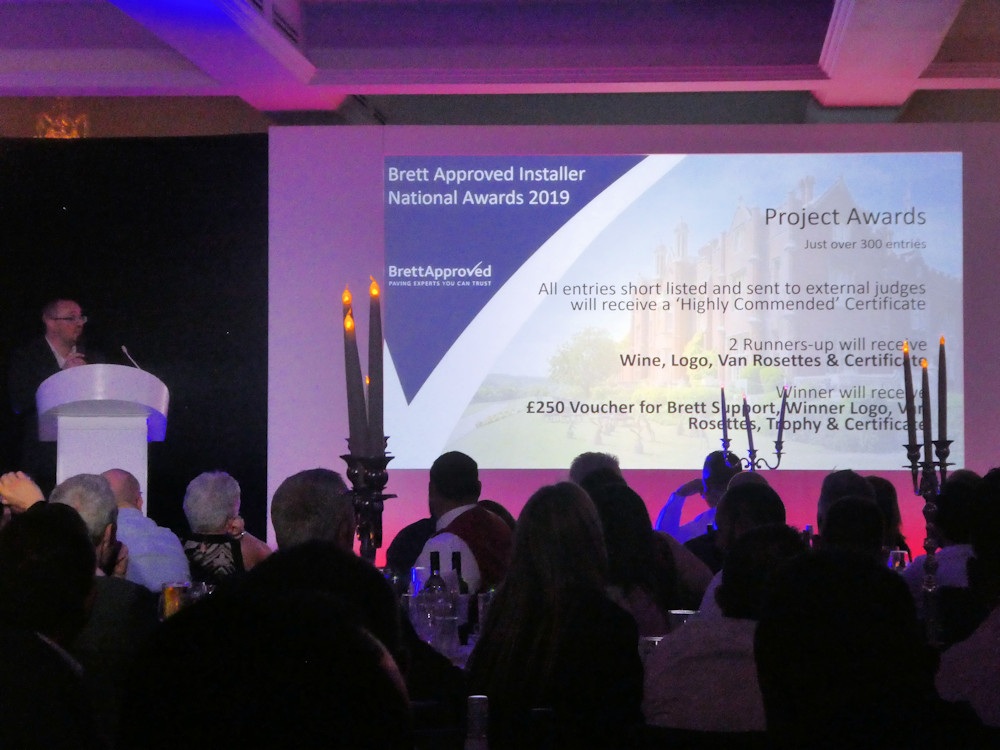 A whole series of awards, some of which are decided in advance by an independent panel of judges, while others are determined by a poll of BAI members on the day.
As ever, the Judges' choices don't always tally with those of the Contractors, but that's because we are probably looking for slightly different things. Overall, in my opinion, there were still too many phantom threshold drains , too many examples of iffy cutting-in , and still a belief that wetting-down the paving will somehow convince us it looks better. On the plus side, far fewer crossed joints on flagged patios, and no mobile phone shots for the first time ever, so my annual whingeing must be having some effect!
Enough! Ladies and Gentlemen – Your Brett Approved Installer Award Winners are:
Brett Approved Installers - Awards for work in 2018