Brett's busy summer
While some have had a comparatively quiet few months (I won't call it a summer in case the Trades Description police come to get me), Brett Landscaping have been bustling away with their revamp and their refreshed approach to all things paving.

Following on from the well deserved plaudits received for their 2009 bumper fun brochure , they have released a condensed version of its contemporary, "Gardens & Driveways" magazine-style catalogue. The 16-page edition, cunningly entitled "Driveways & Gardens" , is a pick-up-and-keep version aimed at providing customers and homeowners a brief but inspiring overview of the Brett products and ranges and has been specifically designed to encourage them to seek out products from their local stockist or contractor.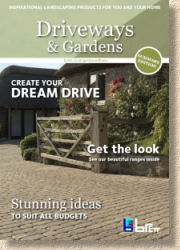 As the leaves begin their annual change of colour, we usually see a switch away from patios and an increased interest in driveways, so the lightweight brochure incorporates more information about its block paving products at the front. The magazine format developed following Brett's detailed research into consumers buying habits, has been retained and is available to support contractors and merchants during what they are hoping will be "The Driveways Season". Unashamedly targeted at the chief decision maker, the mag's layout appeals to women, because more often than not women make the aesthetic decision, whilst men then have to take the project further by visiting the builders merchant, helping to talk to a contractor, and generally grumbling about the cost of it all.
Bob Deller at Brett Landscaping comments;
"We have created the new format based on the research that showed customers are often baffled by the array of products on offer. The new format is designed to help drive consumers towards making a purchase and simplifying the buying process. This new publication is another way in which Brett Landscaping is helping to encourage sales."
Meanwhile, the company has been getting itself some telly coverage by providing 50m² of its paving products to help save the open air pool at Portishead near Bristol as part of a programme by the name of "Ty Pennington's Great British Adventure". The pool had recently faced closure and demolition due to lack of funding but won the chance to receive a complete transformation thanks to the reality TV show and Brett stepping into help. The programme, which shows the vital refurbishments to the pool taking place, is being aired on UKTV Home weekday nights at 10pm (Sky channel 246 or Virgin 265)
For further information please visit the UKTV Home website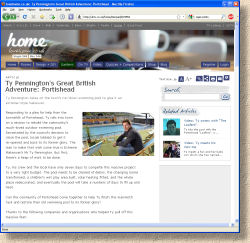 And if that's not enough, the company has been sweetening-up its pet contractors by weighing down their vans with a whopping 5kg bar of scrumptious Belgian Milk Chocolate - can you guess what Mrs Contractor is getting for Christmas this year?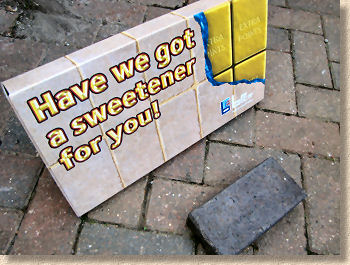 As part of its effort to show their Approved Installers that their work is greatly appreciated, the tooth-rotting treat is just one part of an initiative that sees loyal contractors rewarded with double or even triple rebate points on selected items from Brett's landscaping products. For those contractors that are not a member of the Approved Installer scheme, the rebate points are best thought of as a sort of Tesko Clubcard for Paving Contractors.

Speaking about the 'Brett Treats!' promotion, Jonathan O'Neill, Approved Installer Co-ordinator at Brett Landscaping says;
"It is important that we recognise and reward the continued loyalty and outstanding work of our Approved Installers. The rebate points scheme supports our installers in a very direct way, while the chocolate acts as a real sweetener."
Whether a mini-digger is needed to load the monster-size chocko-bar into the van has not been revealed, but Brett Approved Contractor Nathan seems to think it might help.