It's a winner!
Two of Pavingexpert.com's regular supporters have come up trumps in the latest Interlay " Job of the Month " award.
For Surrey-based Darren Plumridge, it's long overdue recognition of his skills and eye for detail, while for Paul Shephard and his team at Natural Paving, it's a real fillip because their product has only been on the market for six months and it is attracting an incredible amount of attention.

Presented with an existing concrete block paved driveway, D. Plumridge Professional Paving Contractors were asked to come up with an "upgrade", a new driveway surfacing that reflected the style and the prestige of the building. It might have been easy for him to suggest one of the secondary processed blocks, perhaps a tumbled or an exposed aggregate block, or maybe even a clay paver, with their organic colouring, but Darren recalled seeing the photos of the Natural Paving Sandstone blocks posted to this site back in the Spring, and he just knew that the totally natural colours and textures would work wonderfully well on both the elevated driveway, and for elements of the paths and steps serving the remainder of the house.
Between them, Darren and the client chose the 3-size mix of stone blocks in the colour referred to as "Desert", a sort of buffy-yellow blend of warm, sunny tones. The driveway is a 'horseshoe' (ie: in-and-out) and slopes up towards the house with a lead-off towards the rear of the house. Such a layout always presents the problem of what pattern should be laid and where to establish the baseline. Darren overcame this by starting at the lowest point and laying the blocks in a gentle arc that could be 'tweaked' to suit each limb of the driveway.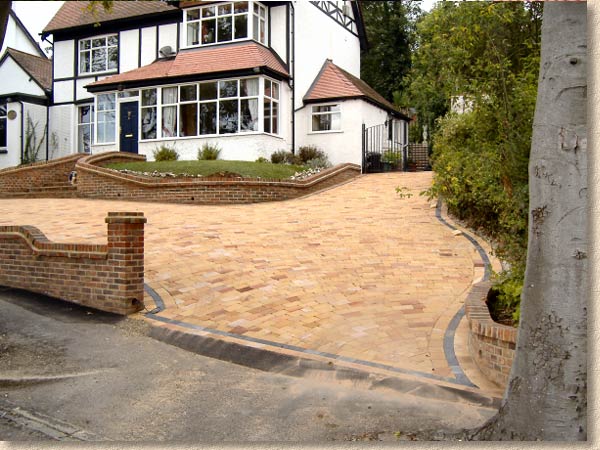 A simple edge course incorporating a contrasting paver was enough to delineate the edge without introducing too many alternative materials, and as the arc of the paving proceeded up the slope, it swings round and appears as a standard transverse broken bond course.
The steps are constructed using a complementary sandstone flag as the tread and the completed project suits the property as a whole. The only difficulty faced by the installation team was stabilising the jointing sand. Fresh joints on a gradient such as this are always prone to losing the sand jointing, so a stabilising fluid was applied to 'bind' the kiln-dried sand until it naturally seals itself over the next few weeks.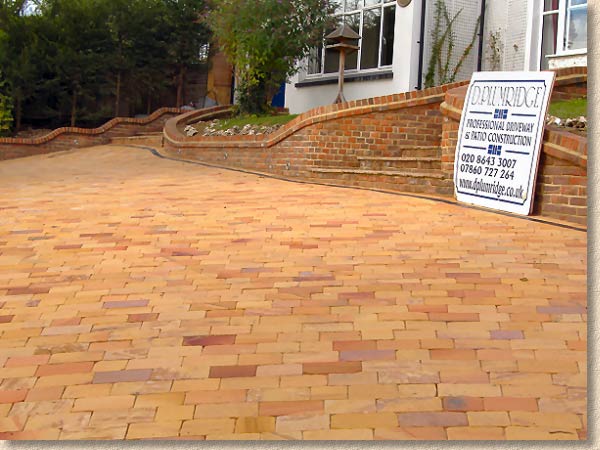 Congratulations to Darren and his team, and to Paul and the crew at Natural paving - this is one job that does both of you proud!