Charcon's winning ways
Charcon , the Derbyshire based Aggregate Industries brand for commercial and civil hard landscaping, have been incredibly busy chaps over recent months, with innovative new flag paving, awards for traffic island components and a 'top of the class' rating for the sustainability of their pre-cast concrete paving.
As a leading commercial hard landscaping specialist, the Charcon team have worked in partnership with Camden Council in that London to develop Ultrapave , an innovative range of flag paving to give the pavements and footways of the borough a stylish new look and simultaneously deal with the problem of uneven, cracked and dangerous paving.
Mark Bushell, Charcon's Director of Sales for Specifers and Contractors said: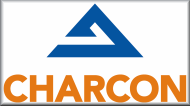 "Camden Council developed its paving enhancement and maintenance programme to proactively address the potential issue of pedestrians tripping or falling. The overall aim of the project was to improve public safety and security, similar to the standards of cities within Europe and North America. The good news is that the scheme has been extremely successful, with no 'slip, trip or fall' claims made by pedestrians since the project was complete."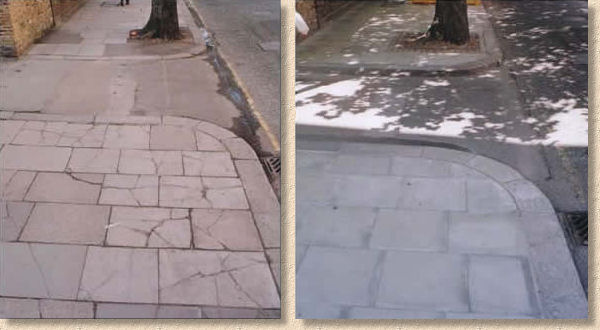 The project aimed to improve the overall aesthetics of the area, along with the durability and service life of reconstructed pavements. And just to complicate matters, the council needed a paving that would be amenable to regular washing-down, as is done on the continent, so Charcon was specified based on its manufacturing expertise and its ability to develop a solution that met and exceeded these project requirements.
Mark continues:
"We developed a brand new commercial paving range specifically for Camden paying particular attention to structure and aesthetic appearance. Called Charcon Ultrapave, the range is fifty percent thicker than conventional standard paving and features narrow 2-4mm joints for extra safety, meaning there are no gaps between the slabs. As a cost effective and much needed solution to replace broken paving on Camden's streets, pedestrians will find Charcon's Ultrapave range practical and durable for many years to come."
After working with Camden Council and Gabriel Contractors Ltd in the five-year project, the concept has since been picked up by other London boroughs, and Charcon has supplied over 20,000 tonnes of its Ultrapave reinforced flag paving, covering a massive 140,000 m². Manufactured to meet the relevant British Standards and complying with performance levels in the European Standard BS EN 1339, the reinforced paving range provides a strong and hardwearing product that is said to be ideal for highly pedestrianised areas. Available in steel mesh or fibre reinforcement options, it improves product integrity in case of damage, helping the units remain intact, even if cracked.
It is particularly suitable for applications in inner city and vehicular overrun areas, with the beneficial properties of skid resistance from the textured finish, and above all, the integrity of the paving. Ultrapave uses a mix of specially selected aggregates to create a look of natural granite, in a choice of dark, silver and standard grey colours.
Meanwhile, the Charcon Road-Pod range, a completely unique and sustainable traffic and pedestrian island system from Charcon Specialist Products has been awarded a prestigious Green Apple Award for environmental best practice.
The company was presented with the award at the House of Commons on 10 November 2008, where top winners were given the chance to represent the UK in the European Business Awards for the Environment. To complement this, Charcon has also been invited to join the National Green Heroes, an elite group of environmental achievers who use their expertise to help thousands of others – and the environment – around the world.
James Gadher, Commercial Manager for Charcon Off-site Solutions Division, commented:
"The Green Apple Awards recognise, reward and promote environmental best practice around the world. It is testament to our continuous investment in product development and our commitment to raise the bar in the industry through innovation that this award has been achieved. The Road-Pod range is a precast concrete modular system that is unique in the market. Compared to traditional traffic islands, which can take up to three days to install for contractors, Charcon's patented design can be fitted within three to eight hours. This ensures minimal traffic management for local authorities, such as road closures which can cause a nuisance to motorists, and complies with The Highway's Agency 'smarter choices' scheme in the reduction of CO 2 "
Suitable for a variety of applications such as school crossings, housing estates and town centres, Charcon's Road-Pod system is available in five arrangements from 1.2m to 1.8m in width. Each unit comes with provision for illuminated or reflective type bollards, high level solar powered columns, cast-in tactile surfaces and lifting points. The complete range also meets issues surrounding the Road Traffic Act and the Design Manual for Roads and Bridges.
And even more environmental plaudits for the Charcon range of precast concrete hard landscaping products, which have been awarded an 'A' or 'A+' rating for sustainability in the latest edition of the BRE 'Green Guide to Specification' .
Our old mate Mark Bushell is put forward to pronounce,
"As a manufacturer of hard landscaping, Charcon is continually working at minimising the environmental impact of its products. The new ratings given to precast concrete products in the guide reflect the ongoing improvements in sustainability that Charcon has been making. It now means that specifiers, architects, landscape professionals, housebuilders and civil engineers can rest assured that by using Charcon's range of precast concrete landscaping products, they will be working with the most sustainable solutions in the market for their projects, especially those that already require sustainable elements such as 'Building Schools for the Future' and social housing projects."
Charcon provide the commercial sector with an extensive range of integrated hard landscaping solutions that have been recognised and highly rated in the latest edition of the guide. These include precast block paving and flag paving products, the perfect alternative to natural stone.
Concrete block or flag paving laid over a prepared sub-base of selected recycled material has been awarded an A+ rating, and where a more traditional DTP 1 sub-base is used, it will be awarded an A rating.
Here's Mark again:
"Prior to the new ratings, Charcon had developed a number of solutions that met and exceeded sustainable specification requirements, including the Eco range of flag and kerb products and the SUDS range (Sustainable Drainage systems). Moving forward, we will continue to work closely with the BRE to ensure any new products we bring to the market meet with these guidelines."
Finally in this round-up of all things Charcon, the company has launched a new range of Step Inserts : a highly visual resin strip that is be pre-applied to its paving range to make steps safer for the partially sighted. Under Part M of the Building Regulations, it is a legal requirement that all nosing of paving in public places is made apparent by means a contrasting material and that it also has non-slip properties. Charcon's Step Inserts range are said to meet and exceed these requirements, providing a cost-effective solution and helping to reduce installation times as well as additional maintenance costs.
Mark's thoughts on this?
"The range has been specifically introduced to exceed legislation requirements and provide specifiers with infinite scope, whether they are working on standard or bespoke projects. A key benefit is the step inserts are pre-applied to our extensive range of products, eliminating the need for post installation work that is both costly and time consuming."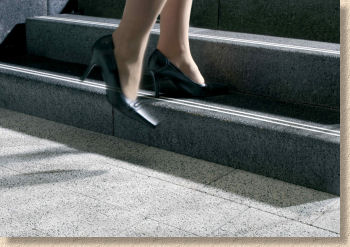 Charcon's Step Inserts range is available in two options: Resin Strip or Luminous, a photo-luminescent strip alongside a black anti-slip strip that uses a patented property suitable for areas lacking in light, such as train stations, stadiums and outside large commercial properties.
Products with pre-applied Step Inserts currently available include EcoPave Textured Black Fleck, Moordale Textured in Grey and Buff, and Appalachian Textured Grey. It is also available in other Charcon flag paving and kerb products on a made to order basis, giving flexibility of design and increasing choice for the specifier.
Complete steps with the inserts are also available, and have recently featured in a number of major sports stadia projects. The complete range allows specifiers to meet both the Discrimination and Disability Act (DDA), Approved Document M of the Building Regulations and Health and Safety regulations.