Marshall's Snake heads for Chelsea
An innuendo-rich email comes in from Marshalls : apparently, their snake is slithering away from its Yorkshire home and heading for grandeur at Chelsea. Stop sniggering at the back!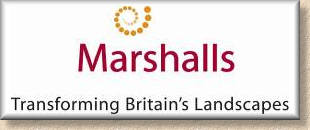 The magnificently monstrous 28 metre long (uncoiled) specimen, sculpted from Marshalls' natural stone, has left the ravaged wilderness of Yorkshire and set-off southward to find new lodgings at the company's 2008 RHS Chelsea Flower Show garden, where they hope it will become this year's star attraction.
Weighing the best part of 25 tonnes and rearing-up to an impressive one metre height at the head, the delicate migration took place early on Tuesday 6 May 2008 as it set off on its 200 mile journey to reach the show ground in time for the grand opening next week.
Designed and carved in several sections for ease of transport, this ominous 'one-off piece' required nerves (and hawsers) of steel to lift. The head alone weighs 7 tonnes and could never be replaced if anything went wrong. All went to plan in Yorkshire and it has now being placed in The Marshalls' "Garden That Kids Really Want".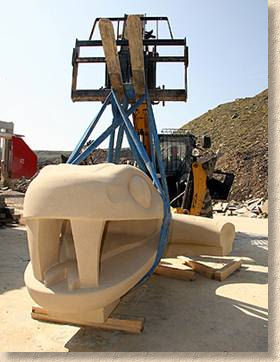 Hewn from Marshalls' own UK-quarried stone and carved by renowned Yorkshire sculptor Michael Disley, this stupendous serpent has taken over four months to shape out of gigantic raw blocks weighing up to 10 tonnes a piece. Its inspiration came from Marshalls' Chelsea Project Workshops; a program working with over 120 pre-teen children in schools around the country.
Michael Disley, sculptor responsible for the herpetological horror, said:
" It is really quite sad to see this go. It has been much of my life for four months now but I can't wait to see it in its rightful place in the Marshalls' garden where I think its impact will be even more striking."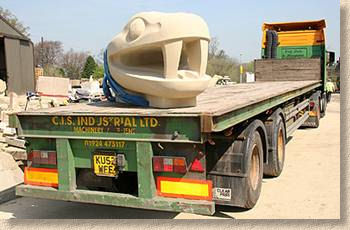 The Snake is an integral feature on Marshalls' organic 'Jungle-istic' playground designed to encourage children to go put down the Playstation and bugger-off outside to play in the fresh air, whilst engaging with the remarkable world of nature.
Alan Titchmarsh, reviewing the 2008 Show in BBC's Gardening World magazine this month has recommended the Marshalls' garden as "one not to miss" , continuing with, "it could put some gardening parents in a bit of a fix."
All will be revealed when the show opens the the great and good next Monday, with the plebs being allowed in from Tuesday onward. Hopefully, a full report on the hard-landscaping on show at the event will be online here next Wednesday, assuming the snake doesn't have me!
More info on the RHS Chelsea Flower Show can be found on the RHS website