Previous Glee reviews:
Glee 2007 - A Review - Page 3 of 4
Bags and aggs
The bagged aggregates are very much supermarketeering, and therefore largely beyond comment. The next stratum of this fanciful pyramid analogy features the true supermarketeers, those companies that do little more than bag gravel of one type or another, stack it on pallets and then send it out to the garden centres and smaller builders' merchants. While some of these companies have a genuine pedigree in the aggregates business, there are others that could be selling cornflakes, T-shirts or cutlery sets next week. It's the selling that matters, and the product being sold is immaterial.
Meadowview
Of those worth mentioning, I'd put Meadowview at or damned close to the top, because they are at least endeavouring to offer something out of the ordinary and have a human face in the shape of Karen Elson. She showed me some very interesting "ecological" products, in particular the reclaimed cockle shells and crushed bogs (sanitaryware, if you must). Almost by accident, I spotted a very clever idea that Meadowview are promoting on behalf of the inventor: seat tops for decorative gabions - you might be able to see it in the lower left and corner of the photo opposite. Again, a dead simple idea that takes a currently fashionable design motif and takes it one step forward. Very clever, and worthy of success.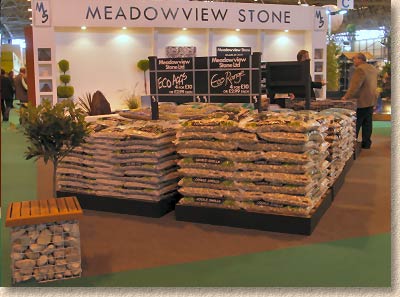 Border Stone
In a similar position, marketing-wise, to Living Stone, Aggregate Industries Border Stone brand sits in that grey area between manufacturer and supermarketeer, but, as they have to share the bed with big brothers Bradstone and StoneFlair, their paving range is best described as "basic". In fact, I find it all but impossible to think of anything of any consequence to say about the Border Stone paving, but that's not unexpected. It is what it is and that is a reasonable quality product at a reasonable price, but absolutely nothing to inspire or excite or impress: for that, you should look to those big brothers already mentioned.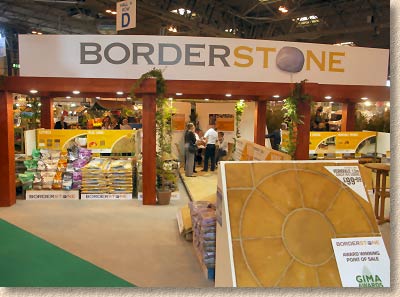 The fact that they win awards for their marketing stuff will be important to those outlets looking for products to distribute, but from the myopic perspective of a paving afficianado looking for titillatiion, it's not going to happen here, and Border Stone would happily admit it's not my custom they're after. This is marketing, not hard-landscaping, and is has to be treated as such.
Derbyshire Aggregates
Derbyshire Aggregates are specialists in decorative aggs, gravels, shingle, call it what you like, and aim to provide the more exclusive materials along with the regular fare. I have to admit that they are my preferred "first port of call" whenever I'm looking for something a little out of the ordinary, and it's fair to say that if Derbyshire Aggregates can't get it, then no-one can.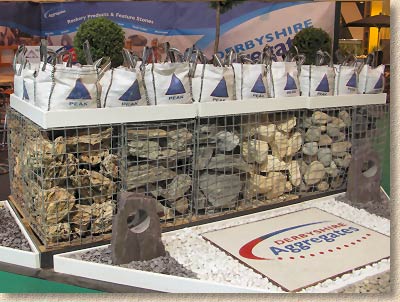 For all sorts of complicated reasons, I never got the chance to chat to anyone on the stand, but while noseying about, I couldn't spot anything new, which is part of the reason why I didn't make a special effort to have the craic. If I did miss anything new, I apologise, but this show has now reached the point where I'm struggling to speak to everyone in the three days it's open. Maybe I'll get in for the build-up next year.
DecoPak and Kelkay
DecoPak and Kelkay could be Aldi and Lidl, they would probably like to think they are Tesco and Asda, but they've a way to go before reaching those heights. They are the devoted supermarketeers, with pallet after pallet after pallet of "product" stacked up and sold off in "buy-one-get-one-free" or "3 for the price of 2" deals. Both companies are persisting with their mediocre quality wet-cast paving, although Kelkay's range is augmented by run-of-the-mill Indian imports of variable quality. One thing that struck me was the pricing. If you take a couple of moments to work it out, the imported materials are bloody expensive. Two 600x450mm sandstone flags for 15 quid might seem a fair price for the be-cardiganed pension-fritterers that get under my feet at the local garden centre, but that's equivalent to almost 28 quid per square metre, and the tumbled setts at 99p a-piece is close to 50 quid/m². Phew!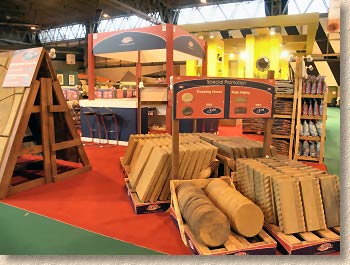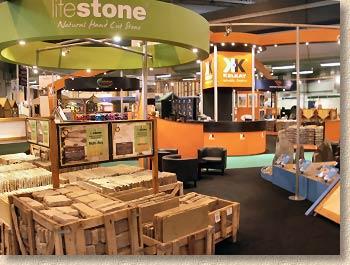 Tarmac
Can the respected company that used to be Tarmac please report to reception. Someone has handed in your dignity. How does a company with such an incredibly strong brand name come to be reduced to selling gravel in placky bags? The decision to sell off the Top Pave brand to Brett seems to have deprived them of any sense of purpose at this event, and other than standing in silence with head bowed for a few moments to pay my respects; I didn't waste any more of my time.
Page 1 | Page 2 | Page 3 | Page 4 || News Index Page