Landscape Show 2015
As documented over and over again in these news articles, there's been something of a vacancy in the Hard-Landscape Exhibition position for far too long, and for just as long, various candidates have put themselves forward with all sorts of grand and fanciful claims, only to run out of steam after a year or two, and then sink into oblivion or head off in a new, more profitable direction. For two or three years, the CityScape sub-let at EcoBuild, when it was at Earl's Court, generated a good bit of excitement and interest, but the move to the much more lucrative yet inconvenient ExCel seems to have killed off any pretence to be catering for our sector.
StreetWorks at the much more accessible NEC comes close, albeit on a bi-annual basis, but by focussing too keenly on local authority projects, it inadvertently discourages the rest of the hard-landscaping trade, from residential installers right through to designers and specifiers. FutureScape has yet to prove itself, World of Paving was an unmitigated disaster from start to finish, and a rash of lesser productions, like mayflies, endured the very briefest of lives before vanishing like a September morning mist.
However, over the last couple of years, The Landscape Show held at London's Battersea Park has suggested it might just have the legs to develop into something. Each year has seen significant improvement, with greater numbers and a wider range of exhibitors, even though none of the genuinely big names in paving supply have deigned to show... yet. Visitor numbers seem to have increased, too, and judging from the soundings provided by exhibitors, these additional visitors are of a highly desirable calibre – designers, specifiers and architects rather than gawpers, garden centres and gangs of marauding students.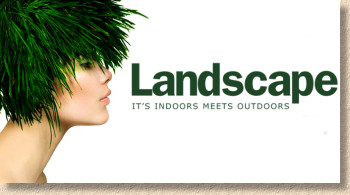 It's not perfect: the location in central London is barely convenient for those that live and work in the choked city, and a definite deterrent to anyone outside the M25; there's precious little in the way of catering; the seminar programme is almost devoid of anything of interest to those of us who don't really bother with the greenery; and the on-site parking is verging on the extravagant, according to my sources. Also, similar sources report, the build-up is chaotic and the breakdown a complete farce largely due to it being such a relatively small site and smack bang in the middle of London.
However, a very full day could be spent just visiting those exhibitors with a direct relevance to hard-landscaping.
If we start with the stone displays, then I have to say a big thanks to Johnsons Wellfield for the detailed explanation of just how a shot sawn texture is achieved. I've taken for granted this fantastically tactile yet naturalistic finish for so many years it wasn't until someone asked me how it was created that I realised that I didn't actually know. Well. I could sort-of hazard an educated guess, but I didn't know for sure, and so to have it fully explained by the country's leading exponents of the effect, with the aid of video, was a genuine pleasure. Never delude yourself into thinking there's nothing new to learn.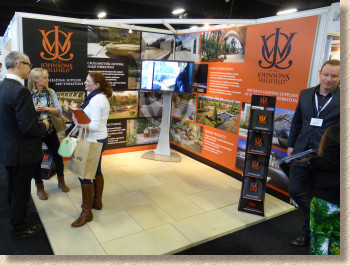 London Stone have their minimalist display once again, which relies on 'floating' samples magically glued to the walls, which not only makes it easier to build a display, but has the added benefit of putting pieces of stone at a very convenient level for stroking and man-handling. As ever, their stand seemed to overflow with laughter and bonhomie, which makes it extremely inviting for anyone not familiar with the company.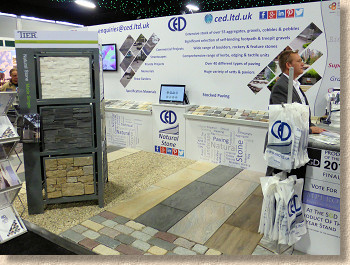 Meanwhile, CED relied on a more traditional approach with panels of paving laid on the floor. The big push for them just at the moment is their newly unveiled range of porcelain paving . Rather than rush in to the market as several others have done and come to regret, CED have taken a more considered line and thoroughly researched just what is suitable for the British market and, more importantly, put a lot of thought into just how it should be laid. As I've said before, I think the potential for porcelain in Britain is limited and it's primarily limited to the south-east of England where they have the budget and the open-mindedness for such a product to have moderate success. No matter how big a chunk of the market these "tiles" take in continental Europe, the way our industry is set up in this country will, I believe, restrict its uptake and it will remain a niche product.
McMonagle Stone were focussing more on their walling products, from traditional ashlar stone to the clever "Stoneer" cladding system which is selling well for them. They did exhibit the genuinely delectable Donegal Gold Quartzite for those of us keener on paving, along with their impressively eclectic range of stone from all over the world.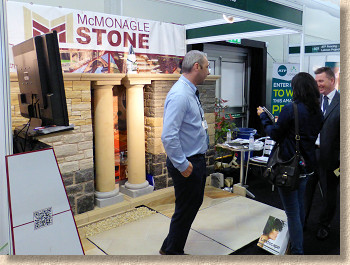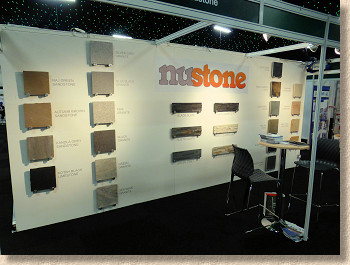 Admittedly, it was late in the day when I got there, but even so, finding the Nu-Stone display abandoned by 3:300pm when the advertised closing time was 6pm was a little disappointing. I know it's a long way back to Hull and that the visitor numbers drop dramatically in the last couple of hours, but there is something sad and disillusioning about and abandoned display.
Hardscape also had a presence, albeit subdued against a back wall, but every time I sauntered past the little kiosk stand was busy busy busy so I never got a chance to speak to anyone.
Not much at all in the way of concrete paving, just Tobermore who have garnered a relatively huge sales force of late, and had a prominent, centrally-located stand at this show. As luck would have it, the poor sod lumbered with talking to me had just finished his training a couple of weeks ago and seemed a little over-awed, understandably. At being left alone to deal with an awkward know-all. The main push seemed to be the granite-like concrete blocks, which they were showing at EcoBuild back in Sprint and which do seem to be attracting quite a lot of attention, and rightly so!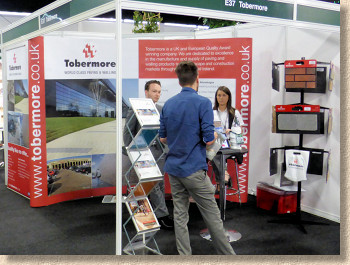 Some aggregates next, with the first sighting (by me at least) of Grundon , purveyors of the legendary Coxwell gravel in the south of England. I've seen the product used on many a job, particularly around Oxford, but this was the first time I've had the opportunity to chat with a representative of the company and compare their market with that we experience in northern Britain.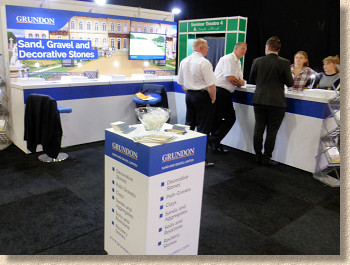 Long Rake Spar were showing their impossibly rich range which seem to have found favour with many in the resin surfacing side of the industry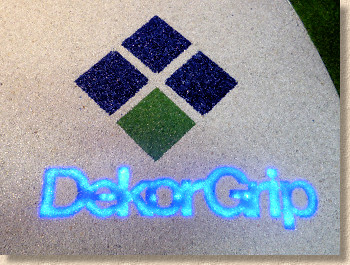 Speaking of Resin Surfacing, DekorGrip seemed to have cornered the market for Resin Installers as no other supplier/installer was present, as far as I'm aware. This struck me as strange, as these smaller landscape shows are usually prime territory for the resin crowd, but, for some reason, the field had been left clear for Phil and his team from Meon. I was really taken with the little illuminated logo they'd created. Yes, it's a simple idea, and we all know precisely how it's done, but it was so effective and, like all the best ideas, you can immediately come up with another dozen applications for it. Brilliant – literally!
Probst are just about the only serious player in the paving handling and tools business. Maybe this is because it's never easy convincing contractors to invest money in their company. They're happier spending 50 quid on a barrow that might last a month being battered and bruised and bent out of shape while loaded with blocks, but when you suggest spending, say, 700 quid on a block cart that will last them a lifetime and make transporting blocks simpler, safer and more secure, they break into a hot sweat!
Anyway, the big news from Probst is the new version of the ever popular AL 33 splitter, an essential tool for anyone serious about block paving. The revamped model has a galvanised rather than painted finish, and the Probst logo is cut into the support tray. Still got the finger trap with the blade raising handle, but hey! If that's the only problem with it, then it's hardly worth complaining.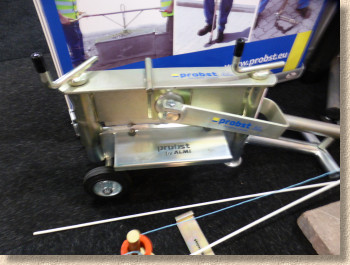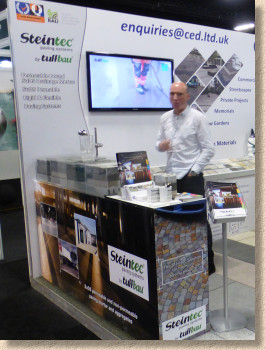 SteinTec were sharing a stand with CED and Steve Burton was taking the opportunity to promote their range of permeable bedding and jointing products for both bound and unbound pavements. This is going to become highly, highly relevant with the still-in-production re-vamped BS7533 promising to focus on these two categories of pavements and to make specific requirements of the bedding and jointing. The so-called good-old-days of sand and cement may well be coming to an end.
Steve has a range of cross-sectional display models, each showing a different option for both bound and unbound construction using SteinTec materials, and a clever core sample which shows with no room for doubt just how drainage-friendly the permeable (aka "Trass") bedding can be. Keep an eye on this – we will all be laying paving this way sooner than you think!
Just as the lack of resin surfacing was something of a mystery, the near total absence of resin jointing suppliers was even more intriguing. This has been a hot product group at these shows for the past decade, but at this show, the arena was left totally to Prestons' Nexus brand. I've had issues with some of the claims made by (or on behalf of) Nexus in the past, but the display area they created was gorgeous! I'm a sucker for a guilloche of setts (which is why they appear in many of my bespoke designs ) and this panel with an adjacent arc of more traditional rectangular blocks was probably the best looking thing at the show.
I know I've missed exhibitors, both from this report and on the day itself. Apologies to anyone who feels slighted or overlooked – I don't do it deliberately, but if you want to make sure you're mentioned in these round-ups, you have to collar me when you see me hobbling along. As I always say, it's the squeaky wheel that gets the oil!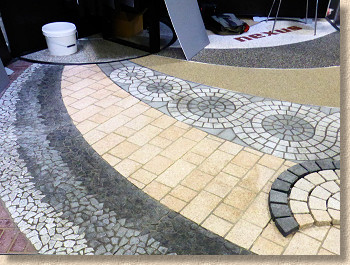 Anyway, despite the travel problems and the costs and the tiredness, I have to conclude that Landscape Show 2015 was a day well spent. Yes, there is room for improvement, and yes, it would be good to see a few of the bigger names supporting such an event, but for a show that's only three years old, it's doing ever-so-well and the prognosis is fine.