Forest Pennant links up with Charcon
As smaller stone producers look to enhance their "routes to market" (profound apologies for lapsing into marketing-ese there), Gloucestershire-based Forest Pennant have clambered into bed with national and international big boy, Charcon , part of the Aggregate Industries conglomerate. This deal should see the truly lovely Royal Forest Pennant sandstone more widely available across the whole of the UK.
As demand for good quality stone, and particularly native stone, has risen over the last few years, the stumbling block has, more often than not, been distribution. Smaller quarries may well have superb rock and wonderfully well-crafted products, but getting them from the back end of beyond, where quarries tend to be located, to the centre of towns and cities where it is most often required, has been a major problem. So, the link up between Forest Pennant, who have the stone, and Charcon, who have the distribution network, seems eminently logical.
Royal Forest Pennant is said to be the UK's lowest carbon rated natural stone, and is claimed ot be a sustainable, future-proof building material. The stone is only found in the Forest of Dean in Gloucestershire where it has been quarried for centuries for use locally and on an impressive number of prestigious projects throughout the country, including a bespoke six-metre Apple Tree mosaic for Hereford Cathedral and the innovative 'The Hive' project, opening later this Summer in Worcester.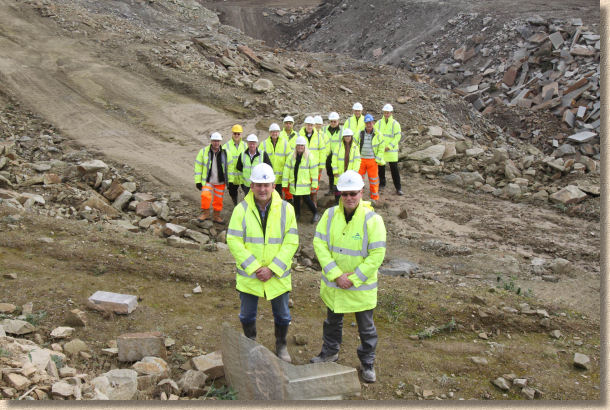 Forest Pennant managing director, Nick Horton said:
"Business is booming and the number of schemes utilising our stone is increasing rapidly, from the Apple store, Covent Garden to streetscape and paving regeneration in Ebbw Vale. Our partnership with Charcon will give us "more feet on the street" and provide increased support nationally. We look forward to working with Charcon and are excited to maximise the full potential of our stone, and further develop it as a competitive, commercially available option."
Charcon are hoping that the Royal Forest Pennant sandstone products will strengthen and enhance their existing natural stone portfolio. Charcon's commercial manager for natural stone, Steve Hook said:
"Charcon offers an extensive range of natural stone for customers. The versatility of the Pennant stone with the added sustainability benefits of the reduced carbon footprint makes for an important addition to the existing range. We will be offering the full Royal Forest Pennant hard landscaping package including a range of other products in addition to paving."
Royal Forest pennant sandstone is famed for its consistent high technical performance and durability. Only available from the Forest of Dean, Gloucestershire, it has been used for centuries in a number of prestigious locations where the highest aesthetic requirements are needed within the most demanding of applications. More recently, it has been used to create a bespoke six-metre Apple Tree mosaic for Hereford Cathedral; whilst a full complement of hard landscaping products, strip cladding, masonry and coping will complete Worcester's innovative 'The Hive' project, opening later this Summer.