Dublin's first Stone Show

The first edition of the Dublin Stone Show will take place on November 23rd and 24th. This is the only show in Ireland that is focused on natural stone and ancillary products for use in, on or around the building. Held in conjunction with the premier stone exhibition in the UK, The London Stone Show, The Dublin Stone Show gives Ireland it's very own premier stone exhibition.
Taking place at the CityWest, Dublin , the show will be featuring over 70 natural stone producers from around the world, including Stone Developments, Antolini Luigi, Stone Merchant, McMonagle Stone and Groundworks. Showcasing a variety of high quality natural stone products, the Dublin Stone Show is set to be the event for sourcing products and making important contacts.
The show will be open from 10:00am until 8:00pm on Tuesday 23rd November and then there's an early start on Wednesday 24th November when the doors will be open from 8:00am until 6:00pm.
The show will feature both finished products and natural stone materials. Of particular interest to readers of this website will be the landscape materials, including pavings and slabs/flags, but there will also be roofing, structures, tiles, bathroom, cladding, fireplace, flooring, interior fittings & furnishings, kitchen work surfaces, and mosaics.
Amongst the materials on show, you will find limestone, granite, marble, onyx, slate, travertine & many others.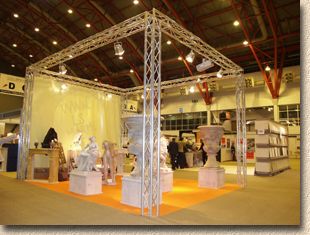 The organisers state that the Dublin Stone Show will be packed with value added features including:
New product gallery showcasing the new range from Antolini Luigi , Italy
Properties and applications of Irish Blue Limestone by The Architectural & Monumental Stone Association, Ireland.
Sculpture in Irish Blue Limestone by Michael Khumalo of Mwara Galleries.
Comprehensive seminar program
Quality Assured
Jo Axten, one of the team responsible for the organisation of the show, told Pavingexpert,
Registration
To register for the show, visit the Dublin Stone Show website and complete the online registration form. Alternatively, you can contact the show organisers on +44 (0) 1442 828173 or fax your requirements to +44 (0) 1442 828568. A full listing of The Dublin Stone Show exhibitors is available on the website.