Hard Times and stony faced cheek!
It seems the economic woes are beginning to claim ever bigger scalps within the landscape supply industry, with yet another mid-sized, well-respected supplier reportedly biting the dust in the past few days.
Last month, Preston's Stone Emporium went under, which given their MD's predilection for slagging off both myself and this website, didn't cause me to lose a single wink of sleep – in fact, the trade is a better place without him! Next, Wolverhampton-based Midland Slate & Tile ceased trading, which was a real shock for many in the industry because MST supplied a large number of independent Builder's Merchants, Garden Centres as well as direct sales to larger contractors, and were generally considered to be big enough to survive.
While a general shake out of the weaker companies and those of dubious financial standing is only to be expected in these straitened times, losing two respected businesses in such a short period is unnerving, to say the least. It's also disappointing because many contractors are now reporting a definite improvement in enquiries, with more work coming in on an almost daily basis, and firm orders being placed. A quick survey of a dozen patio/driveway contractors shows an average figure of just over six week's work on the books, which would not be as good as previous years, but is a very welcome improvement on the situation only five weeks ago.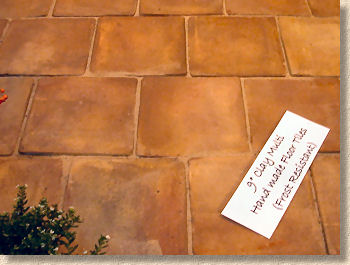 An earlier version of this report incorrectly stated that Stonepave UK had also fallen victim to the difficult trading conditions. This was based on inaccurate information supplied by a third party and we're happy to announce that the company is indeed still up and running.
Many stone importers are remaining "optimistically cautious" as one of them put it, but there is a general sense that there has been an improvement in the market. One supplier reckons that while sales of run-of-the-mill Indian sandstone have definitely dropped off, orders for premium products have increased and in terms of turnover, they are putting as much money into the bank each night as they were doing this time last year.
The ridiculously low prices for imported stone being touted on EBay have been mentioned by more than a couple of suppliers as prime suspects responsible for the drop in sales through more traditional channels, and there is a genuine concern regarding the quality that is being sold, sight unseen, to the unsuspecting and naïve general public.
As DIYers and bottom-end contractors shop around for lowest price, they are forsaking quality in their desire to pay as little as possible, and this is becoming evident from the number of calls and emails coming in to pavingexpert.com regarding so-called bargains. The poor sod who bought 74 square metres of 'mixed sizes' Indian sandstone was less than impressed with the crates containing 950 crumbly 275x275mm pieces. As he said in his email, "the only thing mixed is the variation in thickness – no two pieces are the same!"