Introduction:
This page has been produced with the invaluable assistance of Stone Paving Supplies , one of Britain's leading importers and distributors of porcelain paving. Full details of the complete range of porcelain paving and tiles, as well as their extensive range of natural stone paving, can be found on their website.

This group of pavings has been given various names, some designed to mask its true nature; some intended to make it sound grander than it really is, but whatever description is used, be it porcelain or vitrified or ceramic or litho-summat, the basic product is a specialised tile that has been printed with a surface pattern to replicate, say, granite, travertine or limestone, and then fired in a kiln at scarily high temperatures to give a very tough, very resilient tile.
Strictly speaking, the term "Porcelain" should only be applied to those products with a water absorbency of 0.5% or less. Other producrs are 'ceramic' or 'vitrified'....but does it matter?
The term 'tile' is used advisedly. Back in the days of punk and Two-Tone when I was serving my time, we were repeatedly told that a flagstone (a flag or a slab) had to be at least two inches thick (the metric system was only just being adopted, and forty years later, we're not much further on with it!) and anything less than an inch-and-three-quarters must be a tile.
Obviously, with refinements in concrete technology and the onslaught of imported stone paving from Asia since the turn of the century, we have had to accept that a flagstone might actually be just 20 or 22mm thick, thickness that were unheard of when all we had was yorkstone, pennant stone or basic concrete. However, these new ceramics, at just 8-12mm, really have crossed the Rubicon and can't be thought of as anything other than tiles.
There are various sources and, at the time of writing, all the significant suppliers are based overseas, predominantly in Italy, where the technology was first developed and pushed into continental Europe, and, of course, China, where they make just about anything that can be made, and plenty of things that shouldn't.
One characteristic that all of these tiles have in common and which is highly relevant when considering an installation method, is their exceptionally low water absorption values. They do not draw in moisture to the same degree as do many other paving materials. This should render them less vulnerable to flaking or delamination which can happen with some of the cheaper natural slates and riven stones.
Porcelain pavings are more akin to some of the denser slates, absorbing almost nothing from the bedding and jointing materials, and this, obviously, has an effect on how the bed and jointing might bond to the tiles. In short, without help, these tiles will not form a strong, sustainable bond to either bed or jointing.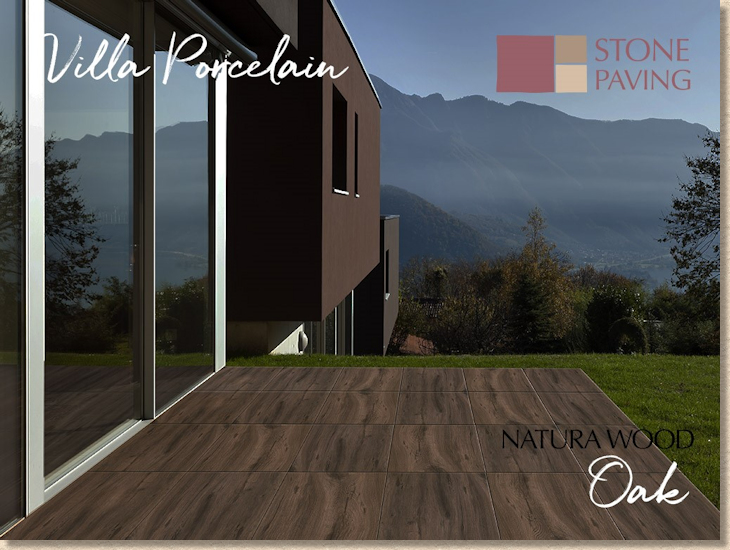 Choosing Quality
What to look for:
Read more about assessing the quality of porcelain

Installation:
Full Wet Bed: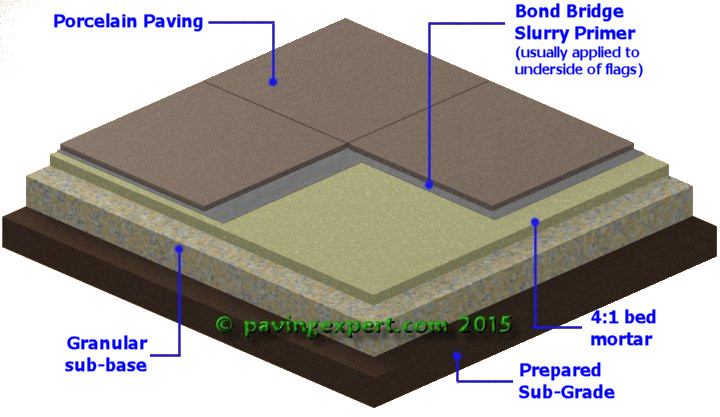 The inclusion of a sub-base (or base) is essential. For the Wet Bed method, a 100mm deep sub-base of Type 1 material (or similar) is typical, although in exceptional circumstances a rigid base , usually mass concrete, will be used. Omitting the sub-base (or base) and placing the mortar bed directly onto a sub-grade is highly likely to result in the whole pavement failing in the short-medium term.
As with the Thin Bed Adhesive method described below , a Bond Bridge primer applied to the underside of the tiles is essential.
And then there is the 'tapping down'. Admittedly, the tiles are tough, probably much stronger than one might expect, but they cannot be hammered. They will withstand a reasonable clonking, but too much force, too heavy a blow will probably cause a breakage.
However, there has to be enough of a tapping down to ensure that a sufficient proportion of the tile base is in direct contact with the supporting bed, so an overly gentle tap or two probably isn't enough to get the 70% contact we would regard as the minimum requirement. Too little clonking will leave the tile resting on ridges of mortar with voids between, and so the bed will not provide a full support.
Trial and error is the only way to learn just how much surcharge, how much rippling, and how much clonking is needed to get the tile down to the perfect level, with the correct falls. Obviously, as more and more tiles are laid, the bed preparation will become second nature, but for the first few tiles, it's really important to take time to judge the bed and the amount of settling that is possible.
This is what makes the Wet Bed method tricky for those unfamiliar with paving and the use of mortars.
---
Thin Bed Adhesive: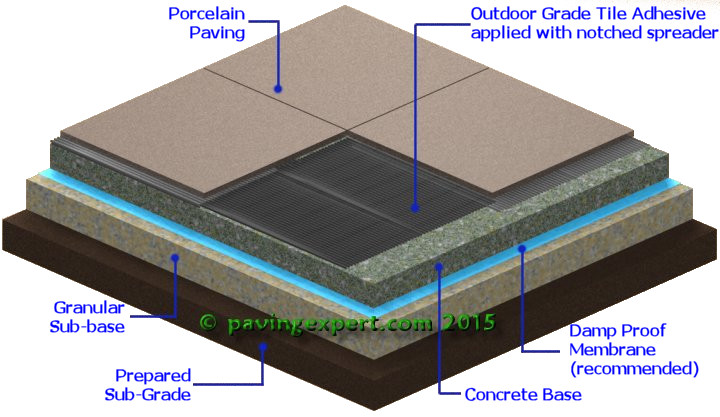 The thickness of the bed is usually specified by the adhesive manufacturer. Some will be as little as 3mm, but most will be 6-10mm.
The bed thickness is critical to establishing the finished level of the base onto which the tiles will be laid. To ensure a high standard of finish, the tiles need to be laid to falls and levels over a bed of uniform (or fairly uniform) depth. It's not good practice, and will make the job that much more difficult, if the bed is, say 4mm deep at one end and 10mm deep at the other.
So, the key to getting an even, uniform bed is to have an even, uniform base on which to lay it. In nearly all cases this will be a rigid concrete base which can be placed immediately prior to laying the tiles or can be done hours, days, or even weeks in advance.
The concrete base need not be reinforced: a simple 75-100mm thick slab of mass concrete, C7.5 or stronger, can be poured and retained by formwork to ensure the finished levels, once the plastic concrete is tamped and floated off, are within a millimetre or two of the levels needed to accommodate the bed and tiles.
Obviously, this concreting is an additional skill. Erecting shuttering and/or formwork, then placing, compacting and finishing concrete is a separate task to laying tiles of flagstones, but it is generally regarded as being relatively simple and well within the capabilities of a competent general builder, landscaper or DIYer. Fuller details of establishing a concrete base can be found on the relevant page of this website.
Read more about how porcelain paving is should be laid, according to European manufacturers
Compare and contrast:

Jointing:

Cutting:
In theory, it is usually possible to 'score' the tile surface to around one-third to one-half full depth and then 'snap' the tile. This saves on blade wear, but can only really be used successfully on straight-line cuts creating pieces no smaller than one-quarter of a full tile. Given than potential savings on blade wear and time are minimal, and that there is always a risk that the snapping will go awry and end up losing the tile. Is it worth it?

Keeping it clean:

Further Information: