Formpave Product Directory
Unlike all of the other brochures, catalogues, collections and whathaveyou reviewed here over the past couple of months, the new "Product Directory" from Hanson Formpave is not a glossy marketing exercise aimed at the patios and driveways market. It is more like a technical manual for the installation of permeable pavements and a guide to the possibilities for commercial block paving. However, don't allow that fact to put you off. This is a real treat of a publication, one that's stuffed to the point of surcharge with insight, explanation and advice of the very highest quality.
In A4 full colour format, the new Product Directory runs to 72 pages crammed with information, plus a strange 'fold-out' semi-rigid cover to both front and back. It would have been so easy to create a publication that listed sizes, colours, textures padded out with references to the web and PDFs, but instead, Formpave has elected to put together a document that informs, educates and entertains.
There's a superb summary of the current state of play regarding permeable pavements and SUDS in mainland Britain and this is then backed-up with a fairly in-depth consideration of the various options available from Hanson Formpave, whether it's for flood control, rainwater harvesting or even geo-thermal heating. While they have decided to trim down the three construction types for Concrete Block Permeable Paving (CBPP) suggested by Interpave to just two (tanked and infiltration) they do offer three typical cross-sections, for parking areas, for driveways and for footpaths, which are the main applications for CBPP and will be invaluable to most designers.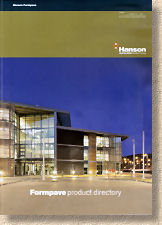 The quality of the drawings is stunning, either in isometric 3D or standard 2D cross-section, the meaning is clear and unambiguous. Obviously, allowances have to be made for the depiction of the patented Formpave sub-base design which relies on a dual layer of close grade aggregate with a specific geo-grid, but the general principles remain completely valid, and, to be fair, we can hardly expect them not to illustrate their own system. The distinctive diagrams are supported by good quality photographs that are almost all of a commercial flavour, but, as stated previously, this is not a brochure intended to sell driveways to Mr & Mrs Smith. Contractors, specifiers and designers will be (should be?) more than capable of making the intellectual leap from accessway to driveway, from boulevard to back yard.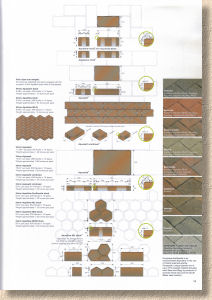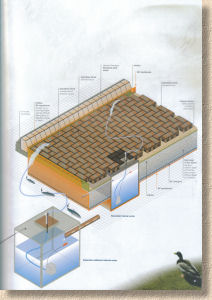 When it comes to describing and detailing actual product, the layout is a fantastic blend of architectural detail with a CAD flavour and relevant text information. If there has to be a criticism, the only one I can suggest is that the swatches used to show colours and textures are a little on the small side. I know my eyes aren't what they were, but I struggle to see a difference between ' Traditional ' and ' Vendage ' colours in the Aquasett™ product swatches.
It can't be too much of a hindrance, I suppose, as the company has recently completed the supply of 5,000m² of Aquaflow™ paving, to the new car park for the Welsh Assembly Government offices in Ffordd Parc-y-Llyn, Aberystwyth. An important part of the product sourcing strategy for these new government buildings is the requirement to adhere to all of the latest environmental and sustainability guidelines with the aim of achieving an 'Excellent' in BREEAM. Selecting manufacturers who share these initiatives and aims, whilst delivering products that meet the Assembly Government's stringent specification, is integral to the project's success.
Martin Dando, site manager for main site contractors, Carillion said:
"The Aquaflow system as a whole looks superb and with minimal drainage required due to the effective performance of the Aquaflow SUDS system we were able to deliver this part of the development ahead of schedule. In working together (Hanson Formpave, Afan Landscapes Ltd and Carillion) we were able to maintain the flow of building work and keep any major disruption to the site to a minimum. This was largely due to the ease, speed and efficiency of the installation; a great achievement given the high volume of site traffic."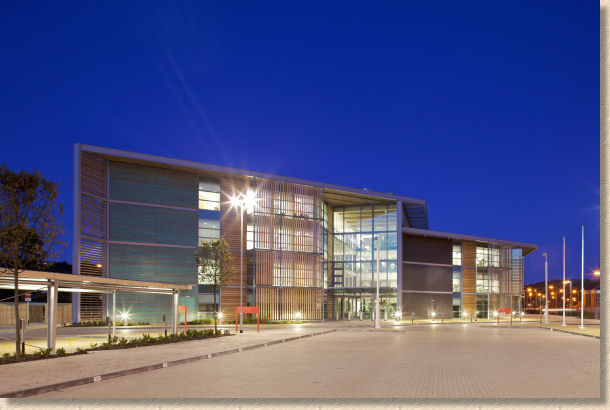 Returning to the Product Directory, thirty-two pages are given over to SUDS-compliant paving, which indicates just where Hanson Formpave see their strength to lie, but the standard paving is then afforded a generous 26 pages to look at the delicious range which includes 'antiqued', bush-hammered and good old not-buggered-up paving, plus a fairly comprehensive range of kerbs for most situations.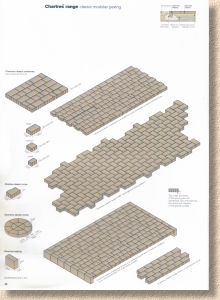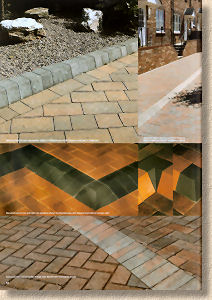 The diagrams follow the now-familiar isometric 3D format, which is the best visual portrayal of product information I've seen. The supporting photos are a mix of commercial and residential projects but again, colour and texture swatches are myopically small. Even the provision of a full-page colour and texture overview on p72 relies on small swatches while the fold-out back cover is left completely blank, two A4 pages coloured in with Formpave Green and nothing else.
The final 12 pages consider specification and technical information and again, the quality is second-to-none, with excellent detail where necessary and a total absence of fluff and nonsense.
Steve Spikes, development director for Hanson Formpave said:
"Our complete 2010 guide provides specifiers, project managers and engineers with clear and concise detailing for all Hanson Formpave's paving solutions. We have always supplied the industry with product brochures but each were sector or application specific; this catalogue allows us to present total surfacing solutions and schemes from a proven 'one stop shop'. The brochure includes our patented SUDS and permeable paving system, Aquaflow™, as well as our geothermal energy systems. Specifications for all of our products and ranges can be found in one place; making life that little bit easier for specifiers, architects and builders alike."
Overall, this is an incredibly rich and rewarding read that will take several lunchtimes and a few evening browses to fully absorb. If all I can find to moan about is swatch sizes, then it has to be regarded as a resounding success. It's appeal to driveway and patio contractors will be slightly limited by the technivcal nature of the directory as a whole, but every commercial contractor and every designer, specifier or architect, needs this Product Directory in their life.
Copies of the Product Directory are available from stockists nationwide or by calling Hanson Formpave on 01594 836999. Alternatively, click here to email