Online Concrete Ordering
An online concrete ordering service called www.concrete2you.com , believed to be an industry first, has been launched by Aggregate Industries . The facility links into the company's national network of Elite Minimix sites across England, and Alba Minimix plants in Scotland.
www.concrete2you.com has an online volume calculator, and can deliver up to four cubic metres within 24 hours, with payment made online by credit or debit card.

Four cubic metres could be sufficient for foundations, footings, driveways, patios, flooring for sheds, garages, extensions and conservatories.
The company claims that localised shipping means excellent quality, and by using smaller vehicles, deliveries can be made to locations with restricted access as well as accommodating orders for smaller jobs. Trucks are typically on site for just 30 minutes (and judging from my experience, even less if the driver thinks he can get away any quicker!)
National director Peter Hardman expects the service to be very popular:
"Many people are still looking to improve rather than move, and projects like sheds and extensions are becoming increasingly popular options. This service will hopefully be ideal for builders and landscapers working on smaller jobs who need a reliable, local supplier but would be refused by larger plants."
Competition
And to celebrate the launch of this new service, concrete2you are offering a FREE load of concrete, up to 4m³ to one lucky user of pavingexpert.com.
The only conditions are that the concrete can only be delievered to an address in the English Midlands (apologies to all the Celtic nations) and they want a written 'report' on your experience with the service.
I've not really got any guidance as to what they believe to be the English Midlands, but if you live there, you probably know better than any of us, and as for the report, I don't think they are expecting a great work of literature, just summat that comments on punctuality, helpfulness, ease of use, etc.
So, whether you are a contractor, a homeowner, a keen DIYer or anyone with an uncontrollable desire for concrete, and you can make a good case to be resident in the English Midlands, all you have to do is.....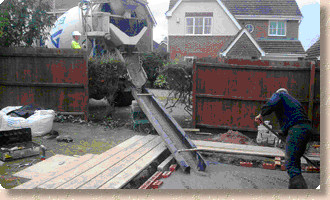 Given that there's precious few working days over the next few weeks, thanks to bank holidays, Easter egg hunts and some bloody wedding, you have until May 13th 2011 to email your entry to pavingexpert at this address...
Editor's decision is final. No coercion, vague promises or bribes (not even Jamesons 12 yr old) will be entertained.
For further information visit www.concrete2you.com
UPDATE: ~ 12th April
A nice person at concrete2you has now emailed me a list of batch plants that can supply the FREE concrete....
Bicester
Bordesley Green
Burton-on-Trent
Cheadle (that must be the one in Staffs, not the Manchester one)
Coalville
Coleford
Coleshill
Derby
Kidderminster
Leicester
Mansfield
Nottingham
Perry Barr
Stoke
Upton-on-Severn
Wellingborough
Wolverhampton