SureSet: You want what colour?
Wiltshire-based SureSet have long established themselves as one of the most creative and discerning of resin bound surfacing companies, undertaking both the supply of an incredibly wide range of aggregates, and the provision of the highest quality installation teams.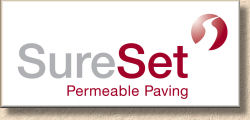 A recently completed project at Cambridge University gave the company the opportiunity to show just what is possible with this fascinating surfacing medium. Is it paving or is it art?
SureSet's Senior Marketing Co-Ordinator, Yvonne Philp, takes up the story.
Canterbury University in Kent had received funds to invest in a multi-million pound development of their student accommodation which was to be completed before September 2012. It was felt that a new sophisticated campus was required for the modern-day student with a superior level of comfort and design.
As part of this design, SureSet were specified by the Landscape Architect, Andrew Cox of Lloyd Bore Associates, to create dynamic and visually stunning surface areas within two communal spaces. One was a pathway within the communal gardens, and the other an area within the family complex. They wanted quite a technically challenging paved area which would see a full spectrum of colours blending into each other. Their goal was to create an aesthetically revolutionary surface which would maximise the spaces available and more importantly inspire a new generation of academics.
So, what did they manage to come up with? Back to Yvonne....
Over 36 bespoke colours were created by SureSet by colouring our own recycled glass and were then expertly hand-laid and blended into one another by our in-house team of highly skilled operatives. SureSet were specifically specified as we are the only company who currently are able to do this.
The bespoke coated glass had to be individually coloured to match the exact ones specified by the architect's drawings and had to be measured by hand to make each different gradient of colour. There was a need for speed whilst this area was being laid as every colour had to be mixed individually and laid promptly before it started to set in order for the colours to blend successfully.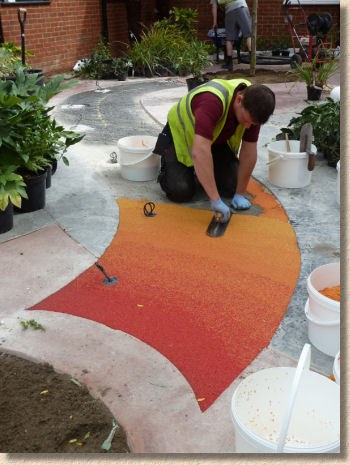 How did it work out on-site? Yvonne continues....
As the project was underway there was quite a lot of excitement and interest as the pathway was laid. Most people had never seen anything like this done before and were all excited to see the finished result. Once completed, the path looked incredible and it was quite hard to believe that this effect could be created in paving. The University were thrilled with the results and are planning to enter their site into numerous competitions once all areas are completed.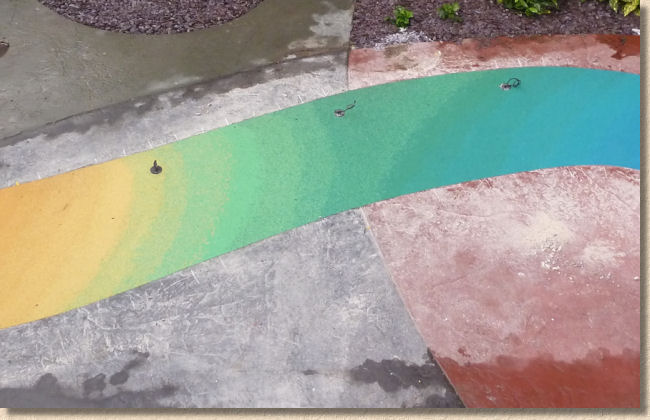 I don't normally use really big images on the News pages, but I think this use of blended colour is so wonderful it needs a full size image to do it justice. No more chalked images which disappear with the weather. This is 21st Century pavement art happening in front of us. Brilliant!