Specialist Paving at Tatton
"Cookie", the man behind Wrexham's Original Stone Paving Company , has exclusively revealed to Pavingexpert his plans to exhibit at this month's RHS Show at Tatton . He is the first professional paving contractor to take on the challenge of exhibiting at such a prestigious event, and is quite looking forward to the event.
In previous years, there's a been a generous sprinkling of landscapers creating their own vision of the ideal garden at the RHS's northern spectacular, combining paved areas with lawns and planting, but Cookie and his crew are purely paviors: masters of their art rather than a Jack-of-all-Trades. They only lay paving, and they only lay 'traditional' paving, which means stone in the form of setts, cubes, flags, kerbs and cobbles, although they have been known to do the occasional project involving clay pavers. Aware of the fact that the successful tradesman knows their own limitations, a specialist "softscaper" has been brought in to the team to look after the planting.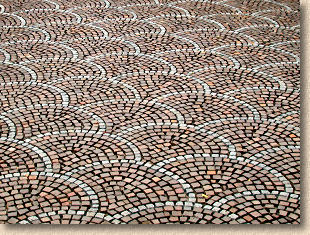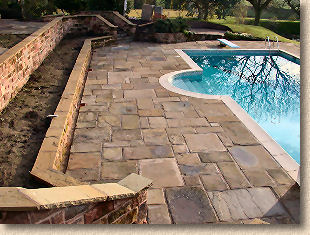 Cookie is really excited at the prospect of showing off his work and traditional skills to such a large audience. Previously, he has worked the length and breadth of these islands, providing almost forgotten skills to projects as diverse as private driveways and public squares and plazas. He's responsible for some of the paving at the Houses of Parliament in that London, and he's laid setts to the Wolfe Tone monument and to O'Connel Street in Dublin. He's amongst the last of us streetmasons, passing on his skills to a new generation, at a time when the interest in stone and traditional paving is stronger than ever. The demand for competent sett and cobble layers is massive at the moment, and Cookie feels that Tatton provides an opportunity to show off the true artisanship to a much wider audience, and in the process explain just why an experienced, specialist paving contractor should be used for this type of work.
Tatton is located to the south-west of Manchester, close to the historic Cheshire town of Knutsford, just off the M6 at junction 19. It's a bit posh around there, as you'd expect for a RHS event, so put a shirt on, if you're planning on going. The show starts with a swanky 'Members Only' day on Wednesday July 20th, and then is open to the rabble from Thursday July 21st to Sunday 24th, from 10am in the morning until 7pm (5pm of the Sunday), and tickets cost 20 quid on the day (a fiver for kids). Pavingexpert will be sneaking in during the construction work and before the grand opening to provide exclusive photos of the build-up as well as the grand opening.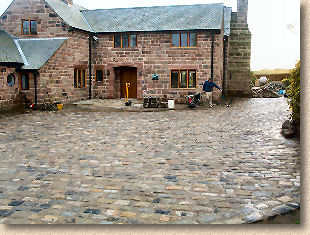 For more information on how Cookie and The Original Stone Paving Company can help with your project, call 01978 661000 or visit their new, revamped website .