Trailer-mounted kerb layer
For many years, Probst have led the world in developing handling equipment for paving and associated groundworks, and the requirements of the Manual Handling Regulations have given added impetus to develop kit that can take the strain out of the job on site.

As someone who spent 20-odd years lugging kerbs around site, and lost 3 lumbar discs as a result, the kerb-handling equipment that is now becoming more widely available is long overdue and extremely welcome. Finally, it seems, the days of two lads lifting 70-100kg of concrete into place are numbered.
There's been a few gadgets aimed at the kerb layer: wagon-mounted Hiab-based lifts and attachments that can be fitted to the front bucket of a SiteMaster or similar rubber-tyred excavator, but now Probst have launched a purpose-designed, single unit trailer version of the mechanical kerb-layer.
The trailer has a sturdy galvanised steel with a double axle for stability, and comes fitted with all the requisite lights and indicators for use on a public highway.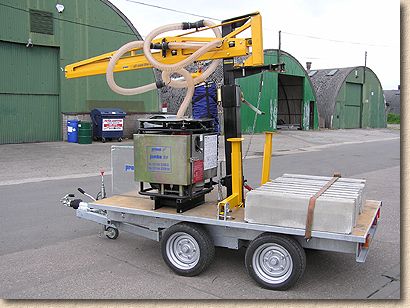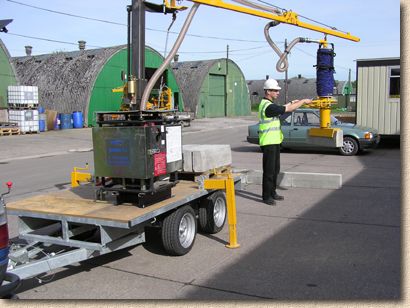 The deck has space to carry 10 standard road kerbs (150x250x915mm) and is fitted with the proven Probst Jumbo BV vacuum lift. The trailer is simply hitched to any suitable vehicle, such as a site dumper, JCB, 4x4, or even the boss's Lexus, and towed into place.
The stabiliser legs are extended and lowered, and then the Jumbo arm is unfastened, swung around into position, and the vacuum pump started. Using the specially adapted heads, the kerbs are easily lifted from the rear of the trailer, manoeuvred into place by a single operative, and then lowered onto the prepared windrow bed.
Neil Jones, Yed Cod at Probst UK says,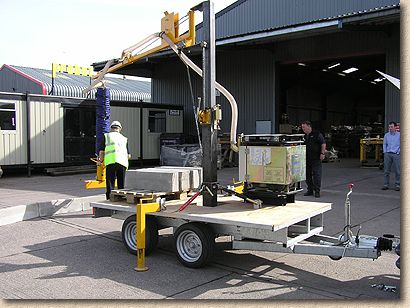 The trailer mounted Jumbo can be seen at the Wem (Shropshire) HQ or Neil can arrange for more information to be sent to interested companies on request. It's also worth noting that, after too long a wait, Probst UK have now managed to get their website up and running, and it contains details on the vacuum lifts, as well as all their other bits of kit, including the legendary block carts and block splitters.
Probst UK - 01939 235325