Interlay Special Meeting - Report
The Special Members' Meeting for Interlay took place last Friday, March 29th, 2019, just outside the midlands village of Meriden, erstwhile home of the legendary Triumph motorbikes, and it's a pleasure to report that an air of positivity was present throughout.
Interlay is the trade association for paving installers and as such it predates by decades all of the current manufacturer-sponsored schemes. However, with the widespread take-up of these manufacturer schemes, each of them funded at least in part by generous marketing budgets, Interlay has recently struggled for relevance. The crop of younger installers now leading the trade have no knowledge of the days when Interlay was the only game in town, and all-too-often they seem to assume that all 'paving clubs' should come with badges, stickers, competitions with big prizes, and nights out with the lads. Interlay, meanwhile, continues to focus on maintaining quality, improving standards and providing mutual assistance. Is that what is really needed in the 21st century paving trade?
The argument being put forward at this meeting was that, probably more than ever, an independent and authoritative voice for the installation side of the industry, free from the concerns of sales and marketing that dominate manufacturers' thinking, and focussed solely on paving rather than the greenery and softscapes that overwhelm the thinking of the "Landscaper" associations, is needed as we strive to maintain professionalism within the craft and develop better and stronger skill sets, suitable for the type of work we now undertake with the plethora of modern materials available to us.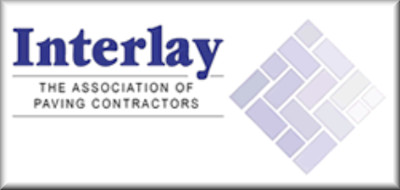 While it was great to see strong support from paviors and other installers, of course, it was really striking that so many significant manufacturers and suppliers of paving supported the belief in an independent and viable trade association. Presentations from Interpave mainstays, Brett and Bradstone underlined that support by sending senior management to speak at the meeting, but the fact that representatives from Formpave (another Interpave member), Talasey Group , Stone Paving Supplies , Parex Paving Mortars, Manhole Covers (MCD) and more, also backed the meeting underlined the strength of support from the supply side. They all understand that a strong and viable installers trade association helps them put quality products into the market.
And what was undoubtedly the most interesting proposal came from one of those key suppliers:
shouldn't Interpave companies promote the use of Interlay members when it comes to installing their products?
Surely it makes sense to push for the use of a quality installer to ensure the best workmanship is achieved when that manufacturer's own paving is being laid. No matter how good a product may be, unless it's properly and professionally installed, it can never look as good, nor perform as well, as the manufacturer or supplier intended.
Such a notion offers no conflict with their own Installer Schemes, should they have one, because membership of both Interlay *and* a manufacturer scheme is not mutually exclusive. In fact, by having membership of Interlay alongside the other schemes, the good installers are showing they are competent with ALL paving, not just the products from one supplier, and that can only boost customer confidence.
For many of the installers present, the importance of being able to counter the threat posed by the unskilled, the chancers, the rogues, the ne'er-do-wells and the fly-by-nights is key. They felt Interlay should give them credibility with their clients, whether they are homeowners, commercial developers or local authorities. Those attending wanted a far more visible presence from Interlay: they need the organisation to drive home the message that it is the only body that speaks for the professional paving installer.
Let's not overlook the seemingly invisible benefits of a strong trade association. Who else can inform government policy and avoid future inept nonsense along the lines of the 2008 driveway drainage legislation? Who else can drive training and qualifications in the right direction? Who else can promote our welfare and well-being by working against dust and MSD with the Health & Safety Executive? Who else can input our feedback when it comes to writing new standards or codes of practice? Who else can lead efforts to attract the best new talent into our trade? Do we really want to leave all that in the hands of those who never actually lay paving to earn a crust?
As an outsider, it seems bleeding obvious to me that a strong, independent trade association for installers can only be a good thing for the entire industry. Those few that disagree, befogged primarily by their own perceived commercial advantage, need to explain why they *don't* think a body such as Interlay is beneficial to installers, in particular, and the wider paving trade as a whole. Surely, if we all seek to improve installation standards, we can all be winners, whether we are laying the paving, making and/or distributing the paving, or buying the paving.
A viable trade association is so much more than stickers, badges and prizes. It's about having a unified voice that speaks solely for installers, putting our interests first and foremost, and making sure that voice is heard and heeded.
I would urge any paving installer to think about how our trade promotes and protects itself. We ought to control our own destiny, not leave it to third parties with other agendas, and that can only happen by supporting Interlay, which I am proud to say I do.
Members of the Bradstone Assured and Brett Approved schemes have been awarded free membership of Interlay as part of their package for the current year, but when it comes to renewal time, please ensure you continue to support the vital work Interlay does on your behalf. If you are a member of another manufacturer's scheme, or just a damned good pavior with a desire to see our craft maintained and nurtured to ever better standards, then please consider adding your essential support by joining the only truly independent, pavior-focussed trade association , and help it to help our glorious trade to ever better things.
Interlay The Old Rectory, Main Street, Glenfield, Leicester, LE3 8DG
Tel: 0116 232 5191