FutureScape 2018
For a decade or so, the British hard-landscaping trade has been desperately scanning the horizon for an exhibition event that can act as a nexus for the industry and provide an opportunity for exhibitors to show off. Whenever there's a gathering of more than half-a-dozen or so paving suppliers, the question inevitably arises: is this it? Is this the sought-after one? Do we have our much-vaunted trade event?
And the same questions arose this week with the 2018 iteration of FutureScape, the event that looks to cater to all aspects of the landscaping industry. In retrospect, it seems that 2018 has hit a purple patch in terms of appealing to those of us on the hard side of landscaping. From being a 'maybe' over recent years, a critical mass seems to have been reached in terms of relevant exhibitors and its status is now probably a 'probably'.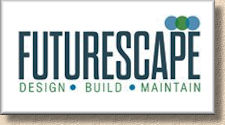 What was there that so boosted the event's potential? Well, class exhibitors and plenty of them is the easy answer, but that has to be balanced by having ample visitors of the right quality, too. Is this what happened?
Before setting off for the far-flung corners of darkest Surrey, I made a list of exhibitors I'd like to speak to. Twenty-six. Twenty-six – that's roughly double the usual tally, and some of the names on that list are BIG names. The challenge has switched from one of "is there enough to warrant the trip" to "will it be possible to see everyone?" Twenty-six exhibitors in eight hours, that's three and a bit per hour, not allowing for any tea breaks, toilet dashes and bumping into itinerant acquaintances, which are never in short supply at this sort of event. Less than twenty minutes a pop. That's tight!
Actually, I can save one 20-minute slot by blagging a lift down to Sandown Park with NCC StreetScape, who are exhibiting their standard-setting range of resin jointing mortars. So, even though it takes 4½ hours to travel from South Lancashire to Esher on Monday, I'm saving 20 minutes from Tuesday's schedule, and it should come as no surprise to anyone that knows me, that, over 4½ hrs, the conversation never dried-up once. We well and truly sorted out the paving trade between us.
It turned out to be a better than expected show for NCC StreetScape, after a very disappointing start. MD David Mackay was down to present a talk about the latest case studies they've put together, but the organisation was even worse than Rees-Mogg organising a no-confidence letter, hard though that may be to believe.
Problem 1: no-one can find the "venue" which turned out to be a completely un-signposted hollow in a stairwell.
Problem 2: there'd been absolutely no pre-promotion of the event, other than what NCC themselves had achieved.
Problem 3: the presentation itself, held by the show organisers, had been lost.
Problem 4: no laptop from which the presentation could be displayed.
Problem 5: when a laptop was found, no wi-fi signal could be detected.
Problem 6: understandably and completely disheartened, the speaker decided to beat a retreat from this cock-up of piteous proportions.
However, it was perhaps not too bad a thing that David did walk, because the rest of the crew on the NCC stand were struggling to cope with demand…and that continued for the next 6 hours at least, so, by the end of the day, the righteous fury had somewhat dissipated and the "organisers" got off with a much mellower bollocking than would have been the case if he'd caught up with them at 9:30am.
Despite trialling a few new products earlier in the year, NCC decided to focus on their tried and tested favourites at this show: the industry-leading VDW 800 and 850 two-part vehicle-capable mortars, and the ever-popular and highly regarded one-part 840+ for patios and pathways. The stand was never less than heaving and the stock of informational leaflets, promotional rulers and nifty badged baseball hats only just lasted through to the 5 o'clock close….not a bad problem to have!
NCC were stationed downstairs in this now two-storey show. Entrance to the show was also via the lower floor, which meant everyone attending was obliged to funnel past the stand on their way to the delights on the upper floor, and that undoubtedly helped, as it did for fellow denizens of the lower section. However, for reasons no-one was able to fathom, there was a near permanent draught chilling its way through the stands and no discernible heating, other than the welcome body warmth of the attending throng.
And as I found out, no doubt along with other less agile attendees and the lady with a pram, there was no readily available disabled lift to get us to that upper floor. When I complained near the end of the day, I was directed to a very well-hidden and completely un-signposted disabled lift which was only accessible if you rang a mobile number and convinced some poor soul somewhere else on site to haul themselves over to unlock the damned thing. I rang. I waited 10 minutes. I gave up and hobbled back downstairs under my own steam aided by gravity. Not good. Really not good.
If downstairs was draughty but busy, upstairs was crowded, hot and sticky. However, it was where the majority of exhibitors were located, and so most of the day was spent amongst those claustrophobic corridors.
Core Landscape Products, last seen only a couple of months ago at the Landscape Show in Battersea Park, are suppliers of what I referred to as 'landscape accessories', an eclectic range of cell pavers, steel edgings, geo-textiles, wall panels and more. A bit more space here than at Battersea, but they filled it well, with plenty of eye-catching goodies to draw in the passers-by that may not be aware of what they have to offer.
Those steel edgings have been causing some resentment from another supplier, they reported, and that was to prove itself very true only a short while later!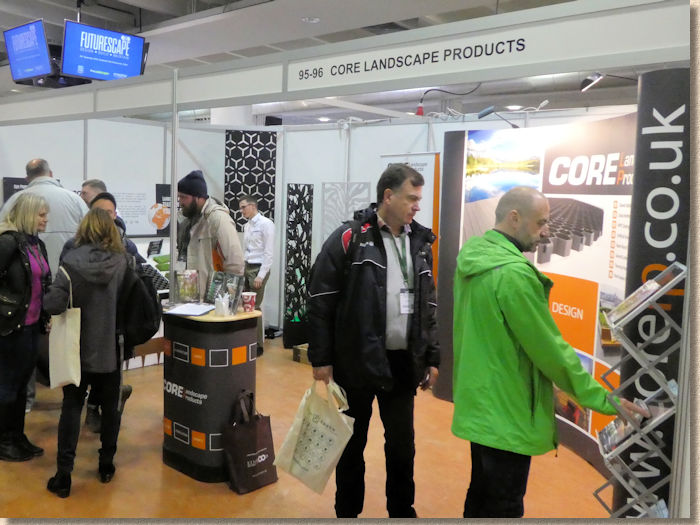 Around the corner, Allgreen, a name that's new to me, and I suspect my unannounced visit left the poor salesbod landed with the task of dealing with me in a state of shellshock. He obviously had no idea about who I am or what I do and had only a rudimentary knowledge of the products – essentially name and price – but we can excuse his youth and inexperience. We all have to start somewhere.
However, his callowness sat incongruously with the amazing range of pavings on show. On the floor, metre-square slabs of a Spanish sandstone uncannily similar to Lancashire gritstone, and on the rack, pieces of a dappled sandstone from the Pennine hills of northern Derbyshire, but the item that really caught my eye was a small clump of wooden setts, 100x100x100mm French Oak with chamfered arrises on the upper face, seasoned to give a charred look. This, as far as I can recall, is the first time in too many years that I have seen wooden setts on show at an event such as this. 150 quid/m² your man tells me, which puts the installed priced up over 200 quid/m² but you only need them as a detail piece, so two or three metres could be plenty to really set-off (no pun intended) a classy project.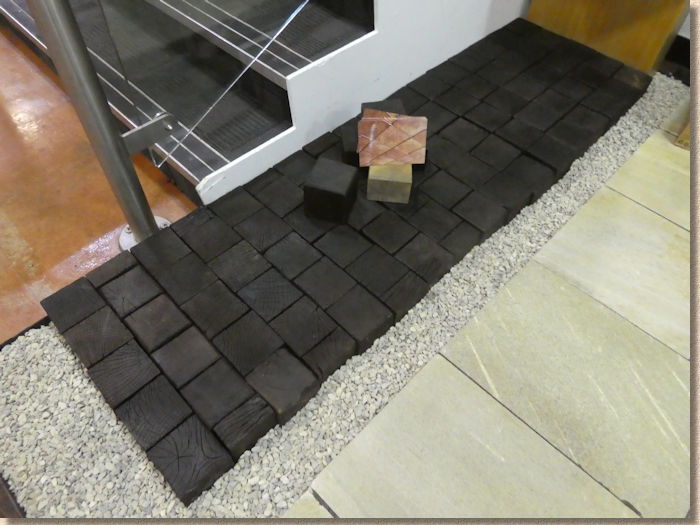 Just one word of advice: when you're exhibiting large format stone, bring spares. Having an obviously cracked piece front and centre is not a particularly good tactic.
Following on from a series of very successful and highly entertaining Porcelain-focussed open days earlier this month, Stuart from AquaCut and Jim from Tiler's Tools shared a stand that was never less than busy. There is *so* much interest in all things porcelain just now, that businesses such as these, offering tools, techniques and tips on how to do it better and how to do it right, are having something of a field day.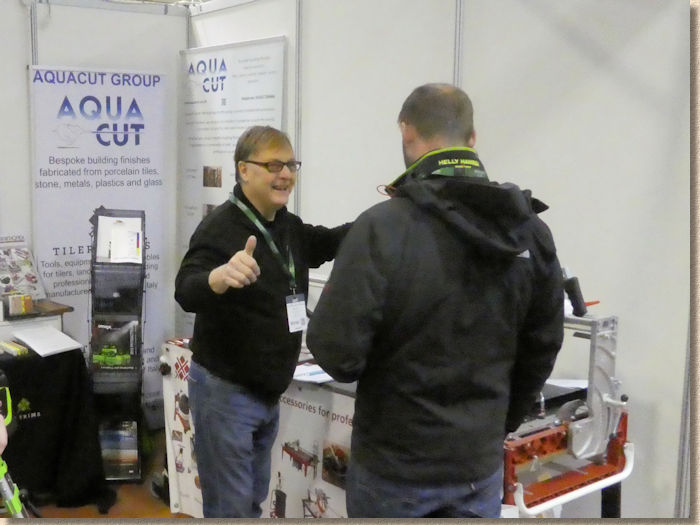 Huge interest in cutting, as we should expect, whether it's the amazing shapes and details AquaCut can coax out of almost any surface, to the bench saws from Tiler's Tools, which no decent paving installer with claims of competence should be without. If you're installing porcelain, ceramic, vitrified paving, your business *will* benefit from having a chat to this pair!
Back to those contentious steel edgings. There can't be many that aren't aware of the EverEdge brand, Shropshire-based manufacturer's that have had the market for high quality steel path and lawn edgings to themselves for many years. You can understand their frustration with young upstarts at Core LP who have started to offer a very similar, but legally distinctive, alternative.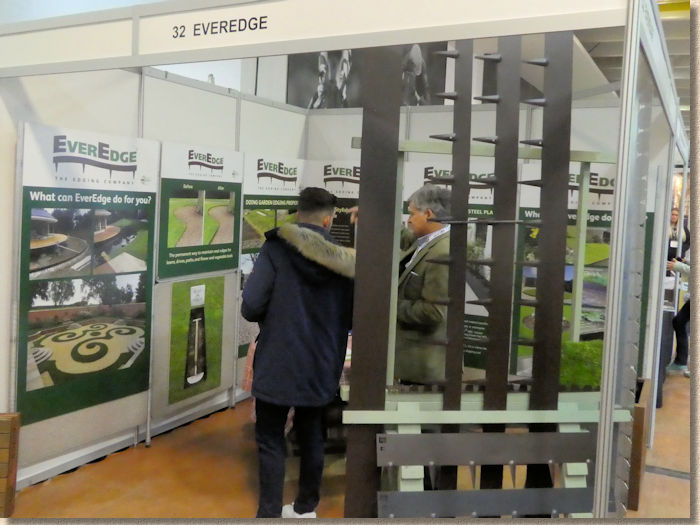 I've known EverEdge for what seems like decades, but I've never seen the normally affable Simon Arrowsmith so angry, apoplectic even, devoting more time to expressing his annoyance with Core LP than in promoting his own products. I can empathise with that feeling – I have several clowns making cack-handed attempts to promote themselves as in some way connected to, or part of, pavingexpert – but we have to grin and bear it, I'm afraid, Simon. Try to remember the adage about imitation being the sincerest form of flattery. It won't help much, but it's just about all we can do.
That, and make what we provide even more exceptional, of course!
CED have long supported this event and, for 2018, they are headline sponsors, which seems to mean they get their name on all the goody-bags handed out at the entrance. I'm sure there must be other benefits, but I never think to ask. One of the problems I have with the big names that regularly exhibit is that it becomes practically impossible to say anything new. We know what they sell, we know it's damned good, we know they're a top company to do business with, so what is there to say that hasn't been said before? Well, I'm delighted to say, I have news.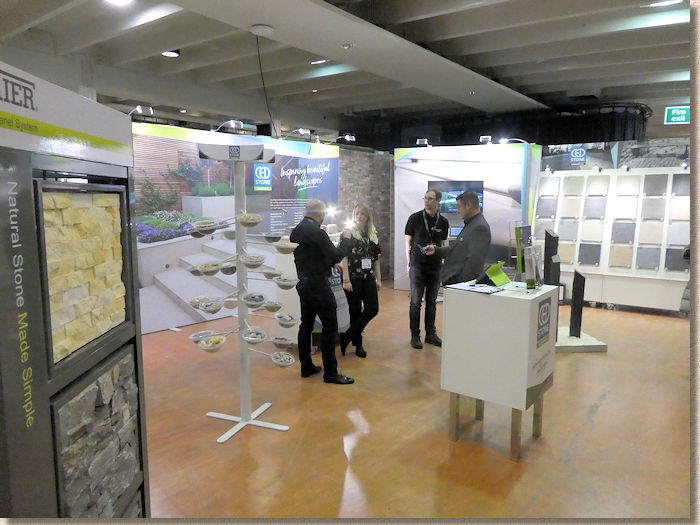 The return of Rockstone .
Fifteen years ago, I spent a trying and ultimately unrewarding period trying to launch Rockstone from Belgium's Ebema Stone & Style onto the British market. It was very well received at the time, if I say so myself, generating huge interest amongst landscape architects and, despite my cluelessness about selling, managing to land a small number of impressive projects, including the Alfred Hitchcock Memorial Pavement in east London. But I am not a salesperson, I never wanted to be a salesperson, I only ever agreed to be a "Technical Advisor", and yet the top man back in Belgium chose to ignore this, chose to ignore my pleas to employ a seasoned salesbod with paving experience, and also ignore the advice I could offer about the idiosyncrasies of the British market, so we eventually ended up going our separate ways, and Rockstone regrettably retreated from these shores
All these years later, and Rockstone is still the very best exposed aggregate concrete paver in the world, bar none. I've seen plenty of imitators, including one that seems to crop-up on almost every pedestrianisation scheme over the last five years, but they cower before the undoubted beauty and manufactured excellence of Rockstone. I have no financial interest in the product (I barely had one before - I made a couple of thousand Euro over 18 months!) so I can freely and honestly state that this is a simply stunning product and I wish with all my heart that CED can bring it the market share and the success it undoubtedly deserves.
Derbyshire Specialist Aggregates are another name that crops up with reassuring familiarity at these events, but I was initially thrown by the new-ish super-colourful branding.
Again, we know all about Derbyshire Aggs (DSA), or think we do (there's a lot more to them than bags of sparkly gravel!) so I framed my enquiries around why, when DA supply aggs to most of the quality Resin Bound Installers in the country, would they want to risk annoying all those regular, lucrative customers by pushing their own brand of resin bound surfacing? It seems a little like peeing on your own doorstep, to me, but I'm not sure I ever got a satisfactory answer. There's money to be had; there's demand for more cost-effective alternatives to the big brand names, and so DA have decided to avail themselves of that market.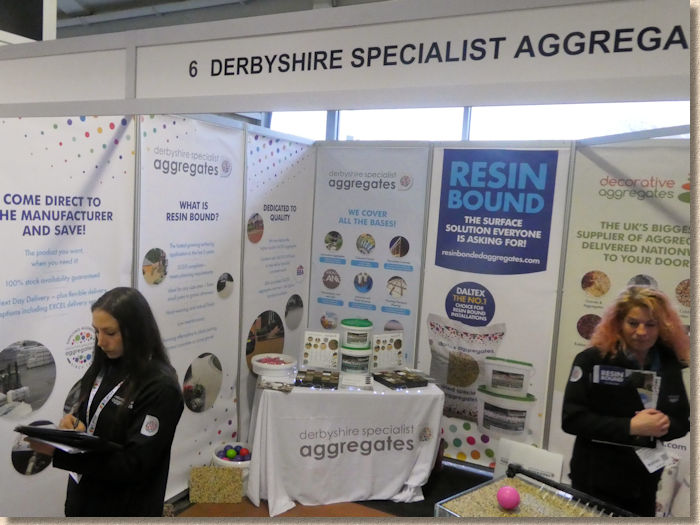 I'm not sure how it will work out. My experience with the Resin Bound industry is that there are those that build their success on a forensic knowledge of the resins, and those that generate a winning formula via shrewd marketing. There are plenty who buy-in resins from who-knows-where and combine them with good quality aggs, but it's by no means a sure-fire winner.
Derbyshire Aggs have a highly enviable reputation for aggregates. It would be a shame for them to sticky-up that rep by getting bogged-down with a product line that's just a step too far outside their natural remit.
And yet another big name regular, London Stone. Is there anyone in the landscaping trade that the London Stone crew do not know? It's almost impossible to hold a conversation with any of the sales team without countless " Hiyas " and " How're you doings " breaking into the flow as other people saunter past.
Again, we think we know it all, yet there, on a counter of the spacious stand, a sample of stainless-steel slot drain fittings for linear drainage channels. Is that from London Stone?
Yes it is, but, up until now, they've never bothered to say much about it. Why? How can a company with such a sleek marketing operation miss out the potential of such an offer? In the world of linear channels, there is nothing, not a thing, bigger, right now, than slot drain and stainless-steel. Put them together, and you cannot lose. So why hide it away? Madness!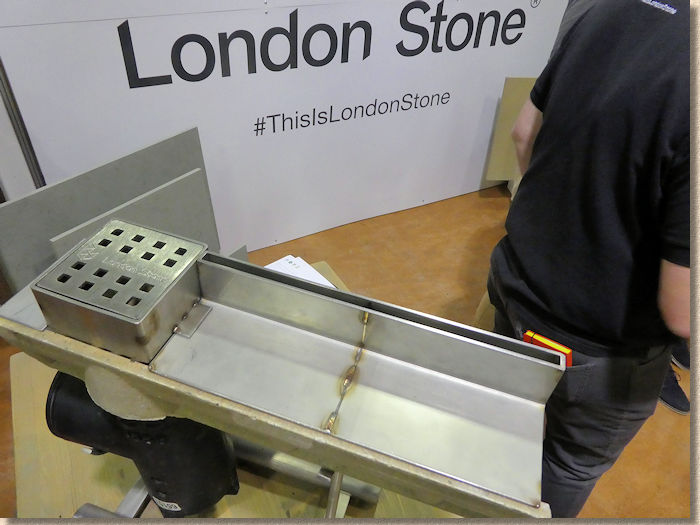 It's classy, it's stylish, it's bang-on trend and it very definitely deserves a wide audience. So here it is…enjoy!
And if that's not enough, they've also taken on the ever-trying Schellevis range of distinctive concrete block paving. It must be around a decade or so now since Schellevis asked me about how to get a slice of the British action (see previous discussion regarding Ebema Stone & Style) and they've tried a few different strategies, from selling direct, to employing a full-time British sales executive (cf. Ebema!), but they've never quite had the big breakthrough they feel their products warrant.
There's nothing else quite like Schellevis paving. The lightly aerated concrete has a unique texture, not quite the full Aero bar, but more reminiscent over over-baked, almost vitrified, clay paviors, and it is not to everyone's taste. Those empty vesicles (that's the technical name for the 'holes') accumulate dirt and detritus in a garden setting, so perhaps not the best choice for those intent on a crisp'n'clean look, but if it's a country cottage style you want, this paving has many of the charms of clays at a lower price.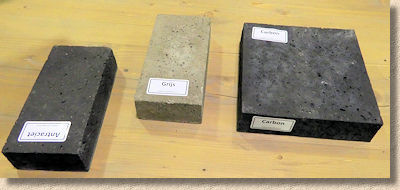 I think this is a good move for Schellevis. If these characterful blocks are ever going to make a real impact on British hardscapes, then the best option is to do it under the wing of an established and well-respected business with the clout to get them in front of the nation's landscape architects and designers.
Next, a name that everyone knows, but which has been wandering lost in the desert of irrelevance for a decade or more. Tarmac. Yes, they got the name from the product…and they did themselves no favours some years ago by getting lawyers to send threatening letters demanding the removal of every instance of that word/name from my website. I invited them to "do one", or words to that effect, and they left me alone.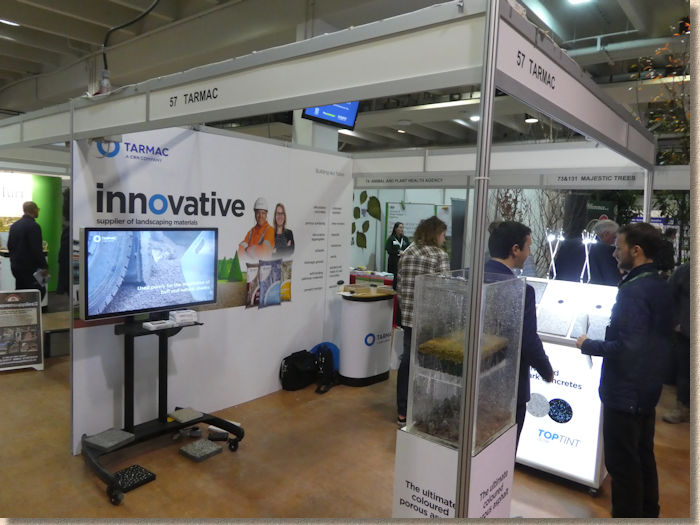 Nursing their wounds from that vicious tongue-lashing, they decided to focus their energies on becoming an afterthought. At one time, they had the biggest, brashest, boldest stand at Glee (the previously biggest paving show in Britain), with a top-rated range of paving under the TopPave brand, and then they sold the lot to Brett and went off to gaze admiringly at their own navel.
Since being acquired by Ireland's mighty CRH, though, they've started to re-emerge from the darkness, literally. The big thing at FutureScape was their glow-in-the-dark surfacing - see what I did there?
They're sticking to what their brand name says – surfacing macadams and asphalts, but in a revitalised and much more colourful way. Whether a landscaping event such as this is the right exposure for what is still largely regarded as a heavy, industrial product, is debatable, but the stand was certainly busy, so there must be some interest, even if most of it did seem to revolve around peering into a darkened box at fluorescent granules embedded in bitmac.
The product itself certainly has applications and appeal. On the more commercial side of the trade, there are countless opportunities for light-by-night pathways and markings, and there's no harm in raising awareness via FutureScape. I can't help feeling it might fare better at, say, Traffex or Eco/FutureBuild, but it's certainly a product I won't be taking my eye off.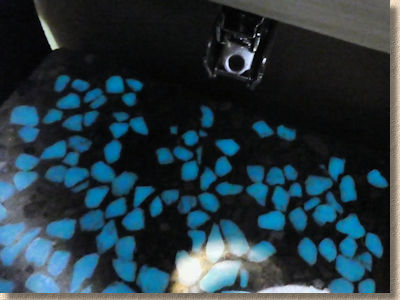 Talking of names everyone knows, is there a bigger name in the paving game than Marshalls? The very fact that the Mothership of the Big Red M has openly descended upon FutureScape immediately raises the show's relevance and bestows enormous kudos on it for future years.
Register Supremo, Dave Jessop, reveals that the mission statement is to strengthen contacts with the one sector of the landscaping sector they don't yet dominate: the designers. They have an unassailable position with installers via their Register, and they run the sleekest, most professional, most technically savvy specification team in the land. They have routes into more merchants and landscape stockists that others can only envy, but they believe they're lacking in that vital contact with the small garden and landscape designer.
Really? I doubt there's a designer in the land that isn't familiar with Marshalls or one of its sub-tendrils.
Regardless, the presence of Marshalls at any landscaping show is always to be welcomed. For the organisers, it's the ultimate endorsement, it's the key to drawing in the also-rans; for other exhibitors, it's the opportunity to bask and benefit in reflected glory; and for the visitor it's a sure sign that the show as a whole is worthy of their time, and that other exhibitors of quality will, no doubt, be orbiting in attendance. We all win.
The stand itself was, if anything, understated, but probably well-judged for a first visit to what is a one-day show. The small, wall-mounted swatches give the merest glimpse of colour, form and texture, but the key feature was the ability to chat with Marshallettes of many ranks, and the layout provided ample space for precisely that.
Van De Moortel are manufacturers of clay pavers in The Netherlands, yet they're enjoying an extended period of appreciation here in Britain, while the German behemoths that bought up huge chunks of the native Clay Paver manufacturers, along with the few British firms that resisted the lure of Deutscher-cash, struggle on almost unknown to landscapers. That, to put it bluntly, is a balls-up.
The VdM bricks are lovely, they're good quality, they're reasonably priced, they've everything going for them. But they do not represent the native colours of British clay, the vibrant reds, the solid blues, the rich purples that gave these islands a distinctive palette for centuries. Nowadays, we submit to the hundred-shades-of-brown from the Rhineland and forget what we previously had.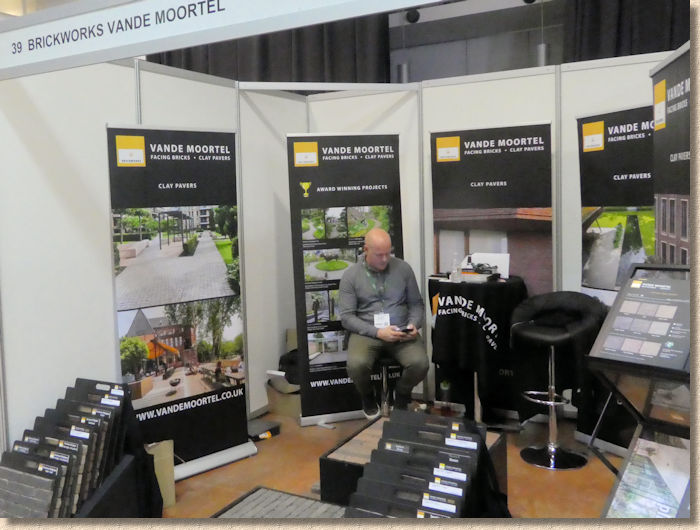 Sad as that may be, it's largely down to the inaction of British manufacturers and the German overlords. They could be here, showing their wares, but they aren't, and so VdM will improve their sales figures for the umpteenth year, and they fully deserve to do so. They work the market, they provide the technical support, they give the designers what they ask for, and they rightly reap the rewards.
If the Brits won't stand up then let the Dutch show them how. I'd rather see imported Rhenish clays adorn our hardscapes than see no clays at all. These are pavers of intrinsic beauty and our built environment is all the richer for having them as part of it. As long as Van De Moortel want to bring clay pavers into Britain, they will always be appreciated by me at least.
If there was to be a prize for 'Most Promising New Product That Isn't Actually Paving' then it's fairly certain the magic jollop from Block Blitz would be in with a very strong shout. To be honest, I'd never heard of it, or, if I had, it had passed me by with god-knows-how-many other so-called miracle cleaning products for paving, most of which turn out to be anything but. Dave Moore, the owner of the business, told me they'd won new product accolades at Glee last year (in line with most other paving aficionados, I don't bother with that show any longer) and he'd been trying to contact me for months (am I really that difficult to find?) but it's all new to me. Honest!
Anyway, Block Blitz is, if I've got this right, a disruptive detergent that is applied to the surface of a block pavement, where it lurks in the interstices (another word for teeny-tiny holes) and upsets any potential dirt particles or weeds by loosening their grip on the paver structure. Down comes the rain and washes the dirt/weeds out. In theory.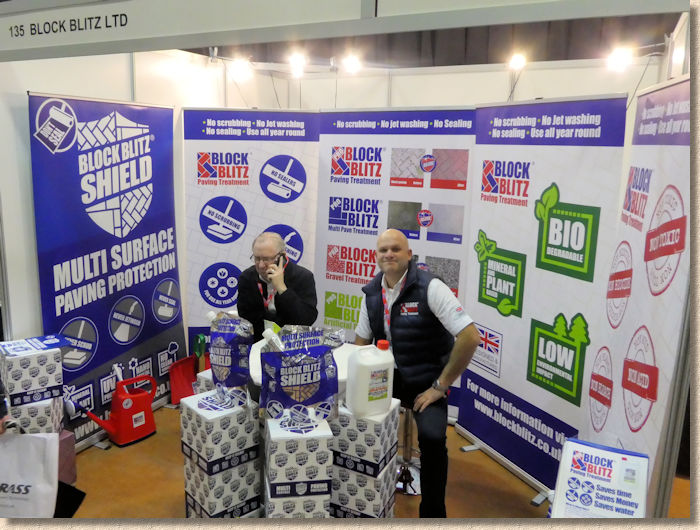 Dave and his salesman, Ross Rennie, showed me plenty of photies of block paved surfaces that were definitely cleaner but is that solely because of Block Blitz? I've no reason to suspect it wasn't, but, equally, I've no experience of the stuff to tell me that it definitely was. They've promised to send me some to play with, so we'll see.
Cynicism aside, if it does what they say it does, then they are probably on to a winner. There's a strong potential market for a simple-to-apply, low cost cleaner-cum-dirt repellent, not least because of the ever-growing list of problems with sealants.
They have other products based on the same or similar technology: a cleaner for gravel, one for monolithic surfaces, and one for the placky grasses. I do hope the magic jollop is as good as they claim. Nothing quite makes my heart sing like a small business with a winning product new to the market. I see so many hope-filled yet futile dreams smashed against the hard rocks of reality, people sinking retirement funds and pension pots into yet another pointing gimmick or wonder-sealant, so a success story is always something to celebrate.
Talking about would-be awards, if there was a gong or a trophy for the stand with the biggest wow factor, then there is no doubt whatsoever it would go to Talasey in all their many costumes. A veritable pyramid of delights, and all for just one day, which, as I remarked to marketing boss, Rebecca Hughes, must've made hell of a dint in the budget. There might not be a Christmas do at Talasey this year!
All six of Talasey's domains in the one tribute to Egyptian geometry. Some lovely new stone from Natural Paving; the dizzying repertoire of porcelain by Vitripiazza; the upmarket placky grass that sells as Luxigraze; Resin Bound surfacing from ResiScape; yet more Dutch clay pavers from Baksteen; and the ever-growing range of jointing, cleaning and maintenance products under the PaveTuf umbrella.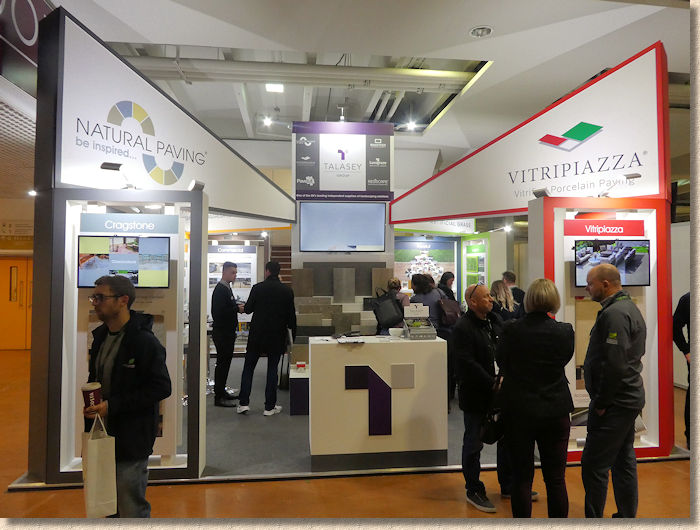 I even got the guided tour by head honcho, Malcolm Gough, himself, and I have to say that some of the new porcelain Vitripiazza stuff is just bloody stunning. There are faux porphyries that look more like porphyry than actual porphyry, and some hero-sized pieces that will make incredible statements within a suitable design.
They will, naturally, require expert handling, which is where, hopefully, the recently launched Talasey Training Academy will come into play. If we can train installers how these top-of-the-line products should be installed, it will drive up standards across the industry. Whether it should be down to individual manufacturers and suppliers to set curriculums and deliver training is a question for another arena, but, for now, and with the market set up the way it is, almost any training is better than the status quo.
Global Stone have been doing a little bit of re-branding of their own, hiving off their high-end porcelain as 'Trovia', giving it a standalone brochure and a much higher degree of prominence within the market.
Not unlike Talasey with their sub-brands, Global seem to have decided the future is ceramic, and, in particular, is high-end porcelain, so maybe it makes sense to ever-so-gently ease away from previous branding with its emphasis on natural stone. There's a whole new discipline developing with this ultra-contemporary type of paving, or should we call it tiling? The old installation methods, the old standard of expectations from clients are set to be things of the past, so maybe it's right that we have new entities, to detach themselves from what went before and set the agenda for this new world of external surfacing where client's expectations, and their budgets, will reach new and dizzying heights.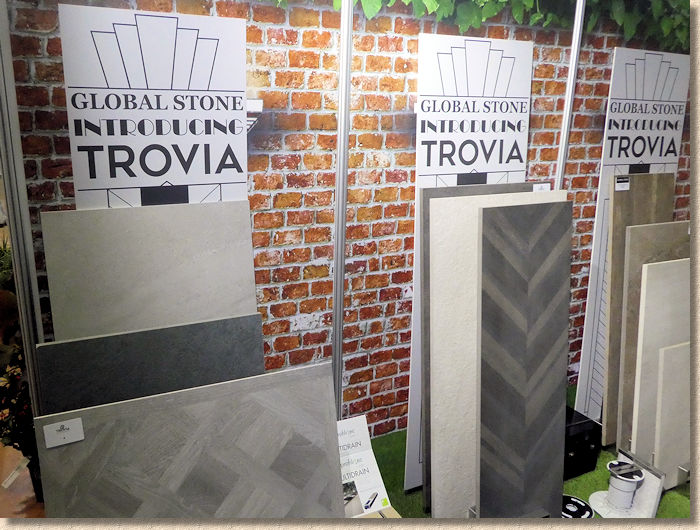 There will, of course, be those who will seek out cheaper and cheaper ceramics, in the name of democratising the market and making it available to all, but the real money will be made with high-end, top quality products installed by exceptional teams of meticulous installers. Do you want to make many pennies from volume sales or a good few pounds from quality sales? It's fairly obvious where Global see their future.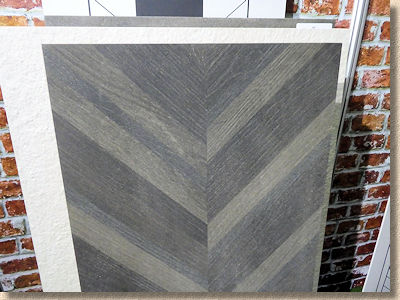 When they exhibited with a bigger, bolder stand at the Landscape Show back in September, they unveiled an amazing eye-catcher of porcelain with chevron styling. In my inimitable style, I managed to cock up the photie, but no such cack-handedness this time. Look on this and revel in its beauty!
Back downstairs, and I mean down stairs, thanks to the non-arrival of the lift security, there're a couple of important exhibitors to catch up with before the event closes or they fall over with hypothermia, whichever comes first.
Pavestone, like some of the other exhibitors, have decided these seemingly small events are fertile ground for making new friends amongst contractors and designers. Their experience at the Battersea Park Bash was overwhelmingly positive, and, by the end of the day here at Sandown Park, it was a similar sentiment. It had all been a very worthwhile exercise, the cost hadn't been too onerous, and overall, they were very happy Pavestoners.
The new direct(ish) sell website ( Paving Direct ) was being well-received, there was considerable admiration for their eclectic product range, and particularly for their porcelain (what else!), and, most importantly, they really felt they had developed and nurtured new and exciting contacts with their target audience. Yes, the gangs of students on the rob (there had been a pen-nicking challenge by layabouts from one particular college, apparently) had been of dubious benefit, and the location was cold and draughty, but their Commercial Director, Jon Layton, said they'd probably be back next year, as long as they could get an upstairs-in-the-warm pitch.
Meanwhile, he was giving serious consideration to showing at Grand Designs, which represents almost no more of a spend than exhibiting at Sandown Park, but was for a challenging 11-day stretch. That's a long time to man/woman a stand, and it's at the nation's worst exhibition hall: ExCel, but if it can put Pavestone face-to-face with more installers and designers, it may be a worthwhile exercise.
Finally, it's Westminster Stone, long accustomed to being left until last due to their position on any alphabetical list.
As ever, the big promotion for them is their exclusive and widely-admired National Trust range of big-posh-mansion replica flagstones. At a time when almost everyone else producing wet-cast paving is seriously struggling, Westminster soldier on, buoyed by the saleability of these NT flags, and their expanding range of imported stone and porcelain paving.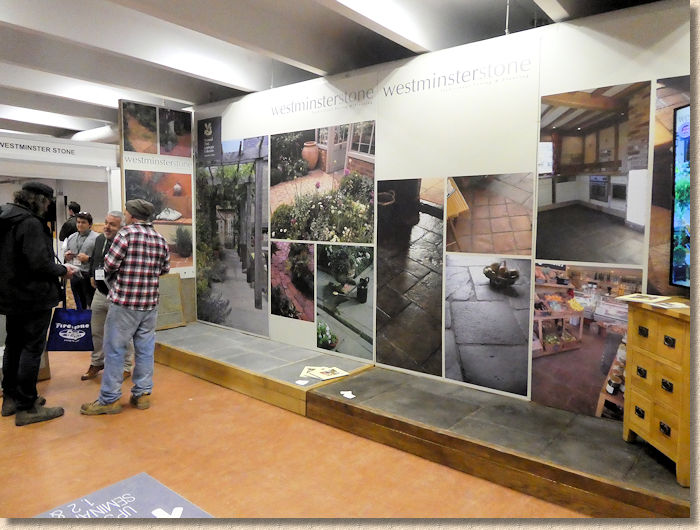 Now into the third generation, with Tom Clifford leading the charge, Westminster's eye for detail and uncanny talent with world-beating moulds keeps them at the top table when it comes to reputable paving suppliers.
In summary:
As always, I know I've missed people, mostly because their stand was continually heaving with no opportunity for a nosy cripple to get a word in edgeways, and I know I spoke to quite a few people who were not actually exhibiting but prowling the event to keep their eye on what everyone else is up to, so if you've not had a mention, please accept the usual sincere yet generally unsatisfactory apology. As I always say: you have to grab me when you see me, as Mr Block Blitz did.
FutureScape continues to improve. It's slightly less claustrophobic than in recent years, but the aisles are still too narrow. When two people stop for a natter, the whole aisle is effectively blocked. And there's no park-yer-arse spots around the halls, other than the canteen. Some of us need to rest our aching and failing bodies, while many would appreciate a chance to sit and chat in a quieter corner.
There's still a way to go. The seminar program offered meagre scraps for hard-landscapers in general and paviors in particular. The signposting is completely inadequate and a serious, serious think about disabled access is a must.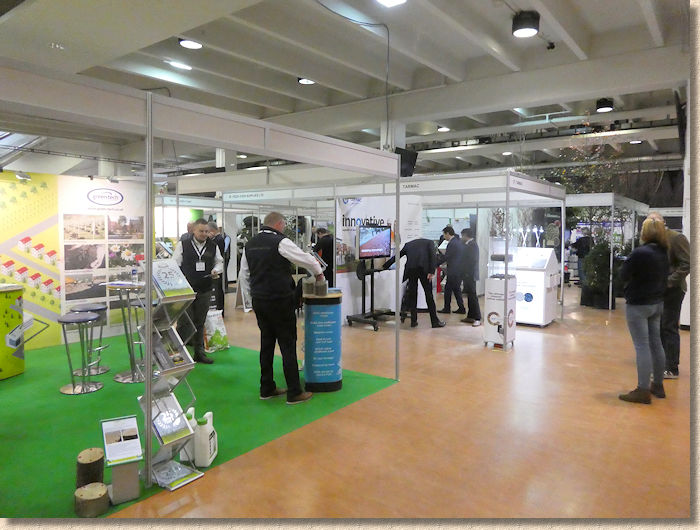 Big names such as Marshalls and Pavestone are a major coup. Their clout will draw in yet more names at future events, but for that to work, there has to be better spacing of the stands. The claustrophobic feeling is, at some locations, overpowering. Perhaps Sandown Park isn't the right venue any longer. Maybe a bigger space is needed?
A longer event is almost certainly needed. A single day is simply not adequate to do justice for those of us with quite a bit of networking to do. The argument that spreading the event over two days dilutes its impact and results in lower visitor numbers on each day is specious. And the notion to run two events each year, with the next one mooted for March 2019, just four months away, is a non-bloody-starter as far as I'm concerned. Those in the trade can just about skive-off for a day in late November, but in March? Anyone worth their salt is as busy as a hive of bees at the onset of Spring. Count me out!
Still, when considering what display, exhibition and networking opportunities are available to the paving and hard-landscaping lark right now, it has to be said that FutureScape is right up there at number one….for now! But events should never rest on their laurels. Too many runaway successes of yesteryear ended up just running away because they didn't keep up with what exhibitors and visitors wanted. Glee, InterBuild, CityScape….where are they now?
So, to close this overly long and rambling review, the takeaway headline is that FutureScape is a success and grows stronger year by year. Whereas I previously pencilled-in the date for each successive November, for 2019, that will now be inked-in. FutureScape has become an event that is too important to miss.