New Season: New Brochures: New Awards
This time of year, just before new season kicks off, is always busy with two types of noteworthy events – the release into the wild of the new season paving and hard-landscaping brochures, and the annual awards ceremonies hosted by various suppliers, distributors, manufacturers and the like.
It's a funny year, this time, because the Covid precautions have put paid to the usual personal guides/walkthroughs/introductions to the year's new products and brochures, and some of the big awards nights have been postponed or turned into 'virtual' events, which can never be quite as much fun, no matter how much you drink in front of a screen while not wearing any trousers!
Several new brochures have dribbled in over the last few weeks - nowhere near as many as there would be in a 'normal' year, and the reviews will start to appear in a week or two, but to start off, the results have been released for one of the Paving Awards I was asked to help judge.
Stone Paving Supplies (SPS) may not be the biggest distributor in the trade but they are well-known, have an incredibly loyal customer base, and a highly impressive product range. Since launch some years ago, SPS have built their brand by focussing on their customers, providing an incredibly attentive service to their stockists and their installers. Some of their staff are among the best-known faces in the industry, and they have an enviable depth of knowledge and experience. So, being asked to help judge their awards event was, for me, both an honour and a privilege.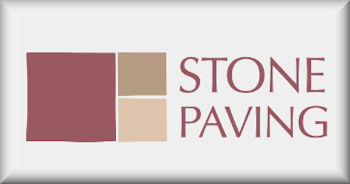 SmartStone is the South African leader in Wet-Cast Concrete paving and landscaping, a subsidiary of the large Bosun Concrete Group, a major force in the paving manufacturing industry in Southern Africa.
In contrast to the market in Britain and Ireland, Wet-Cast concrete paving is wildly popular over there for all types of residential applications, from paths and courtyards, to patios and driveways. And the selection of products on offer is mind-blowing compared to the "Riven or Smooth" options we are given.
So, it was a genuine thrill to be asked to join the judging panel for their Installation of the Year competition.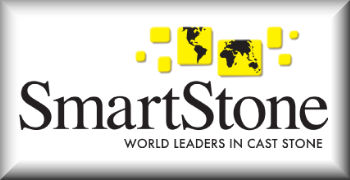 SPS Winners:
Enough of the waffle: who won and why?
First place went to Keel Landscapes for their project using SPS Weathered Citron "Cobbles" and Setts as supplied by The Stone Zone.
I've seen so many porcelain jobs submitted in various competitions over the past two or three years it was beginning to seem that it was the only product worthy of being entered for consideration, so I was thrilled to see a genuinely top-notch installation using natural stone.
My comments in judging:
While porcelain paving is very much the 'in thing' right now, and some genuinely impressive work is being done by some installers, it is so good to see traditional skills being used to the highest levels to create an exquisite garden feature that exudes charm, warmth, amenity and style.
Sandstone setts are not the easiest of materials to work with, and all too often what is a wonderful paving product is let down by poor installation stemming from a lack of understanding of the potential such paviors have, combined with inadequate skills and training on the part of the laying team. However, when used by a skilled installer, the results can be genuinely stunning.
This winning installation not only shows a thorough understanding of the material, evidenced by the use of different sizes and colours of the stone to create interest and contrast, but also a high degree of skill in managing to create and maintain accurate arcs. The ability to ensure consistent joint widths, neat and accurate cutting, along with all the small details on show, enhances the overall appearance and celebrates the talents of a skilled paving layer.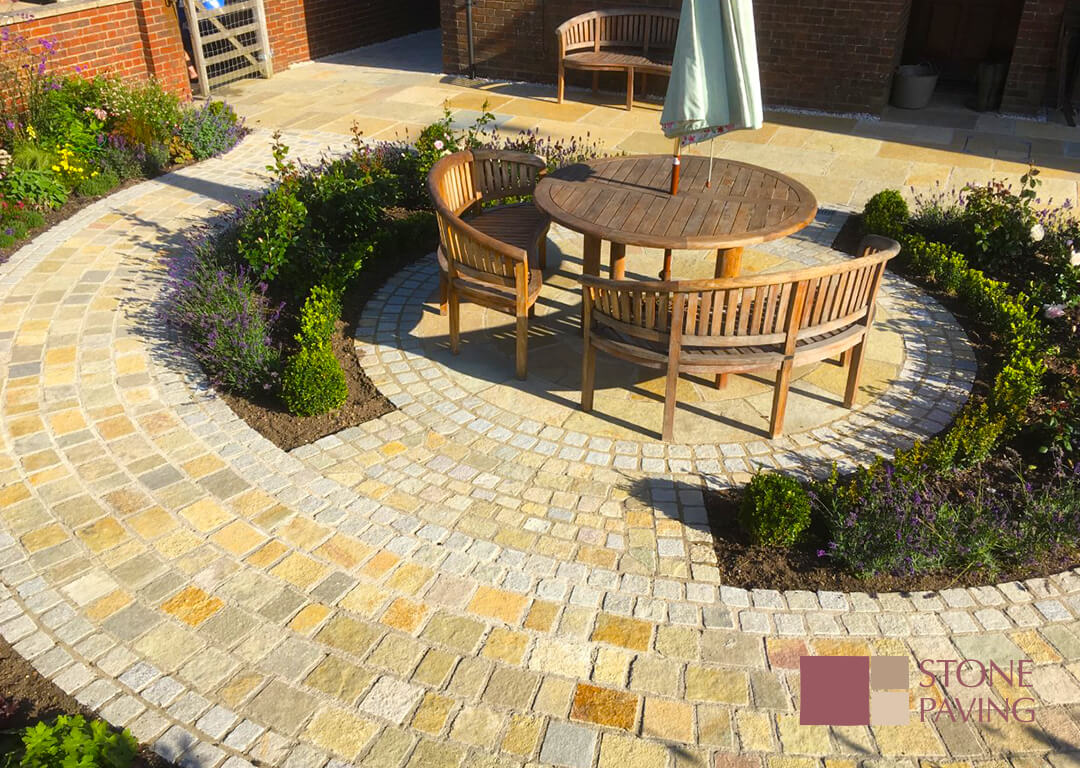 Having said all that, there have been some glorious projects using porcelain but how many of those have really made the most of the advantages that come only with porcelain? It seems to my overly cynical eye that many jobs would have looked much the same whether they were laid in porcelain, sandstone, granite or even concrete flags!
Having a project that is elevated by the use of porcelain is something special and worthy of commendation, so Runner Up goes to J Drewe Landscaping and Maintenance of Didcot for this clever use of Villa Porcelain Brava Greco as provided by Didcot Calor & Paving Centre Ltd.
My comments:
There's no denying the popularity of porcelain paving but all too often, the desire to be 'on trend' produces bland and formulaic design offering little or no opportunity to show off installation skills.
However, this patio has pushed the boundaries by using a larger format tile, with a more challenging pattern/colour/texture, laid quarter-bond in longitudinal courses. Such a layout will show up the slightest deviation from line or level, or the smallest deviation in joint width. Maintaining that discipline over a larger area is no mean feat, and so credit must be given to this installer who obviously understood the challenges posed by such a project and executed it all with a high degree of professionalism.
A lovely product enhanced by skilled installation.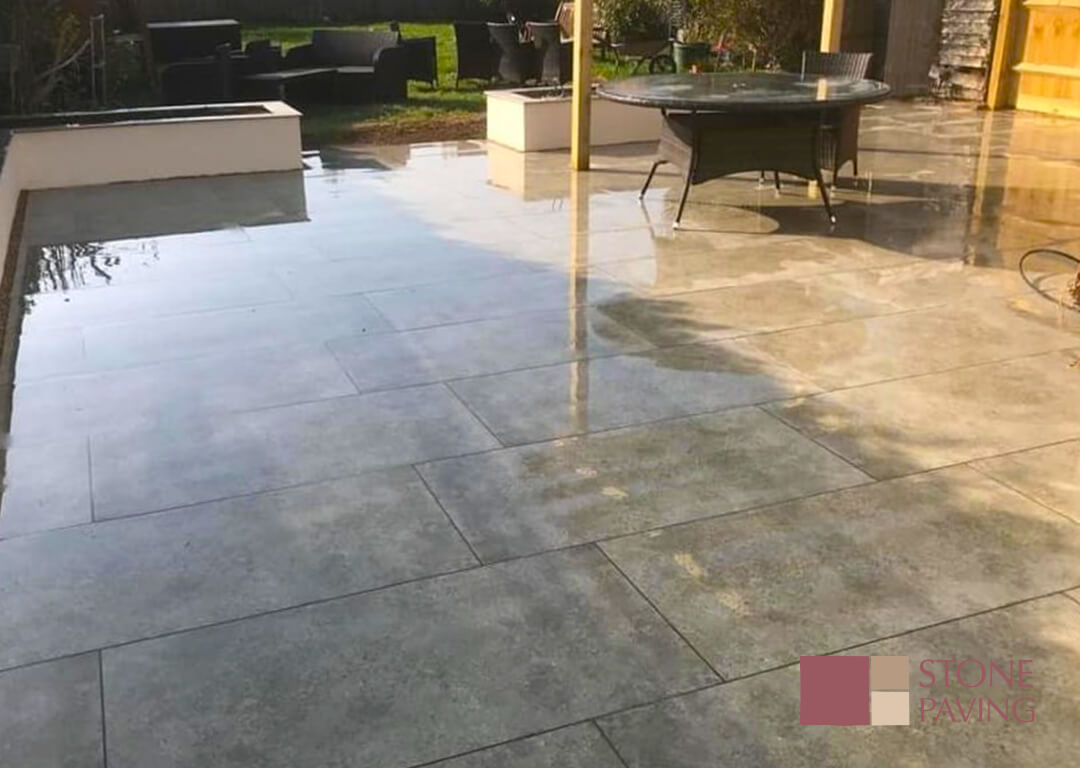 Congratulations to these worthy winners, and to all the other entrants that made judging both a challenge and a pleasure. It's immensely reassuring to see so much quality work out there, despite it being one of the most difficult years in living memory.
To see the full list of winners visit https://loom.ly/13d-mlk
SmartStone Winners
A quick mention, too, for the SmartStone Installation of the Year awards held in South Africa earlier this month for which I was one of five judges.
Again, a high standard of work made it incredibly challenging to decide which projects deserved recognition, and, in the end, my personal choice was based on which contractor had provided the better range of photographs, so evenly tied were they on quality of design and installation. It was a flea's toenail between first and second.
The Results:
First Place:
Emanuel from Whiz Kid Projects
This was a SmartStone Gauteng entry, by Joanne Anderson. The site is located in Morningside and features a classically styled pool area and staircase, surrounded by unique landscaping features.
My Comments:
A showcase project for hard-landscaping, with a generous selection of paving types with a restricted monochrome palette.
There is a huge amount to enjoy here, and so many little touches that raise it into the premier league of paving works. It would be wonderful to see more, more, more of this masterpiece, if only to better understand the layout and how it all links with the property.
A credit to both designer and installer.
First Runner-Up:
Dumisani from Dumisani's Paving & Tiling
This was a SmartStone Nelspruit entry, by Ista Van Zyl. The site is located in White River and features a cobble driveway installed in a unique, colourful pattern.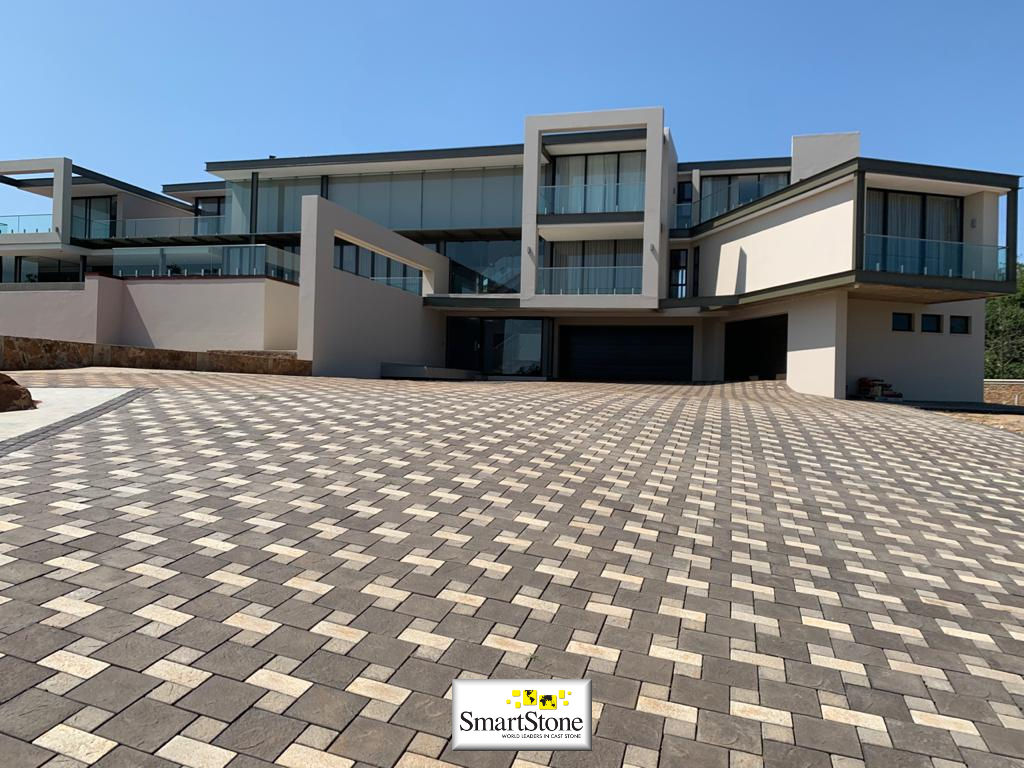 My comments:
Great implementation of three-size geometric paving pattern fully complements the strong architectural lines of the property, throwing focus onto the house without the driveway ever becoming overly subsidiary.
Lovely clipped turf with inset flagstones adds a simple but highly effective detail at the main entrance. All-in-all, a well-executed installation for a note perfect design.
Second Runner-Up:
Justice from FJ Building Construction
This was also a SmartStone Nelspruit entry, by Ista Van Zyl. The site is located in Eswatini (Swaziland) and features a Fan cobble driveway, which ties in neatly with the arched gate and landscape design.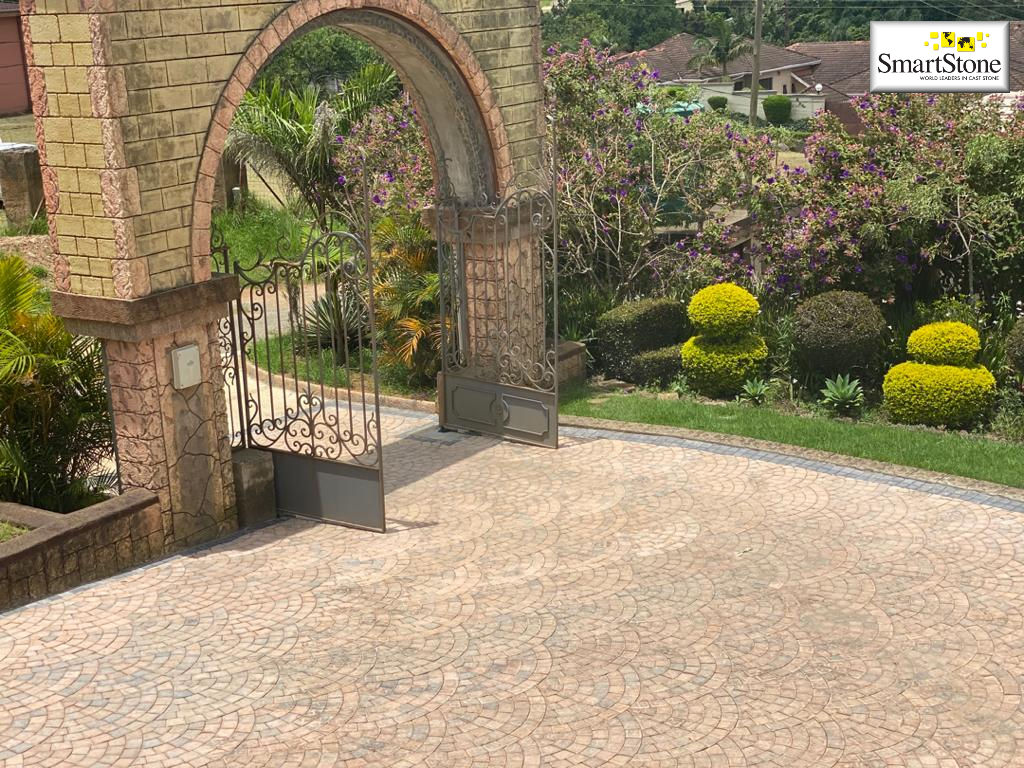 My Comments:
A clever and informed design and paving option for this property, with both patterning and colour perfectly suiting the site.
Fan patterns on larger areas can become lost in the scale of the driveway, so the use of a contrast colour to delineate each fan is often a neat idea that helps emphasise the intricacy of the design.
Having said that, laying fans over such a large area and managing to maintain the discipline of alignment in both line and level is no easy feat, so full credit should go to this obviously skilled installer.
Finally, I promise, on the subject of judging these competitions, I made a few comments about the judging criteria I use in a post to The Brew Cabin discussion forum earlier this week, specifically in reference to the use and abuse of linear channels at the threshold of residential driveways. You never know, it may just help some installers improve their entries….