Introduction:
It should be noted that householders and private contractors are not permitted to amend or alter an existing line of road kerbs forming part of a public highway without the consent and approval of the local authority highways department.
Road kerbs serve a number of purposes:
There are many different types of road kerbs used throughout Britain and Ireland. 50 years ago, natural stone, such as granite, was the most popular, but these have now been supplanted by pre-cast concrete. In restricted areas experiencing exceptionally heavy traffic, such as town or city centres, steel kerbs have been used to cope with the constant over-running of vehicles, and on our motorways and dual carriageways, extruded kerb lines are commonly used.
---
Extruded kerbs
Recently, a smaller version of the kerb-extruding machine has been developed and decorative extruded kerbs for private driveways and landscaping projects have become possible. The system is operated as a franchise - see....
---
Natural Stone
---
Pre-cast Concrete
Traditionally, most straight kerbs are 915mm in length (a hangover from the pre-metric days), although some of the kerb-units developed to match block-paving are only 100mm or 200mm long. Radius kerbs , ie those designed to form curves of less than 10m radius, are shorter than the equivalent straight units and the most modern ranges are being manufactured as 780mm in length.
---
---
---
---
Lightweight pcc kerbs
---
---
Special Kerbs
Bus Stop kerbs - a relatively new development designed to ease access of passengers using public transport. The height of the kerb is variable to suit local buses and there may be some tactile feature within the channel to help the bus driver align the vehicle correctly to minimise the gap between kerb and vehicle entrance, without rubbing the tyres against the face of the kerb.
---
---
The early pcc versions were two-piece units comprising a U-shaped channel topped by an inverted U-shaped lid with the requisite inlets. The concept was rapidly re-interpreted by various manufacturers as single piece concrete or polymer concrete units of varying sizes and capacities.
More information can be found on the Linear Drainage page.
---
---
Textured and Decorative Kerbs
---
---
Block Paving (Small Unit) Kerbs
---
Plastic kerbs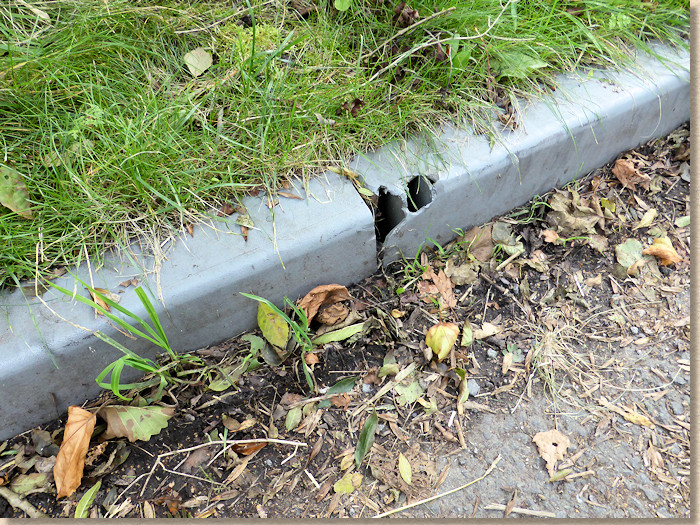 There are concerns with plastic kerbs, the most common ones being their fragility when impacted by a point load, which can result in the sort of damage seen in the photie above.
There was also a deal of concern about flammability and the risk of a vehicle fire being spread if the plastic used to manufacture the kerbs was to catch light. However, the better modern plastic kerbs have fire-retardants incorporated into the plastic to minimise such a risk.
---
Steel Kerbs (and channels)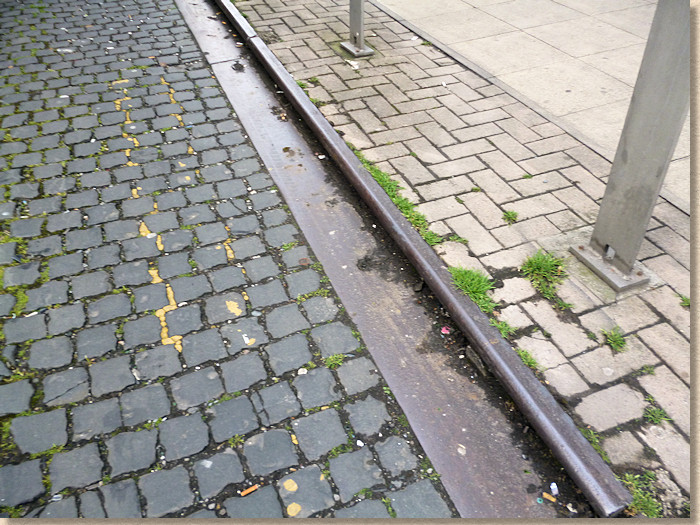 A steel kerb provided certainty. It would take a lot longer to abrade - iron rubbing against iron tends to even out - and so carts would stay 'on track' and their cargo would be kept in place and undamaged. More than that: the steel kerbs actually acted as an aid to steering in an age of fixed wheels, keeping them in place as tight corners were negotiated.
Steel kerbs weren't exclusive to indiustrial areas. They can sometimes be found in rural areas where the lack of any local hard stone to form a cart-resistant kerb caused the borough engineers to seek a suitable alternative, maybe something from the then-burgeoning railway industry?
The castellated kerbs above (backed by awful concrete block paving) are laid as 1 yard lengths (showing their pre-metric heritage) and were spotted in the anything-but-industrial village of Bourton-on-the-Water in rural Gloucestershire.
These are a vanishing rarity nowadays, but they represent history at our feet, showing how, even 150 years or more ago, clever streetmasons and dedicated engineers were coming up with novel ideas that would address the problems of the day. Where we now make specialist kerbs for pram crossings or fuel pump protection, back then it was about keeping carts in place and cargo intact.
---
Channels
---
Radius Kerbs and Channels
In general, any curve or arc of less than 12m radius in a line of road kerbs should be constructed using the nearest equivalent radius kerb. For arcs of intermediate sizes, it may be necessary to 'skew' the nearest slower radius unit, creating slightly open joints at the face, which can then be pointed with a mortar . Using the next faster radius kerb may result in a 'pinched' alignment, which can look awry.
For example, if a kerb line of 11.3m radius is required, this could be constructed using 12 metre radius units, with each kerb 'skewed' slightly to achieve the required alignment. See the Aligning Kerbs page for more information.
This method of determining the size of an existing kerb or arc is explored in much greater detail on a separate page.... Determining Kerb Radius
---
Quadrants and Angles
Quadrants are manufactured to match the usual kerb profiles and it's easy to see why they are sometimes known as cheeses. The concrete versions come in two sizes, 305mm or 455mm, with depth to suit the adjoining kerbs, but natural stone sizes can be different. Quadrants are kinder to vehicles tyres on busy car parks than external angles.
They can be used to connect orthogonal kerb lines, as shown above, or linked to create divider bays within car parks.
Internal and external angles are available to suit the most popular kerb profiles and are extremely useful on modular layouts, such as car parks, as they provide a neat solution to the problem of tie-ing in two kerb lines, and avoid the frustration and hard work of cutting a mitred angle with a power saw.
---
Droppers and Transition Kerbs
---
Construction
---
Video:
More info:

Pavingexpert.com is an approved BSI Affiliate, and so you can purchase standards and other documents via this page by clicking the link on each listed item. Any commission earned is used to fund the hosting and maintenance of the site.
Other Edgings & Kerbs Pages
---
---