Uses and Types
There is a grey area as to defining when a mowing strip becomes a pathway and then, when is a mowing strip actually an edging kerb?
Rather than waste what limited grey cells are available on trying to resolve all that, let's define a mowing strip as any hard surface, less than 450mm in width, which is intended to separate grass or planting from other areas of soft-landscaping or from a hard vertical sturcture such as a wall or a fence.
---
---
So, Mowing Strips are relatively narrow bands of paving typically surrounding a lawn, although they can also be used to separate soil beds, gravelled areas ,etc. Further, they are also used against buildings, fences and walls, places where a conventional mower struggles to reach, and so they eliminate the need to strim the edges after completing the mowing.
They are not usually structural, ie, they do not support or restrain, but are simply an aid to garden maintenance. As such, they are not always laid on a concrete or cementitious bed, unless they are likely to be trafficked by a heavy, tractor-mounted mower or similar, or in situations where any movement of the mowing strip would detract from the layout or patterning.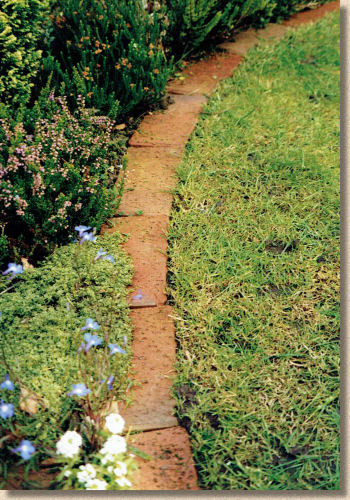 For details on using a concrete bed, refer to the concrete bedded edgings page
They can be constructed from any flattish paving unit that will allow a mower to pass over them without impedence. This can be pre-cast concrete (pcc) flags/slabs , pcc edging kerbs laid flat, block or brick pavers , or a cast in-stu concrete 'race'.
We commonly used 600x300x50mm concrete flags/slabs laid 300mm wide on commercial and larger scale projects, as this allowed ample room for a typical large mower to get its blades over the edge of the grass. On domestic projects, 200mm wide may be more than adequate. I use a 100mm wide clay brick mowing strip around my lawns, which you can see in the photograph opposite. As long as it's flat, and laid flush with the lawn, it can be used to form a mowing strip.
---
Construction
Preparation
Decide where the mowing strip is to run, and mark out with sand guide-lines, if required. It is assumed that the mowing strip is to be flush i.e. level, with the existing ground. It is a good idea to dig wider than the planned width, allowing an extra 50-75mm at the edges makes handling much easier. For most mowing strips, the dig depth only needs to be 60-70 mm, unless a concrete/mortar bed is to be used.
The pavers chosen to construct the mowing strip should be bedded directly onto a coarse, grit sand bed, (Zone 2 or Class M) approx 25-50mm thick or 50-100mm of mortar or concrete. They can be directly bedded onto the sub-grade if it is suitable, ie, fine, sandy or gritty.
If using a sand bed, DO NOT USE BUILDING SAND - it is too soft and can become 'fluid' when waterlogged, consequently moving beneath the mowing strip, causing settlement and unevenness.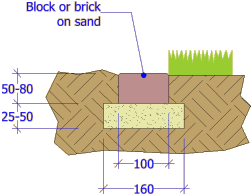 As the mowing strip is intended to provide a simple edge to trim against, rather than a structural element, a firm, rigid bed and haunch is not essential, but a light sprinkling of cement mixed in with the bedding material can prevent unwanted movement in the mowing strip.
Haunching can be added if required, but should be kept to a minimum. Turf will grow provided that it has at least 25mm of soil into which it can root, so it's important to keep cementitious material to a minimum.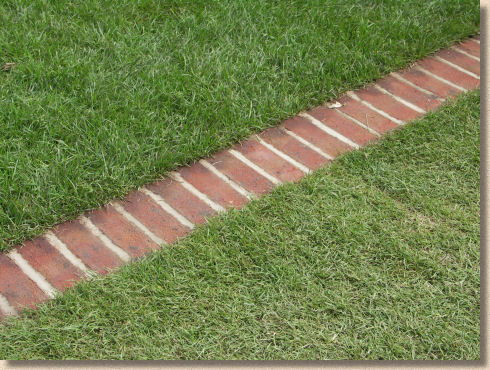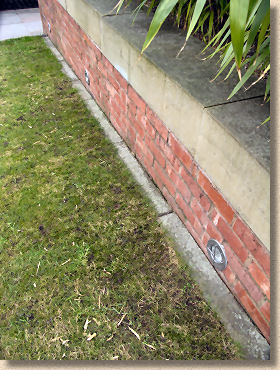 The paving units are positioned and then compacted down to the required level with a rubber mallet, using a taut, string line, or the existing lawn, as a level guide.
Open joints created when forming curves from rectangular units can be pointed with a mortar, or the units can be trimmed to a 'wedge' shape to eliminate any such open joints.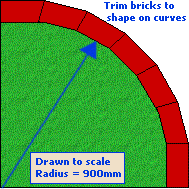 Details on Cutting bricks and blocks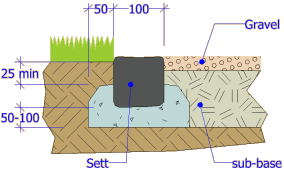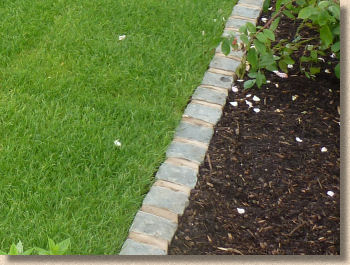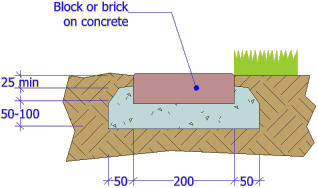 ---
Price Guide
Prices vary enormously throughout Britain and Ireland, so it's best to check with your local contractor.
DIY prices will start at as little as 5 or 6 quid per linear metre for a basic brick-on-sand format mowing strip, but expect a contractor to charge around 12-18 quid per metre just for the labour.
---
---