New websites
Two new websites for your delight and delectation
I was given a sneak preview of the new McMonagle Stone website while over there last week and was pleasantly surprised by what I saw. The new site is a huge improvement with simple, logical navigation, a clean, uncluttered styling and a brand new logo for the Donegal company.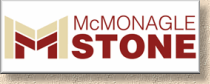 The main horizontal navigation bar provides links to the five main stone types supplied by McMonagle (Quartzite, Sandstone, Granite, Limestone and Slate) which are then sub-divided into building stone, paving, decorative, etc. There's also a link to 'accessory' products such as stone garden furniture and the popular Romex range of jointing mortars.
The site is a considered balance of informative text and good quality images. Most of the stone products have an individual 'gallery' featuring a selection of thumbnail images that link to full size, high-quality photos that show off the stone in question.
Overall, it's an ideal website for a business such as McMonagle's. It is smart and contemporary without being burdened by gimmicks or meaningless sales waffle. It's pictures that sell stone, and there's no shortage of them on this site. Size information is provided but it would be useful to have more detailed technical data (compressive strength, absorption, SRV, etc.) available too, possibly as a PDF download, but perhaps that will come as the site continues to be developed.
Meanwhile, the phenomenally busy Essex-based Global Stone have somehow found the time to launch a whole new website. Its look and style complements that of their latest brochure ( reviewed March 2008 ) and furthers strengthens the brand as a distinctive and individual supplier of hard-landscaping materials.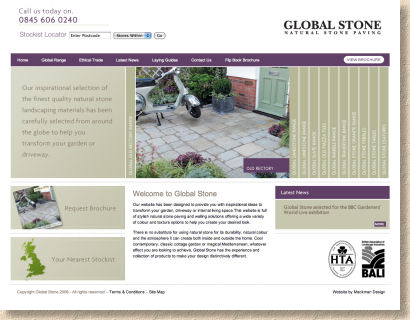 Global's marketing consultant, Paul Childs, says,
"I'm delighted to let you know that we have just launched our new website together with an online promotional campaign that will enhance the profile of Global Stone and channel enquiries to our stockist customers.
The website has been designed to provide 'end user' customers with a stylish, easy to navigate website that portrays the core values of Global Stone and the quality of our product range. The main features of the site include a product selector where you can view the product colours and surface textures, various laying guides, a stockist locator and a unique easy to use 'flip book' product brochure providing inspirational ideas for driveway and garden designs."